Well, welcome to May in Minnesota, where we almost got swallowed up during a week's worth of near constant rainfall, and I swung deeper into the rhythms of my job. I'm feeling pretty blessed, my friends; I think this job was heaven sent because I can't imagine anything more perfect for me right now. I feel like I was meant to be there, and it's all going really well. I sure didn't mind the wet and cold weather we had for a stretch, not with being able to spend long and productive days in the kitchen at work, my mind and hands busy overseeing work like this:
May finally did take it's turn to shine, in a glorious manner nonetheless. The gray lifted, the sun came back out and made us collectively blink like we'd all just woken from a deep slumber. And my garden opened up, simply bursting with color.
But my apologies to you all, as maybe you've noticed that the blog has been a bit neglected. I sort of expected that it would happen as I adjusted to a new job, and on my days off I've found myself scrambling to catch up on the bits of life that get set aside while I'm at work.  Would you feel better if I shared some Cardamom-Spiked Rhubarb Crisp with you?? I hope that it might soften you all up a bit. It sure made me melt just a little when I took the first bite.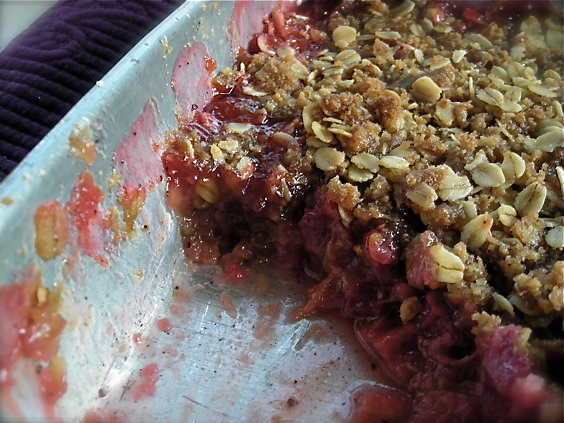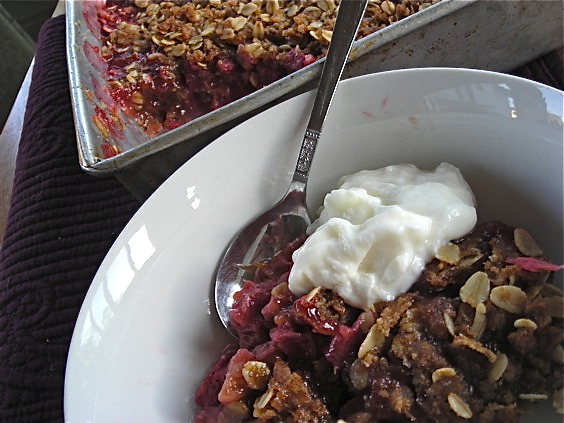 So quintessential Spring, this Rhubarb dessert. And simple enough that a few quicks measures of basic pantry ingredients alongside 5 minutes of your time and the oven does it's magic on fruit, brown sugar and oats to make a perfect end to a perfect Spring day. You don't need to fuss at all, which means a lot to me and my free time lately.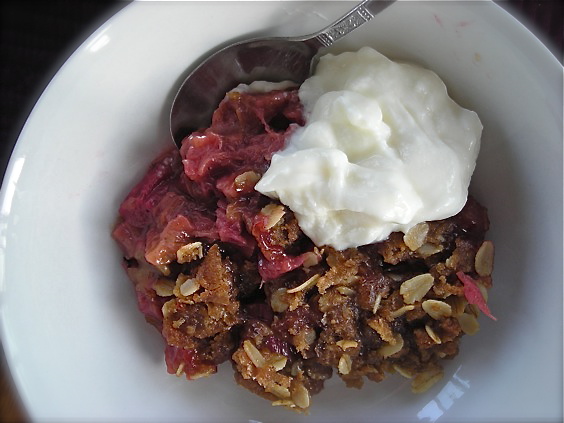 Mondays are my free days, and with ample energy I took back control of my own kitchen to make dinner for my guys. They've been doing a really amazing job of feeding themselves now that I'm away during the dinner hours, and I'm really proud of their efforts because I know it isn't the easiest of tasks for them. On a quick trip through the grocers, I spied Pizza sausage at the meat counter and eagerly bought a pound of it, mixing it with a Vidalia onion relish that I had on hand for a delicious burger to sizzle on the grill. Some roasted red pepper strips and a thick coating of mozzarella cheese made them into utter perfection, and this aromatic and easy Cardamom-Spiked Rhubarb Crisp was a deliciously tender and comforting end to a shared meal with my most favorite people. Really, who needs yet another crisp recipe? It's not all that different from any one of the hundreds out there, but just like a day off, like taking that deep breath that comes at the end of my work week when I'm in the thick of my free time, it was simple perfection.
Cardamom-Spiked Rhubarb Crisp
adapted slightly from Mark Bittman via The New York Times
Heat oven to 375°. Spray an 8″ baking pan or casserole dish and set aside.
For the filling, combine together:
4-5 c. chopped rhubarb
1/2 c. sugar (I used turbinado)
1 T. fresh lemon or orange zest
2 t. fresh lemon or orange juice
1 t. ground cardamom
Spoon filling into prepared pan, leaving behind any juice that accumulates.
In same bowl, add:
6 T. cold butter, cut to small pieces
3/4 c. brown sugar
1/2 c. flour
1 t. cinnamon
1/2 t. nutmeg
Using your hands, gently blend cold butter with sugar, flour and spices, pressing butter between your fingers to mix until it's chunky and loosely blended.
Add 1/2 c. rolled oats to the brown sugar mix and combine with your fingers. Crumble topping over prepared rhubarb in pan and bake for 35-45 minutes. It should be bubbling and nicely browned on the top. Allow to cool slightly before serving.
Kate's Notes:
This recipe originally did not call for cardamom so don't feel you need to have that spice to make this. Skip it and you'll still get a stellar result. If you like nuts in the topping, add about 1/4 c. of chopped toasted pecans with the oats. Almonds would be good too.