And not like 'The calendar says it's September' kind of Fall, which seems appropriate even though the first few weeks are still Summer; no, this is the real deal now as the sun has passed into the appropriate spot in the sky that says 'Hey everyone, here I am in all my red gold glory and yes, Summer is really over.'
Fall is transition. It's new things like school years, shoes, clothing and meals. It's a warmer blanket or longer sleeves but it's still full of sunshine, ample blue sky and a mosquito bite or two. We still can feel too warm during the day, but just watch out for that sunset because whoa now, the temperature drop is precipitous and it helps to have a comfy sweater on hand. And slippers too.
Fall for me is a time of melancholy, and this goes way way back in my life to being very young and watching, probably for the first time, how the light changes from August to September, the way the sky darkens so much earlier and how life just swiftly grinds to a halt from carefree summer to the routine of another school year. So it seems appropriate that I always yearn to be learning in the Fall, that I wish to be back in school, with empty notepads and fresh books full of promise and mystery. I admit to being a lifetime learner, and heaven help me if I ever decide that I can stop getting better at this thing called life. Please make sure you knock me on the forehead if I do, ok?
The food of Fall, for me anyway, is highly anticipated. The richness of a bowl of soup, the scent of apples baking in the oven and the comfort of something steaming in your hands keeps the thought of winter at bay. At least, it can if you close your eyes and think really hard. Like the seamless steps from Summer to Fall, that sneaks up on us too, and often Fall seems like the shortest season around. But I love this time of year for multitudes of reasons. Maybe because it's so fleeting that we need to grab it tight and enjoy it. It could be the colors, because oh those colors are spectacular, aren't they? It might be due to soup too.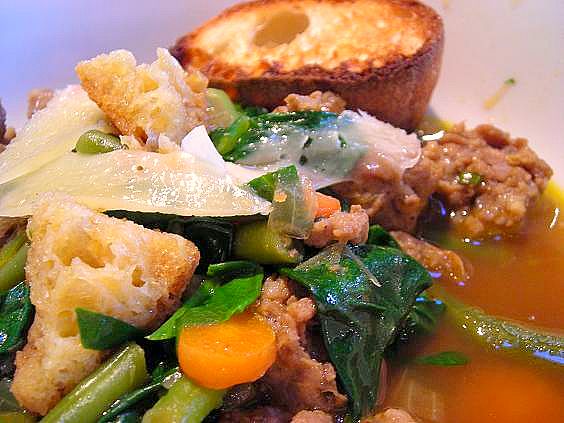 This is one of my favorite recipes, dug out from my cookbook cupboard when I recently felt brave enough to go in there and conquer the mess it had become. One drawback of being focused so much on the foods that we eat is that I collect a great deal of recipes culled from every conceivable source available. Which, I'm sure we all know, is astronomical. It's endless, for certain. And I've been known to go 'Hmm, THAT looks wonderful!' on many, many occasions, print out a sheet and then somehow lose track of it. And either I make it and swoon, or I just don't get around to it. This recipe for Zuppa Arcidossana was in a large and jumbled 'To Keep" pile that was stuffed between a few good books in the cupboard, but ultimately, and sadly, forgotten. As soon as I pulled it out, I had that lightbulb moment of 'Oh my word, I loved this soup!' and was so glad it felt cool and temperate enough to embark on another pot of it. Because people, THIS is soup. This is that hearty, steaming, chock full of veggies soup that we dream of when the sun makes that inevitable turn and we finally tuck away our shorts and tank tops. This is what soup should be; it's warming but it isn't too heavy. It's simple to make – like wayyyyy simple folks – but tastes complex and full of depth. It's versatile beyond imagination. It's delicious far past any normal words, unless you count 'Oooh' 'Mmmmm' and deep contented sighs to be normal. Which, around my house is completely fine if you do. In fact, it's expected.
Zuppa Arcidossana (Italian Bread Soup)
2 tablespoons olive oil
1/4 pound sweet Italian sausage, removed from casings
1 cup 1/2-inch-diced carrots
1 large onion, chopped
3 or 4 cloves garlic, chopped
Salt and black pepper
1 cup stale bread (use coarse, country-style bread), cut in 1/2-inch cubes
1/2 pound spinach, trimmed, washed and roughly chopped
1/4 to 1/2 cup ricotta salata, cut in 1/2-inch cubes (feta may be substituted)
1/4 cup freshly chopped parsley, optional.
Put oil in a large pot or deep skillet and brown sausage over medium-low heat, stirring occasionally. When sausage is cooked through and leaving brown bits in pan, add carrots, onion and garlic, and continue to cook until vegetables begin to soften and brown, about 10 minutes. Sprinkle with salt and pepper.
Add bread to pan and stir for a minute or 2; add spinach and continue cooking just until it wilts, a couple of minutes.
Add about 2 cups water and stir to loosen any remaining brown bits from pan. This is more of a stew than a soup, but there should be some broth, so add another cup of water if necessary. When broth is consistency of thin gravy, ladle stew into serving bowls and top with cheese and some freshly chopped parsley if you have it. Serve immediately.
Mark Bittman, NY Times, 4/29/09
KATE'S NOTES:
I reversed the order of cooking and browned the carrot, garlic and onion first for quite some time before adding in the sausage and giving it a good searing as well. Since you are only adding water, the fond on the pan will add an immense depth to the pot. You can, however, use any good stock on hand. Fresh bread actually works fine in this soup too, if you don't have any stale on hand. You can toast or broil fresh bread to stiffen it before adding to the pot.
I had some leftover green beans from a previous dinner that ended up in the soup as well. I used shaved parmesan instead of ricotta because I love the rustic edge it gives soup. Swap up the veggies, adding whatever suits you, or you have on hand. Use a different sausage or skip it altogether. Fresh herbs are a must here; I used rosemary and thyme in ample quantities.