Eyes on the prize, we are; the human race that's always striving and reaching for the next greatest thing. We race through our lives, our days and hours with little thought to what is happening around us. We watch traffic, we keep track of our kids, we watch the weather to see if we need a sweater, an umbrella or our sunglasses. We keep watch over our house, our To-Do lists and our spouses. We watch out for each other. We're focused, with razor sharp precision. And life goes beating a pulse by us, days that we miss because we're just watching out for what's next, what's going to happen tomorrow. Our view of our lives is only what we can fit inside a neat little box, with occasional forays into a view that's maybe a bit different, or unusual.
Living in Minnesota is living with a palette of seasons that changes almost daily. This is one of those times, this particular season, that the best view comes from looking up, surrounded by the glory that is called October.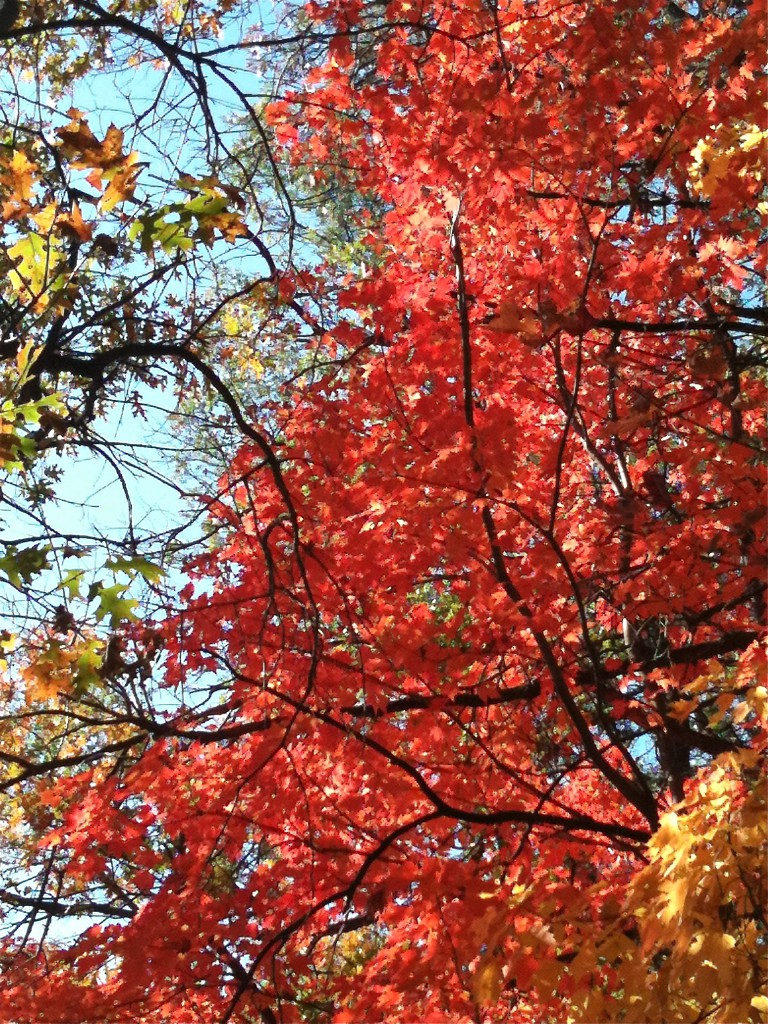 Although we can see quite a bit of what makes life so beautiful in this season even when our eyes are on the ground.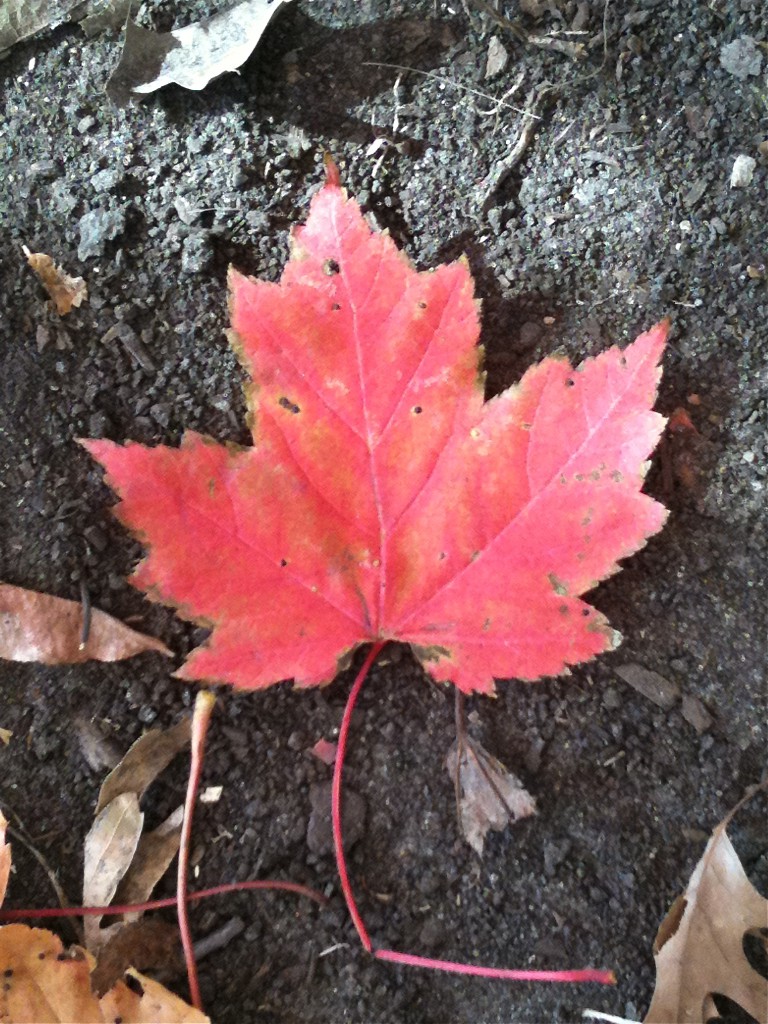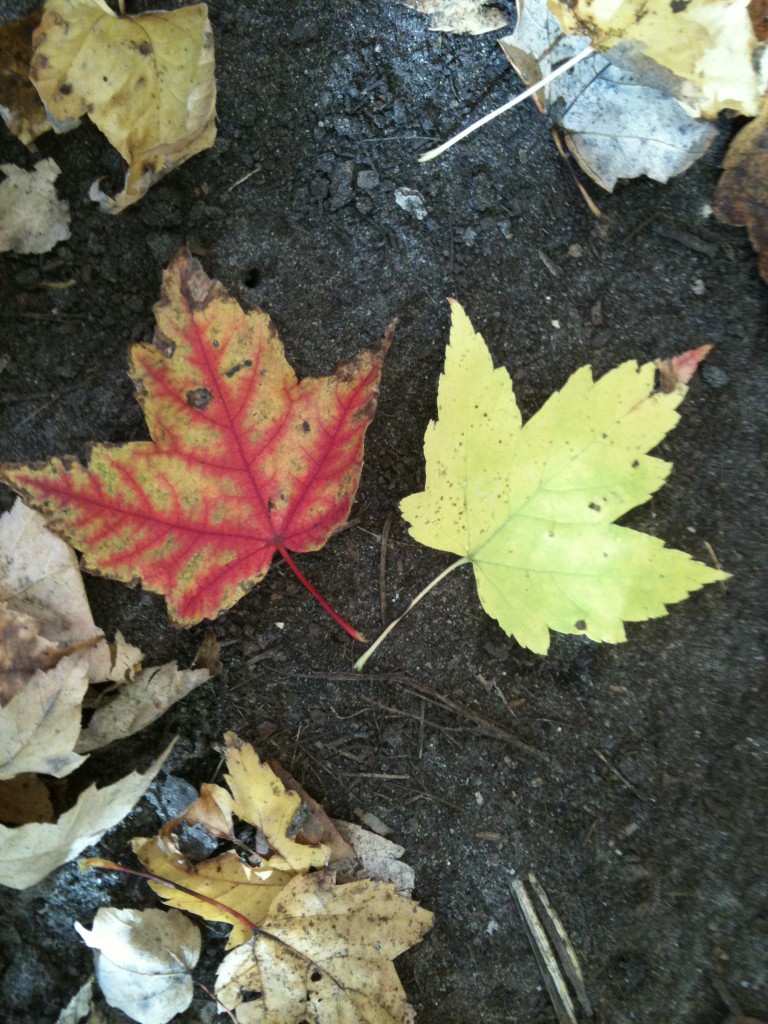 It's important for perspective to look around too, not just ahead at what's to come, or down to avoid stumbling over any hazards. By looking around, we catch those almost imperceptible moments where we realize there isn't just one path to follow.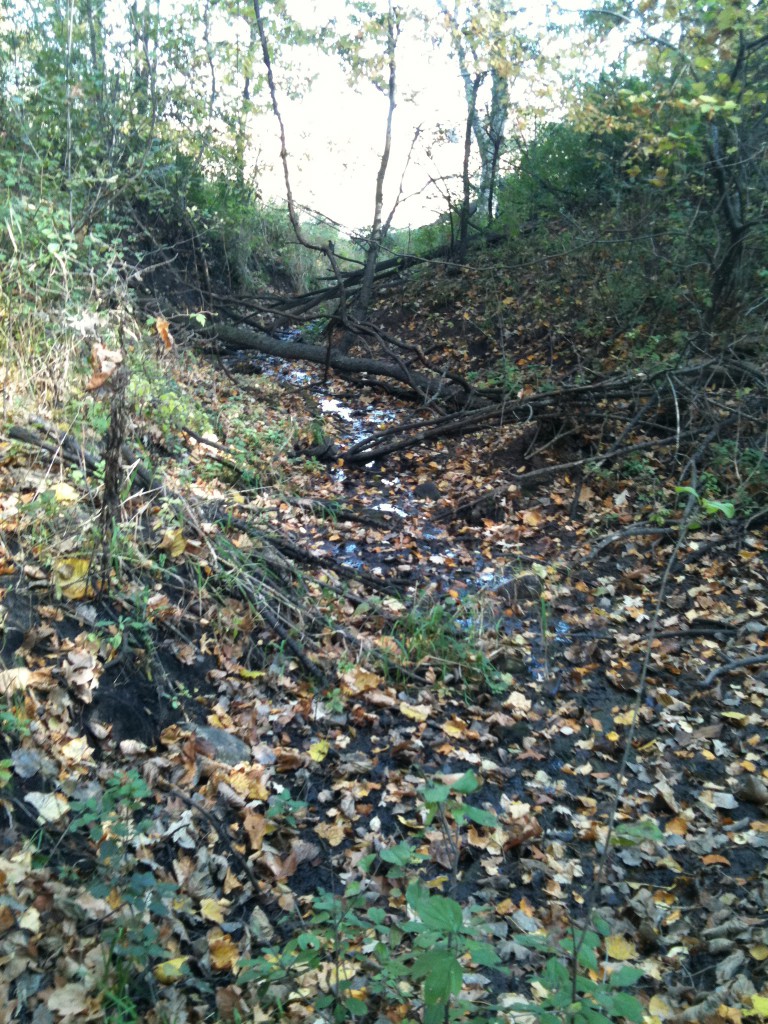 But then again, when we glance down to be sure we aren't treading on unstable ground, we might catch sight of something that we realize is bigger than what we ever could have imagined.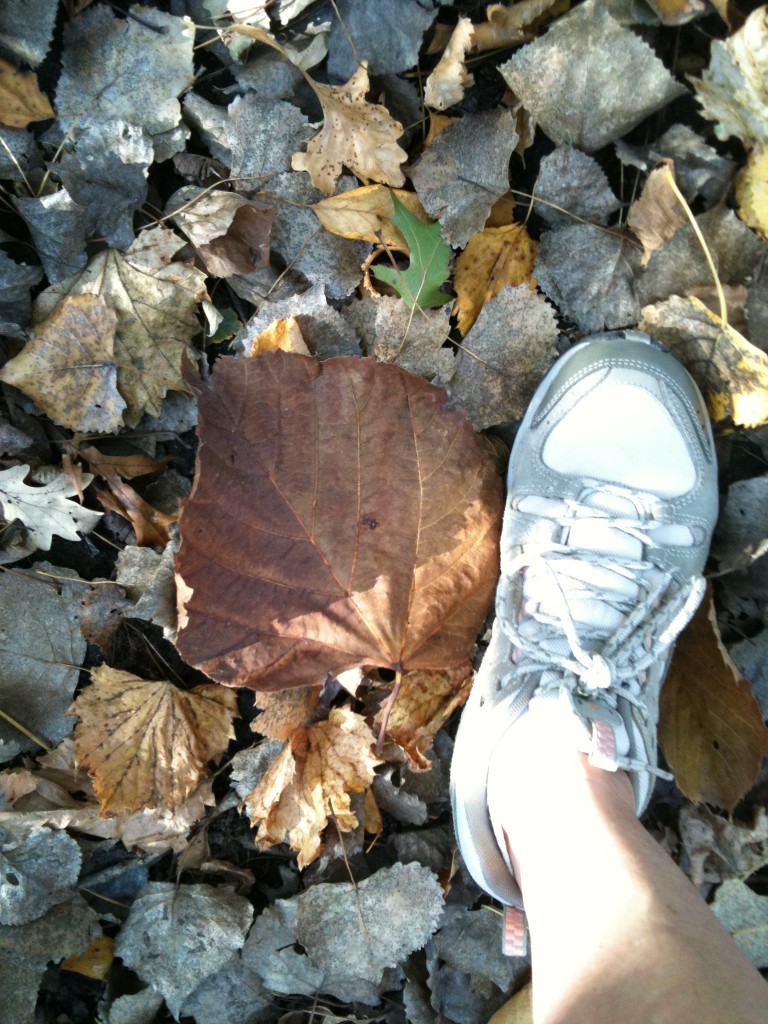 Or we discover a gift left behind, a way of showing us that we're not alone.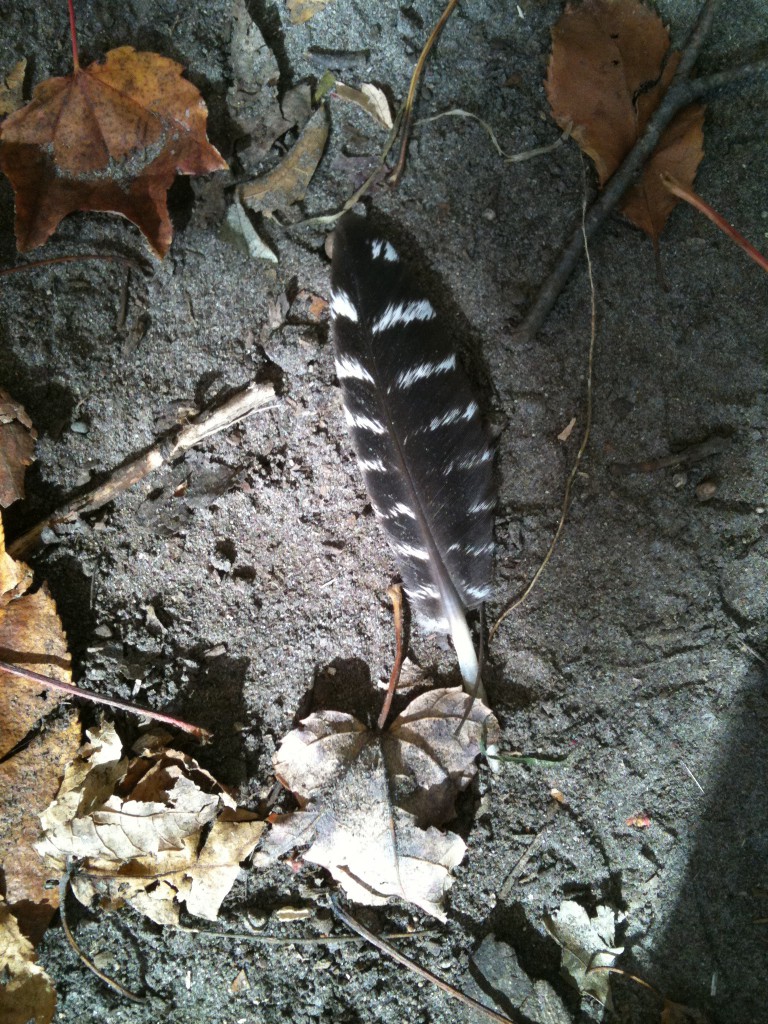 I'm reflective, yes. October does that to me. Transition does that to me. The job is over and right now, there is nothing else to fill my time. For a short amount of time, laziness will be welcomed but that won't last. I will need to work again. Yet this season, this glorious thing called October beckons me to run out into it's blazing sunshine and enjoy every moment I can grasp. And I do.
So on an unseasonably warm October day, a trek through my favorite regional park was the perfect balm for getting the last throes of my chaotic summer out of my system. I had written a post about my job back in early September, nearly 1300 words that spilled out of me in about 4 seconds flat, but as I read over what my mind churned out, I realized that it was written solely for me, a purgatory means to end that stranglehold. I both loved and hated this past summer and I'm still figuring it all out, it's purpose in my life and what I can take away from it. I may never be able to verbalize it or even make sense of it because a great deal of life's lessons come to us at inopportune times, when we least expect our brains to wake us up to what really happened.
But I can make sense of right now, right here. I can stop the crazy Merry-Go-Round of life with it's clanging calliope of noise that's impossible to shut off. I can ignore the To-Do list. I can take some time for myself. I can go on my rigorous hike through the woods, seeing it as a metaphor, something that applies seamlessly to where I am and use it to keep centered. Life isn't about always keeping a forward face, never looking back or wearing blinders through your days. It isn't always about keeping to a schedule, checking e-mail or looking over the calendar to see what's coming. We miss some pretty glorious moments by being far too focused. We miss out on the season, the one that's happening right now, in a stupendous and beautiful way.
There's quite a perspective to be found when walking through tranquil woods, surrounded by towering trees and a shower of leaves with each gust of wind. And nothing makes you feel quite so humble as laying back, and really seeing what is above you.
And of course, there's food too. I can't just wax poetic about Autumn in Minnesota- well, I can, yes- but the best part about being away from the confines of my job is that I am bowled over with the urge to get back in the kitchen, the kitchen where Kate is most comfortable and the vehicle for this entire blog. I want to cook again, and I'm so eager to share all of it with you.
So, let's start with this typically Fall muffin. I happen to be resurrecting it from a post back about a year or so, but it's no less relevant now. And it's perfect for this time of year.
These delicious and moist muffins can help with an attitude adjustment too, and be a great means for using up the bounty of squash that's available this time of year. Although the recipe calls for sweet potato, any type of squash will do. Chock full of oats and cinnamon, they speak softly of the visual blaze of October and are perfect for lunch boxes and after school snacks.
Oatmeal Sweet Potato Muffins
from the Louisiana Sweet Potato Commission
1 c. old fashioned rolled oats
1 c. flour (AP or Whole Wheat, or both)
1 t. baking powder
1/2 t. baking soda
1 t. ground cinnamon
1/2 t. ground nutmeg
1 T. ground flaxseed
1 c. cooked and mashed sweet potato
3/4 c. brown sugar
1/3 c. canola oil
1/4 c. skim milk
1 large egg
1 t. pure vanilla extract
Preheat oven to 400°. Line two standard muffin tins with paper liners.
In a medium bowl, whisk oatmeal, flour, baking powder and soda, cinnamon, nutmeg and flaxseed. In another small bowl, combine sweet potato, brown sugar, oil, egg, milk and vanilla, whisking to blend well. Pour over dry ingredients and stir to combine. Mix until just moistened. Scoop into muffin tins and back for 15-20 minutes. Check at the 15 minute mark- these bake up quickly.
KATE'S NOTES:
This recipe doubles really easily. I doubled it using both AP and whole wheat flour and the result was nice and firm. You can substitute pumpkin for the sweet potato, or use garnet yams. Be sure that the vegetable is cooked and mashed well. I used soy milk in mine and it works just fine. For one batch of these, I added 1/2 c. of flaked coconut, and I think chopped and toasted pecans would be wonderful in these. As always, the ground flaxseed is optional.
For an extra level of flavor, you can top these with a crumb topping made from 1/4 c. oats, 1/4 c. flour, 1/4 c. brown sugar, 1-2 T. softened butter and 1 t. vanilla extract. Combine these well and sprinkle over the muffins before baking. I have not used it, but imagine it would be excellent.