I love finding new purposes for old, familiar products. Like Rice Krispies.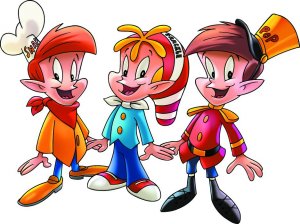 I loved this cereal as a kid, and of course, who doesn't love the gooey marshmallow treats made with it? Loved those too, and my sisters and I would easily make pans of them to devour, as well as my friends and I as we got older. I recently was gifted with a large sack of Rice Krispies and have been searching for ways to use them up. Even if it's free, waste is not something I'm comfortable with.
Griffin and I made a pan of Rice Krispie treats, and as an added flavor, I stirred about a half cup of butterscotch sauce into the butter/marshmallow mix. What a nice flavor! It added a lot of warmth and depth to them. We're going to try hot fudge next and are expecting those to be equally as decadent.
I also love finding new recipes for old favorites. Coffee cake and I go wayyyyyy back; back to the little girl who quizzically looked at her Mom when offered a piece of coffee cake and said something to the extent of  "But Mommy, I don't drink coffee." We had a tried and true Blueberry Coffee Cake recipe growing up. It was a stalwart, a non-negotiable breakfast/dessert that we trusted and utilized without question. Once my Mom found something in recipe format that she could trust, that her five darlings would eat without some form of revolt or complaint, she rarely deviated from it. But it's been a while since I made that particular recipe of Mom's because the last time I stirred it together and baked it, I found that I didn't really enjoy it as much as I remember. It was good, but it wasn't what I wanted in a coffee cake. I wanted moist and crunchy to work together; I wanted cake but I wanted muffin too, and I wanted fruit but I wanted more than just fruit. In short, I didn't know what the heck I wanted. Or even how to make it happen.
Then the past, the present and the coincidence of having 2 pounds of Rice Krispies on hand to use up all came crashing together in one perfect serendipitous event.
I'm not sure where I came across this recipe for a Coffee Cake made with Rice Krispies as part of the base, but I printed it off and finally got mixing on it one morning. It's certainly a simple concept; make a batter, top it with prepared jam, a bit more batter and then a crumb topping. Simple!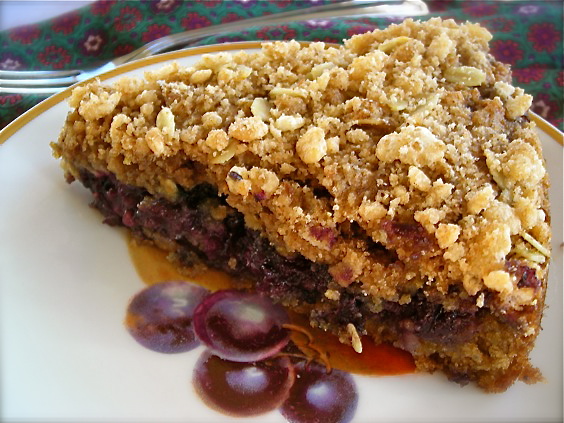 And delicious too! Here it was, the perfect, angels singing, clouds parting for the blazing sunshine coffee cake that my mind had conjured up before my hands had known how to create it. The Universe made it happen. Amen and amen. With this recipe, and the moist yet crunchy, cakey but sort of more muffin like, fruit but a whole lot more coffee cake that came from it will now be a regular occurrence in our kitchen. And the bonus part is, I know that Mom would agree. It was alchemy, magic and flavor all rolled into one.
Although the recipe called for blueberry jam, you could use any fruit spread you wish, and I imagine that pie filling would also be an acceptable substitute. It's a perfect brunch option, or weekend treat and makes for an excellent dessert as well. We all agreed that it was a terrific way to use up some of the excess Rice Krispies we had on hand.
Blueberry Lemon Coffee Cake
3 c. Rice Krispies (or similar type) cereal
1-1/2 c. whole wheat flour
1/2 c. rolled oats
2/3 c. brown sugar
1 T. ground cinnamon
1 t. ground nutmeg
2 T. ground flaxseed (optional)
1/2 c. (1 stick) butter, softened
1/2 t. each baking soda and baking powder
1/4 t. sea salt
1 egg
1 c. buttermilk
1 T. grated lemon peel
2 t. fresh squeezed lemon juice
1/2 c. prepared blueberry jam
1 c. frozen blueberries (optional)
Spray a 9" springform cake pan with cooking spray. Heat oven to 350 degrees.
In a medium bowl, combine cereal, flour and sugar. With a pastry cutter or two forks, cut in butter until crumbly. Remove 3/4 c. and set aside.
To remaining cereal/flour mixture, add the baking soda, powder and salt and blend thoroughly.
In a small bowl or measuring cup, whisk together the buttermilk, egg, lemon peel and juice. Pour into the larger amount of cereal/flour mix and stir only until just combined. Spread about 2/3 of the batter in the bottom of the prepared pan. Evenly spread jam over batter to 1/2" of pan edge. Sprinkle blueberries over jam (if using). Dot remaining batter over fruit and gently spread to edge of pan. Sprinkle with reserved cereal/flour mix.
Bake for approximately 40 minutes, or until toothpick inserted into center comes out clean. Allow to cool in pan for 20-30 minutes, then release spring and gently slide cake onto platter.