"October gave a party, the leaves by hundreds came.
The Chestnuts, Oaks and Maples, and leaves of every name.
The sunshine spread a carpet, and everything was grand.
Miss Weather led the dancing, Professor Wind, the band."
Goerge Cooper, 'October's Party'
That sums up our October, doesn't it? A more glorious month has yet to be seen, if you ask me. This year has shown us some amazing weather, and I know that many, many people thought summer was too hot, too muggy, too much 'Summer', I guess, but to me, it was just what Summer should be. And then for our reward, the heat index fell, the nights became more comfortable and we got October. Blessed, glorious, magnificent October.
"Bittersweet October.  The mellow, messy, leaf-kicking, perfect pause
between the opposing miseries of summer and winter"
~Carol Bishop Hipps
For what it's worth, Summer wasn't miserable. Just normal. And Winter is only miserable if you choose to look at it that way. Several years ago, I took up Cross Country skiing again, having not touched the skinny skis since I was a young girl. I forgot how magical it is to slide over the snow, in a quiet wood or on the trails and I've loved the benefits it gives me from the exercise. So I tend not to dread Winter like I've done in the past. And of course that means I really pray for a good snow cover. My apologies to those who hate everything that happens between now and Springtime.
But here we are in November, and it's often a fairly gloomy month. That's just not my cup of tea. There's no eye-popping color, no crunching through ankle deep leaves, or mind-boggling glimpses of cobalt blue sky. It's just November, the countdown to holidays and crazy chaos and the beginning of the dark season.
So I do what any other sane and hardened Northern dweller will do to combat these coming days. I turn on the oven, fling items like flour, baking powder, cinnamon, milk and eggs all over the kitchen and come up with something comforting and slightly sweet, something to draw me back. To rein me in, so to  speak. Last year I made a big effort to try and embrace Winter and all it's darkness, with it's amethyst sunsets and opalescent snowfalls. It made a huge difference so I am hoping it works again this year.
Along with a heightened attempt to change my attitude about Winter, so my baking has taken on a new aspect, and changed so dramatically from when I was little. I balk at making baked goods laden with shortening, oil and tons of refined sugar. Delicious, yes. Healthy- not at all. So I'm always on the lookout for recipes that support that, yet offer abundant flavor and comfort.
Like Peanut Butter Banana Bread.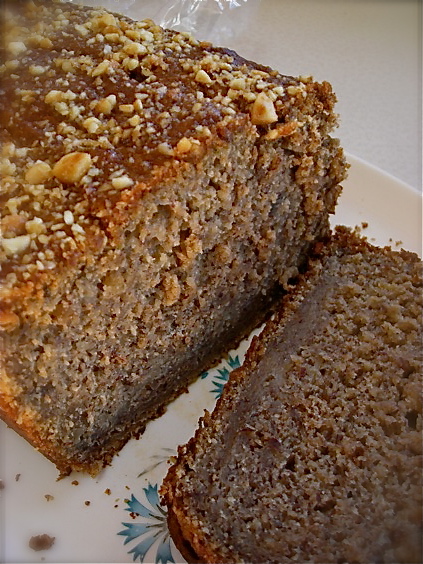 These are two of my favorite tastes, together in a moist, tender load studded with chopped peanuts. While it's not health food at all, it's created with a lean towards the 'Better for You' angle, using very little fat and only a small amount of sugar.
I've been experimenting with sugar content in a lot of my baking recently. Instead of using white sugar, I've subbed in maple syrup, or honey or brown sugar for my recipes, often reducing the amount drastically. The results have been wonderful- good flavor and texture without the item being so sweet as to cross your eyes. Now I am not ignoring the fact that subbing one sugar for another is actually better, but instead I am focusing on removing white refined sugar from my diet completely. Sugar is sugar, yes. The goal is to remove refined products, which also includes white flour. All my baked goods are also being made with whole wheat flour too, including this bread.
I love the balance of peanut butter and banana in this bread. The PB is a subtle undertone to the delicious banana taste, and the addition of chopped peanuts (in this case, they were honey-roasted which I can't recommend enough) adds a nice textural crunch to the moist bread. This recipe calls for ground flaxseed, and while I often add that to my baked goods even when it isn't called for, in this recipe it's a vital component and adds a nice nutty touch. Here's the original recipe, with my substitutions in parentheses.
Peanut Butter Banana Bread
from All Recipes
1 1/2  cups  mashed ripe banana (I used 3-1/2 large bananas- more than it called for but delicious nonetheless)
1/3  cup  plain fat-free yogurt
1/3  cup  creamy peanut butter
3  tablespoons  butter, melted (I subbed canola oil)
2  large eggs
1/2  cup  granulated sugar (I omitted this)
1/2  cup  packed brown sugar (I increased this to 3/4 c. and it was perfect)
1 1/2 cups all-purpose flour  (I used all whole wheat)
1/4  cup  ground flaxseed
3/4  teaspoon  baking soda
1/2  teaspoon  salt
1/2  teaspoon  ground cinnamon
1/8  teaspoon  ground allspice
2 T. chopped roasted peanuts
Preheat oven to 350° and spray a standard loaf pan with cooking spray. Alternatively, you could use an 8×8 baking pan too, with adjusted baking time.
In a large bowl, combine bananas, yogurt, peanut butter, butter, eggs and sugar and stir until thoroughly combined. In another bowl, whisk together flour, flaxseed, baking soda, salt, spices and chopped nuts until uniform. Add to wet ingredients and stir just until blended. Do not over-mix. Scrape batter into prepared pan and bake for 50-60 minutes or until toothpick inserted in the center comes out clean. Baking time will be shorter if using the 8×8 square baking pan.
If desired, sprinkle chopped peanuts over the top of the loaf prior to baking. I loved how this added a nice crunchy touch to the finished product.