From scratch. Yes. Crank up your exercise resolve if you make it.
The Teen and I were searching for some hot fudge to put into a batch of Rice Krispie Bars, and…..
What? Of course, you heard me right!! Silly- I wouldn't fib about this. Most people just go ahead and use Cocoa Krispies to make a rich chocolate-y version of Rice Krispie Bars, but that's just SO not me. I go all out people. In the race to decadence, I am the one at the end stretching herself out to knock everyone else out of the running.
But yeah, back to that Hot Fudge. All we found in the store were jars with high fructose corn syrup. I relented and got one that had less of the evil ingredients over the others; still, it wasn't my first choice. Because you see, I'd forgotten that I had this recipe.
And with thousands of recipes under my belt, do you blame me?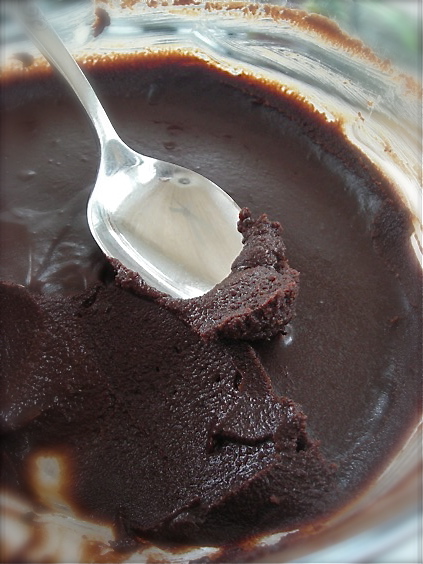 Decadent Hot Fudge Sauce
(from The Silver Palate Cookbook, with adaptations)
4  1-oz squares unsweetened Bakers Chocolate
3 T. unsalted butter (NO substitutions- be WILD people!)
2/3 c. water
1/3 c. sugar
1/3 c. light corn syrup
Pinch sea salt
1 T. pure vanilla extract (or get even more crazy and add real rum, cognac, amaretto……you get the idea)
In a small saucepan over very low heat, melt the chocolate and butter together. Do not stir, but occasionally agitate the pan to distribute the heat. Alternately, you can use a double boiler. In another small pan, bring the water to a boil.
When the chocolate is fully melted, pour the boiling water into it, then stir in the sugar and corn syrup. Stir to combine and bring back to a boil. Reduce the heat so that it simmers gently, but not violently, and allow to boil for about 10 minutes. You can stir it occasionally, but it's really not necessary. After 10 minutes, remove it from the heat and stir in the flavoring. Allow to cool for 20 minutes or so, then spoon it over ice cream.
This can be chilled too, and reheated in the microwave. Stir to combine before serving. Enjoy it immensely.
A Note From Kate: I do realize this has corn syrup in it. BUT…. it also has ZERO unpronounceable ingredients. I'll take that over a jar any day.