The primary reason for the type of cooking I do is my health. Our health. This has been at the front of my mind since Griffin began eating solid foods as a baby. Before he was even born I knew I wanted to be able to feed him in a healthy manner, with fresh scratch-made foods and a lot of variety. It felt at times like a monumental task, being entrusted to feeding. teaching and educating this blank palate he had, and giving him the tools to grow strong and vital from the inside out.
I made the majority of his baby foods from scratch, from the foods I was eating. Granted, this was only 15 years ago, but I came across an incredible amount of ignorance over it, people who told me he would suffer from malnutrition because of the foods I fed him. I was appalled at the ignorance. Here I was, cooking carrots, beans and squash, pureeing them smooth and using them for his meals and I was accused of not feeding him properly. What about that was wrong?
Now flash forward to the presence; this type of cooking for your baby is the gold standard. Scratch foods are the goal, and one's health through the foods they eat is the #1 topic on most anyone's mind. Obesity and diet related diseases are out of control. If ever there was a time to take control of one's health by what we put in our mouths, now would be it. And so what moves through my kitchen has to pass a certain level of scrutiny; is it a whole food? without trans fats? no MSG? low in sodium? what are the health properties? and probably most importantly, how can I do all of this and maintain our food budget?
One aspect of cooking that I try to utilize as much as possible is to fill each meal with multiple items that all contribute to healthier eating. I use a lot of legumes when I can, fresh vegetables wherever possible and load up a pot of soup with everything imaginable.
This Hearty Minestrone is a perfect example of the type of soup we love in this house; rich and delicious, chock full of good things.
Canned tomato products make a regular appearance in my winter repertoire, my bubbling pots of chili, soups of all kinds, warming roasts and numerous pasta dishes. The presence of heart-healthy lycopene is very high in tomatoes, and has found to be much more readily absorbed from canned products than in fresh ones, and you know, finding a good tomato in Minnesota during the winter months is a laughable matter. Being able to pull out a can of tomato product to add the all-important element of health to our diet makes dinnertime a bit easier. On the plus side, using Hunts tomato products insures top quality standards, as the tomatoes are Flash steamed, preserving the full flavor of tomatoes for home use year round.
ConAgra Foods recently presented effective evidence for the benefits of lycopene in the American diet, stating that the health advantages of tomato products, in addition to the lycopene, include significant levels of Vitamin C, fiber and potassium, more than twice the potassium of notable sources such as bananas, potatoes or orange juice. In conjunction with research done at the University of California-Davis, participants in a six-week study who experience high blood pressure found a marked decrease in numbers when they consumed twice daily amounts of canned tomatoes. (Source: Tomatoes: The Everyday Superfood for Heart Health)
But back to that Minestrone, shall we?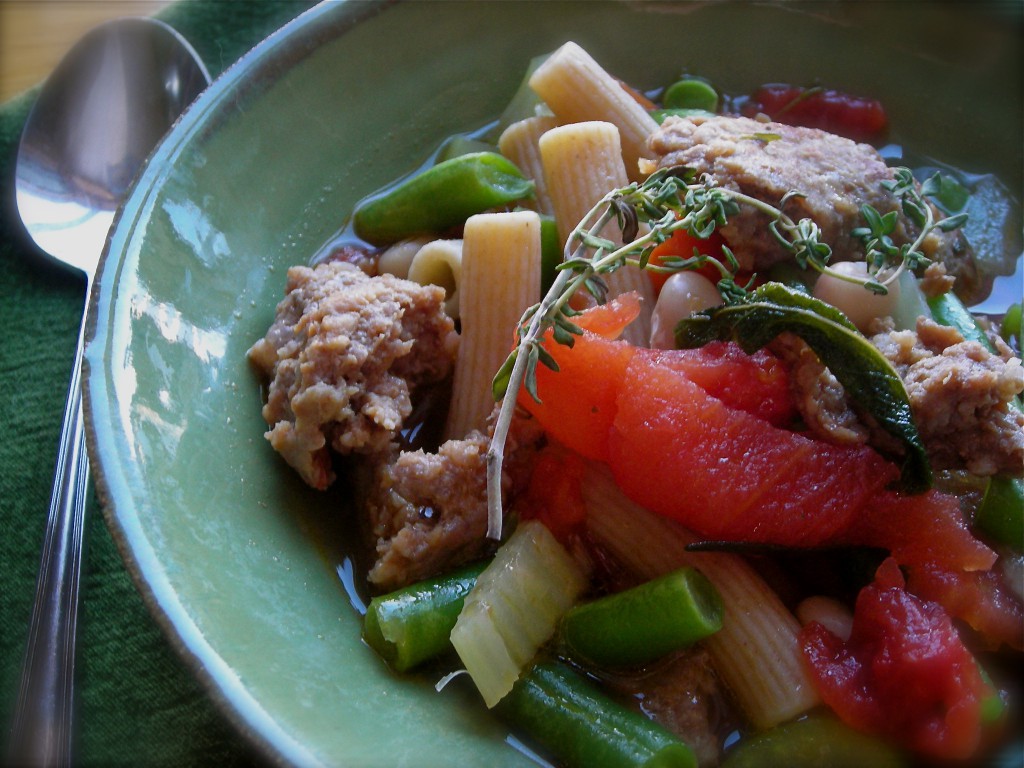 Hearty Minestrone
Adapted from Tyler Florence, Real Kitchen cookbook
2 quarts chicken stock
4 garlic cloves, crushed
1/2 # small rigatoni, or other hearty shape of pasta
Extra-virgin olive oil
8 fresh sage leaves
1 sprig fresh rosemary
2-3 sprigs fresh thyme
3/4 pound loose Italian pork sausage (sweet, or hot- both work well)
3 medium carrots, roughly chopped
2 celery ribs, roughly chopped
1 onion, roughly chopped
1 (28-ounce) can whole tomatoes (I like to use the Hunts brand with basil added.)
1 bay leaf
1-2 15-oz cans cannelloni or Great Northern beans, drained and rinsed
1 10-oz package frozen green beans, preferable the steam-in-the-packet kind
1/2 bunch fresh parsley leaves, finely minced
-Combine the stock, crushed garlic, rosemary, sage and thyme in a big saucepan and simmer for about 15 minutes to give the stock a nice, garlicky herbed taste. Keep warm.
-Bring a pot of salted water to boil for the rigatoni.
-Pour 1/4 cup olive oil in a large stockpot. Add the sausage and cook, breaking up the sausage with the side of a big spoon until well browned.
-Add the carrot, onion and celery to the saucepan and cook for about 5 minutes, until the vegetables are softened but not browned.
-Stir in the crushed tomatoes, bay leaf, cannelloni beans, green beans and chicken stock. Bring to a simmer and cook, stirring occasionally. The soup will develop more flavor the longer it simmers. Cook over a very low flame for up to two hours, or for as little as 30 minutes, depending on how much time you have. Remove the herb stems before serving.
-Cook the rigatoni according to package directions. Drain and rinse with cold water to stop the cooking.
-To serve soup, place a small amount of cooked pasta in the bottom of a soup bowl and ladle the hot soup over the top. Sprinkle with the parsley, and shredded parmesan cheese, if desired.
KATE'S NOTES:
I like to keep the pasta separate from the actual soup when I make Minestrone due to the pasta's amazing ability to absorb a phenomenal amount of liquid. It is, however, entirely up to you and I certainly can't deny the added flavor of cooking the pasta in the incredibly flavorful broth that this recipe makes. For an extra delicious added flavor, top slices of good crusty bread with shredded parmesan cheese and broil until browned and toasty, then float them on the soup.
Disclaimer:
I was compensated financially for this post in cooperation with The Motherhood.com We Heart Tomatoes campaign, ConAgra Foods and Hunts Tomatoes. Sources included information supplied by ConAgra Foods. All other information in this post was my own opinion.