I'm remiss in giving some blog love to several wonderful products that have come my way recently. I truly love this aspect of food blogging.
This past December, I participated in Season's Eatings, a food exchange set up by my long time blogging friend, and former Minnesotan Katie, of Thyme for Cooking. Katie gathers bloggers from all over the world who send out food items native to their area or state. I've participated in previous years and the anticipation of what might show up in your mailbox is a great deal of fun. I nearly tackled the mailman almost every day once the deadline for shipping was past, in case he had a package for me. Good thing he's got a sense of humor.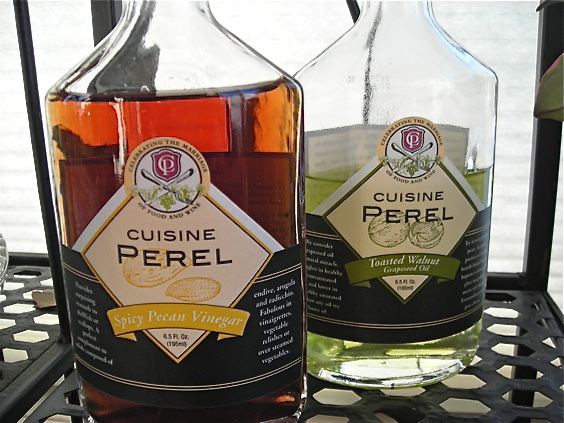 Finally, it arrived and I found two lovely bottles of specialty oil and vinegar from Nancy of A Wine Lover's Wanderings. The Spicy Pecan vinegar, and Toasted Walnut oil combined beautifully with apples, walnuts and blue cheese crumbles to make a delicious salad for our Christmas dinner that unfortunately got gobbled up before a photograph occurred. My most humblest apologies to Katie because I seriously missed the deadline to get this up for her roundup at the end of December.
And talk about being remiss…. I probably received this Virgin Coconut Oil from Tropical Traditions sometime back in the Fall. It might have even been before that, so I am really apologetic about the delay in mentioning it.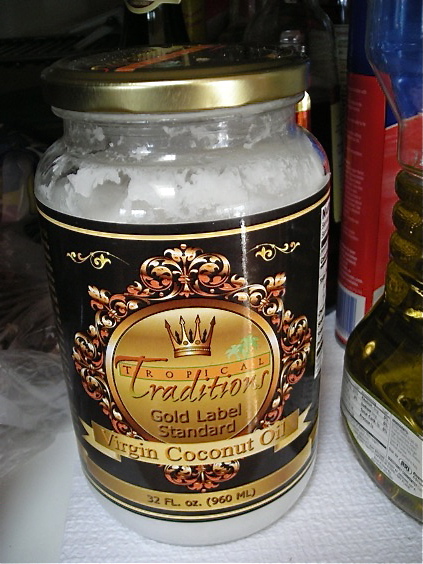 I'm always taken aback when 'Samples' get shipped to me because I'm thinking small, like the endless Sample bins at the drugstore where you can get tiny bottles of shampoo, mini toothpaste tubes and lotions that fit in the palm of your hand. Then this big honking jar of coconut oil shows up and wipes my mind clean of anything sample sized. A quart of coconut oil, and really, the only thing I've done with it, besides open the jar and inhale it's tropical scent when the days are too cold and dreary, is to use it in my stove top popcorn popper. This product makes The. Best. popcorn I've ever tasted, and I have my fellow food blogger Crystal to thank for this discovery. Popcorn made with coconut oil pops up so crispy and light, with just the slightest hint of coconut flavor. Although I did taste some rich chocolate cookies made with coconut oil, my only love for this product at home has been through my popcorn cravings.
Lastly, I was thrilled to receive an enormous shipment of Gold'N Plump's new ground chicken products. Once again, I was awed at the generosity of the samples, all full sized.
I received 8 pounds total; four packages of 95% fat free (95/5 on the label), and four of 90% fat free (90/10), in both standard packaging and in 'chubs', which makes me think of chubby baby thighs and cheeks. The meat is suited for use in any recipe where you would use ground beef, or even ground turkey. We've made burgers, which we loved, and a Meatloaf, which turned out beautifully. I'll post the recipe very soon, I promise!  They've tasted wonderful, and I love the lower fat content of the product. Ground beef never gets used in my kitchen, and it's nice now to have some options instead of using ground turkey.

DISCLAIMER:
I received all of the above mentioned products free of charge. I was not compensated in any other way


and all reviews and thoughts are my own and do not reflect any company or product affiliation.