Sometimes all it takes for me to leap into a new recipe idea is something completely random that I either read or hear. It makes my culinary brain start spinning, usually because it's a food item I've never heard of and have no clue as to what it is. I am nothing without my near obsessive need to understand all aspects of food, and when faced with this empty space in my food dictionary, I am unable to resist the urge to learn, to know more and to understand.
Take Horchata, for example. I'd never heard of it before seeing one brief mention of it from someone on Twitter, along with the question of how it could possibly create a stunning French Toast, and I basically leapt into researching it like I'd been shot from a rocket. Strange, I know, but my brain likes to evolve; I'm not content to rest on any kind of laurels with my quest to find out as much as I can about the cuisines of the world. Horchata, for those uninitiated, is a cool and refreshing drink, usually a type of aqua fresca, served traditionally with Mexican style meals. It's light, creamy and easily pairs with most any foods, especially dishes with a lot of spice and heat. It's not, however, made with milk so it's a lovely dairy free beverage.
The standard Horchata recipe combines ground rice and almonds with water, lime juice and zest and cinnamon. This mixture is saturated with water and allowed to stand overnight, then it's drained, resulting in a delicious liquid that you sweeten with either white or brown sugar. I wasn't at all certain how it would taste, but my first sip dashed away any doubt; this was stellar, and here I was enjoying it zealously during some of the coldest days of our Minnesota winter. For a hot summer day, I would imagine this is a perfect accompaniment to a sultry afternoon, and I look forward to the day that I can test that theory. For now, I'll settle with it being the base to the best tasting french toast that's crossed my kitchen counters in a long, long time.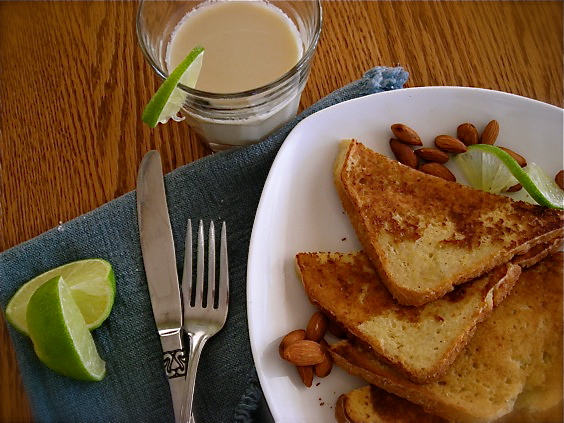 French toast is really not that interesting of a dish. There's a creamy custard that you dip slices of bread into, which are then cooked on a hot skillet, doused with syrup, spread with jam or maybe sprinkled with powdered sugar. It's simple and basic, and really, the bread you use can make or break the final result. But overall, there's little you can do to make the dish leap from it's ubiquitous nature to something altogether stunning. Unless you start with Horchata as your base.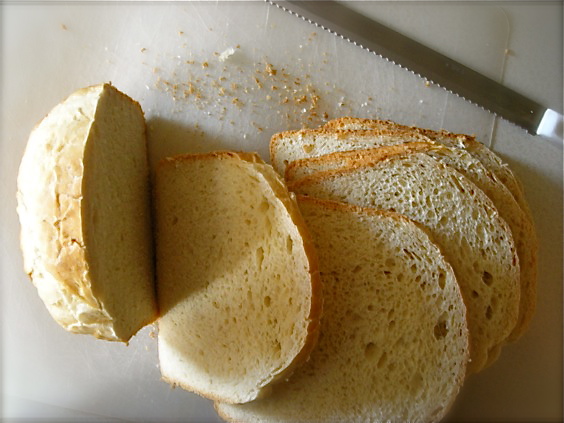 The Horchata, when made from scratch, only requires forethought to prepare. Most of the work is done as it sits on your counter, marrying the amazing flavors of almond, lime and cinnamon together. Strain it, sweeten it and chill it and you've got a pitcher of perfection whenever you need cool refreshment. I looked to the most trusted source for South of the border delights, the never fail Lisa of Homesick Texan, and sure enough, she had a recipe for Horchata that came straight from Rick Bayless. Between those two, there was no way this would disappoint.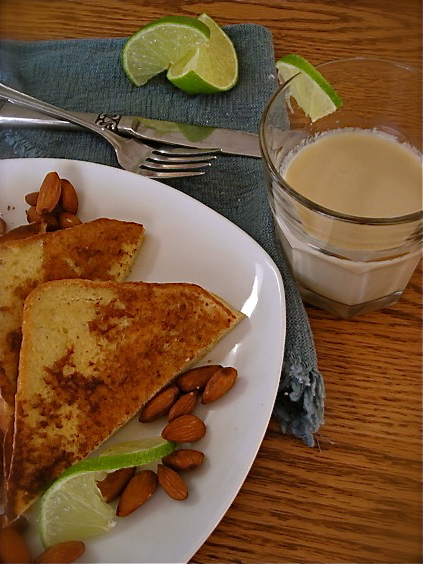 And it didn't. Nutty from the almonds, zesty with lime and lush with light, refreshing flavor, the French Toast was a delight from first bite to last. It needed only a minimal drizzle of maple syrup to make it perfect. Make up a big batch if you can; the flavor sustains itself in your refrigerator, making it perfect to have on hand for a delicious and quick breakfast.
Horchata


Ingredients:
2/3 cup of uncooked rice
1 1/4 cups of blanched almonds
1 teaspoon of lime juice
Zest from one lime
1 cinnamon stick
1 teaspoon vanilla extract
1 cup of sugar or brown sugar, depending on how dark you want the drink

Method:
In a blender or spice grinder, grind the rice until it's powdery. Place ground rice, almonds, lime juice, lime zest and the cinnamon stick in a pot and cover with two cups of warm water. Let stand overnight or for eight hours.

After the mixture has soaked, take out the cinnamon stick and pour contents into a blender with two cups of water and blend until smooth. Take a mesh colander that has been double lined with cheesecloth, and over a bowl or pitcher slowly pour the mixture, wringing the cheesecloth to get every last drop out. You should have a milky, smooth liquid at this point. If there are still rice and almond bits floating around, strain it again.

In a pot, heat up one cup of sugar and one cup of water on medium heat until the sugar has dissolved. Stir this sugar water into the horchata, along with the vanilla. Add one more cup of water and serve over ice or chilled. Mixture may separate under refrigeration. Just stir to combine.

(From Homesick Texan, and adapted from Rick Bayless)
Horchata French Toast

2 c. prepared Horchata
3 eggs
1 t. ground cinnamon
2 T. natural cane sugar or brown sugar

Whisk custard ingredients in large wide bowl. Heat skillet until a drop of water sizzles and vaporizes on impact. Dip bread into custard and cook until browned on one side; flip over and repeat.