Sometimes I come across a recipe by accident, through a bevy of channels found by clicking here, clicking there, following some promising links and then WHAM! you spot something that looks so delicious that you know you have to make it, right there and right now.
Of course, it helps when I have everything on hand to make it, with the bonus of it being a much healthier version of tea bread, which, let's face it, is just a big oblong cake, isn't it? Most tea bread recipes could easily be baked in a bundt pan, or as rounds, covered with frosting of any sort and masqueraded as a cake. No one would really know the difference.
But this tea bread, with it's luscious compote of cooked sweet dried cherries and figs comes out as something else. It's dense and moist, yes, but it's much more bread-like than your typical rectangular 9×5 offering. And I'm kind of a sucker for anything with figs in it. Back to my childhood, when a Fig Newton, fresh and cakey filled with thick pureed figs was my most favorite store-bought cookie, to the now of my adult life, and the soft magical collapse of a fresh fig in my mouth, or the sweet bite of a dried one in my morning oatmeal, there really isn't a time that I'll pass up noshing on figs. The glorious fig has no fat whatsoever, no saturated fat, and no cholesterol or sodium. They're loaded with calcium too, a half cup worth of dried figs fills your entire daily requirement for calcium intake. They're a complex carbohydrate, rich in fiber and loaded with essential minerals like potassium and iron. Excellence all around.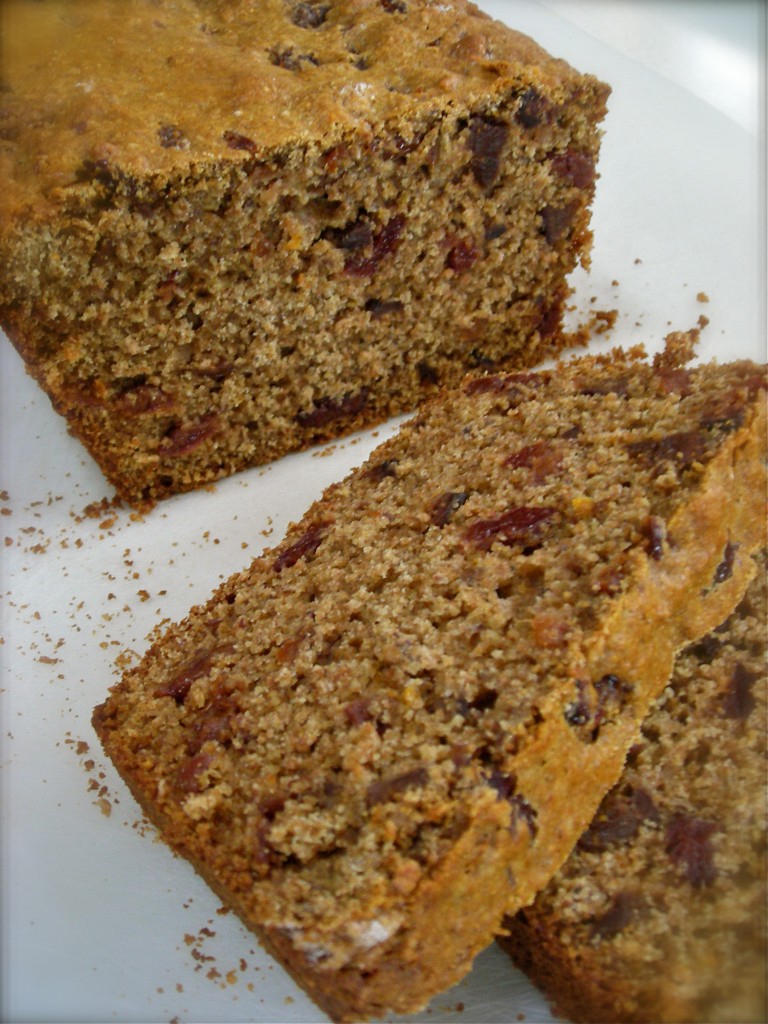 The recipe comes, not surprisingly, from Eating Well magazine, a publication that consistently offers up health, nutrition and simple good taste.  You don't need much in the way of fancy ingredients or advanced cooking skills to make the majority of offerings in the magazines, and along with consistently good recipes, they offer plenty of up to date nutritional information and honest discourse about food trends.
And recipes with figs. Enough said.
Cherry Fig Tea Loaf

1 c. dried tart cherries
1 c. chopped dried figs
1 c. orange juice
2 c. whole wheat flour
1/2 c. honey
1/4 c. wheat bran
2 t. freshly grated orange zest
2 t. baking powder
1 t. baking soda
1/2 t. salt
2 large eggs
2/3 c. plain soy milk
3 T canola oil
1 t. pure vanilla extract

Preheat oven to 350°F. Coat a 9 1/2-by-5 1/2-inch loaf pan with cooking spray.

Combine cherries, figs and orange juice in a medium saucepan. Bring to a simmer over low heat. Simmer, covered, for 5 minutes. Strain, reserving 1/3 cup of the fruit-cooking liquid. Set the fruit and liquid aside in separate bowls.

Stir together flour, sugar, wheat bran, orange zest, baking powder, baking soda and salt in a large bowl. Whisk together eggs, buttermilk, oil, vanilla and the reserved 1/3 cup fruit-cooking liquid in another large bowl. Add to the flour mixture and stir with a rubber spatula until just combined. Fold in the reserved fruit. Turn the batter into the prepared pan.

Bake until the top is golden and a cake tester inserted in the center of the loaf comes out clean, 35 to 45 minutes. Let cool in the pan on a rack for 10 minutes. Loosen edges and invert the loaf onto a rack to cool. Serve warm or at room temperature.

This version was adapted slightly from the original one published by Eating Well magazine. To view that, please go here.