I recently started working again. Just part-time, but for good pay and doing something I love, and really, that's all anyone needs, isn't it?
And I get to think about lunch too, bringing something with me when I work to help spur me through the day, give me a good dose of energy, keep me full but not stuffed with a strong healthy edge to it. Enter the Spicy Tuna Wrap.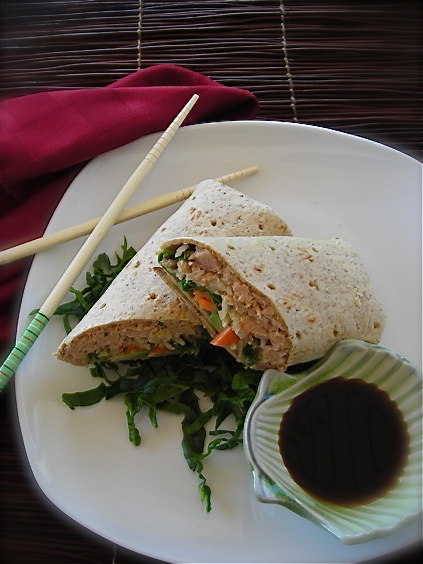 I love lunch time. I'm not sure where this enamored state over the noon meal ever came from, but as long as I can remember, lunch has been my favorite meal. Maybe it's the lunchtimes of grade school, where we clustered together, unwrapping our peanut butter sandwiches from brown paper bags, eagerly scanning the contents of our friends lunch sacks to see what treats they got each day. Maybe it was the excited chatter, the rustle of wax paper, the moment the last bites disappeared when we could all run outside for recess, for jump rope, Foursquare, tag and the incessant chatter that we'd bottled up inside us all morning long.
Lunch at home these past few months was a way to utilize anything from the refrigerator, crafting something unusual from the norm, making up a series of small plates to satisfy my hunger, re-purposing an original into a one-of-a-kind. It didn't always matter if I made my lunch last through the afternoon, keeping hunger at bay until dinnertime, but now that I'm working and not always able to stop for a snack to re-energize, my lunches need to satisfy, and keep me full until I get home.
This Spicy Tuna Wrap sure does the trick. Based on the premise of a sushi roll, canned tuna is spiced with your favorite hot sauce and chopped green onion, then spread in a whole-grain wrap with brown rice, avocado, carrot matchsticks and shredded greens. The combination is full of flavor, and more importantly, crammed with nutrients to keep you going. It's easy to have the ingredients on hand, and takes only a few minutes to put together in the morning.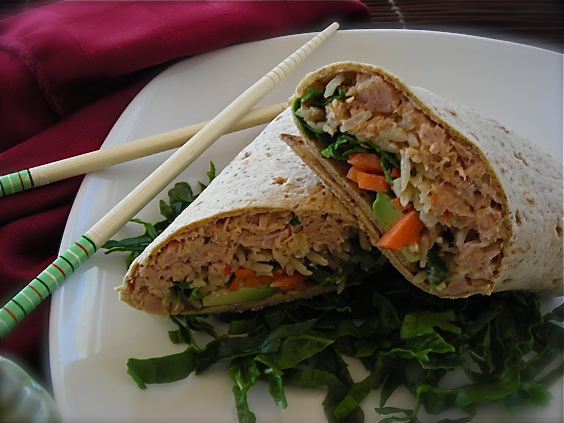 It tastes like a heartier version of one of my favorite sushi rolls. And it's endlessly versatile, from the greens you add to the seasonings you mix with either the tuna or the rice. Switch out the tuna for salmon, or finely chopped chicken. Use arugula to add some bite, or watercress. Add thin strips of cucumbers or radish. And be sure to have a little soy sauce, mixed with some wasabi if it's your preference. These wraps are made for dipping.
Spicy Tuna Wrap

2 5- to 6-ounce cans chunk light tuna, drained
1/3 c. low-fat mayonnaise
1 T hot sauce, such as Sriracha
1 scallion, chopped
2 c. cooked brown rice, cooled
2 T rice vinegar
1 T. sesame oil
1 T. soy sauce
4 10-inch whole-grain wraps
Shredded greens of choice
1 ripe avocado, cut into 16 slices


1 small carrot, cut into matchsticks

Combine tuna with hot sauce, mayo and scallion and mix to combine. To brown rice, add the rice vinegar, sesame oil and soy sauce, stir well.

On each wrap, layer tuna, rice, avocado, carrot and shredded greens. Roll up tightly and slice, or eat whole.

From Eating Well magazine, March/April 2011, with adaptations.
KATE'S NOTES:
I used a canned tuna in oil, leaving most of it with the tuna and then less mayo than the recipe needed. My hot sauce was Matouk's Flambé Salsa. I added the soy sauce and sesame oil to the rice, but you can leave it out if you wish. I love the flavor it adds. Thin slices of cucumber in this wrap would be excellent. I used spinach for my greens, and Flat Out Whole Grain wraps, which made it a perfect size.