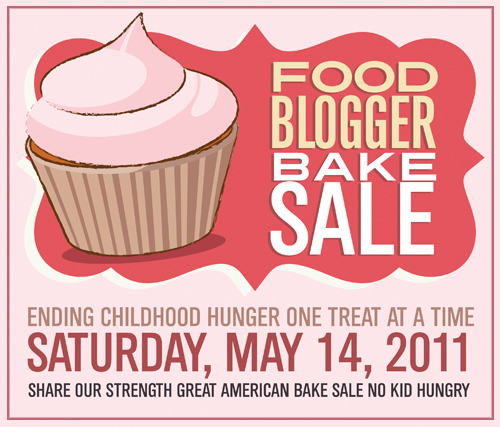 Minnesota's amazing blogging and food community will come together on Saturday May 14th at Midtown Global Market in Minneapolis from 11:00AM to 4:00PM in support of Share Our Strength's campaign to end childhood hunger.
The National Food Bloggers Bake Sale, initiated by Gaby of What's Gaby Cooking? will occur for the second year in a row in cities all across the country. Bloggers of all shapes and sizes and abilities will hold bake sales in their communities to raise money for Share Our Strength.
I'm organizing the Minnesota event, and our team, Minnesota Bakes is chock full of talented and well-floured bloggers with a heart to support and share. We'll be offering all sorts of baked goods on May 14th at Kitchen in the Market, located within Midtown Global Market in South Minneapolis. Do you have any interest in participating? Baking some delicious goodies to sell? Lending a hand on the day of the event? Any and all help is deeply appreciated. Please feel free to contact me directly by email – kate4797 (at) hotmail (dot) com and let me know what you would like to do.
If you aren't able to participate in any way but wish to support this worthy cause, please visit our team page and consider making a monetary donation.
http://join.strength.org/site/TR/CEM/General?team_id=106257&pg=team&fr_id=1120
Please feel free to share this information with anyone you think would be interested. Many thanks in advance to you all.