Happy Monday everyone!
I know…. Monday is not exactly a favorite anywhere. It's really such an abused and ornery day, isn't it? People save everything unpleasant and difficult for Monday…. have you noticed? "I'll start my diet on Monday." "I'll start exercising on Monday." "I'll make that doctor's appointment on Monday." Then Monday comes, the coffeepot can't brew fast enough, you're too tired to exercise, too lethargic to think about eating right and the phone calls never get made.
But this particular Monday is going to be a good one. And all the rest of them in October will be just as fun. Why?
I'm giving away cookbooks. Lots of cookbooks. Some terrific titles, and a few that are a bit obscure, but perfect for someone.
Will it be YOU???
THE DETAILS:
~~Each week in October, starting on Monday, I will put up a post offering cookbooks to give away.
BUT YOU'LL HAVE TO ACT FAST! Each cookbook offer will be up for only FIVE DAYS. 
~~At the end of the day on Friday, each week, I'll close out the current giveaway, choose the winner and notify them quick as a wink.
So in order to be eligible- YOU MUST leave comments on these posts that contain your contact information.
Don't go through all the work of commenting without that!
~~If you are chosen as the cookbook winner, you will be asked to provide a mailing address so I can send you your book.
If you're local, I'd be happy to meet up with you to hand you your winning cookbook in person!
Unfortunately, given the expense of mailing books, I have to limit these giveaways to US residents only.
So let's get this party rolling, shall we?? For our first Monday fun day, I'm giving away TWO cookbooks, perfect for this time of year.
THE FRESH GIRL'S GUIDE TO EASY CANNING AND PRESERVING BY ANA MICKA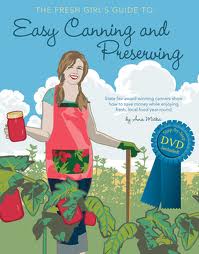 There is still some time to get your canning on! This simple and easy to follow guide will help you take the mystery and fear out of preserving the bounty of our harvest. It includes an easy-to-follow DVD and contains an enormous wealth of information from gardening basics, to choosing your produce to step-by-step instructions on the age-old art of preservation. This book is brand new and the DVD is in perfect condition.
THANKSGIVING 101 BY RICK RODGERS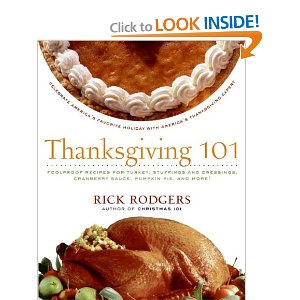 Everything you need to make a memorable, scratch-made Thanksgiving feast, from tasty appetizers to stunning desserts. We all love Thanksgiving, but quite frankly, I've met a lot of people who struggle with creating every aspect of the meal as they'd like to offer, and this book takes the work out of searching for perfect recipes and places them all in your hands. If you LOVE Thanksgiving, and wish to make it a bit easier on yourself, then this book is perfect for you.
ENTER THE GIVEAWAY:
Leave one comment on this post, telling me which cookbook you'd like to have and why.
It's THAT easy.
(and remember…. in order to WIN, you MUST have contact information embedded in your comment
or I won't have any way to reach you.)
DO YOU WANT TO INCREASE YOUR CHANCES?
~~Come on over and hang out with me on Facebook!
Leave one more comment telling me that you did!
~~Follow along with me on Twitter! And share YOUR Twitter account.
Leave me another comment about this!
~~Want even MORE chances? I LOVE Instagram. You can find me there under @kate_selner.
Follow along with me, leave me a comment here that you did and share YOUR Instagram account so I can follow you.
That's it. Pretty easy, isn't it?
Ready!?? GO!!