It's two weeks to Christmas and right on schedule, we got smacked with an epic Winter storm. Almost 14 inches of snow fell over the weekend, blanketing our state and instantly changing everything from dull December to dazzling white. The internal switch to Christmas mode snapped on with a definitive click, and now I'm really eager to pull out decorations and deck the halls. I've always waited until a few weeks prior to Christmas to really make the house festive, and having such a beautiful white landscape to look at makes it so much easier. Last year, Christmas came and went without snow.
It rained the week before, and temperatures were mild enough on Christmas to wear a light jacket. Growing up in Minnesota my entire life, I couldn't recall when that had ever happened. The previous year, we had magical Christmas snow that fell in huge flakes on Christmas morning and lifted my heart. Christmas decorations buried under thick, fluffy snow is a sight that renders me still, my eyes shining and wide. I could never get enough of that. Seeing them drip with rain last year was painful.
But not this year.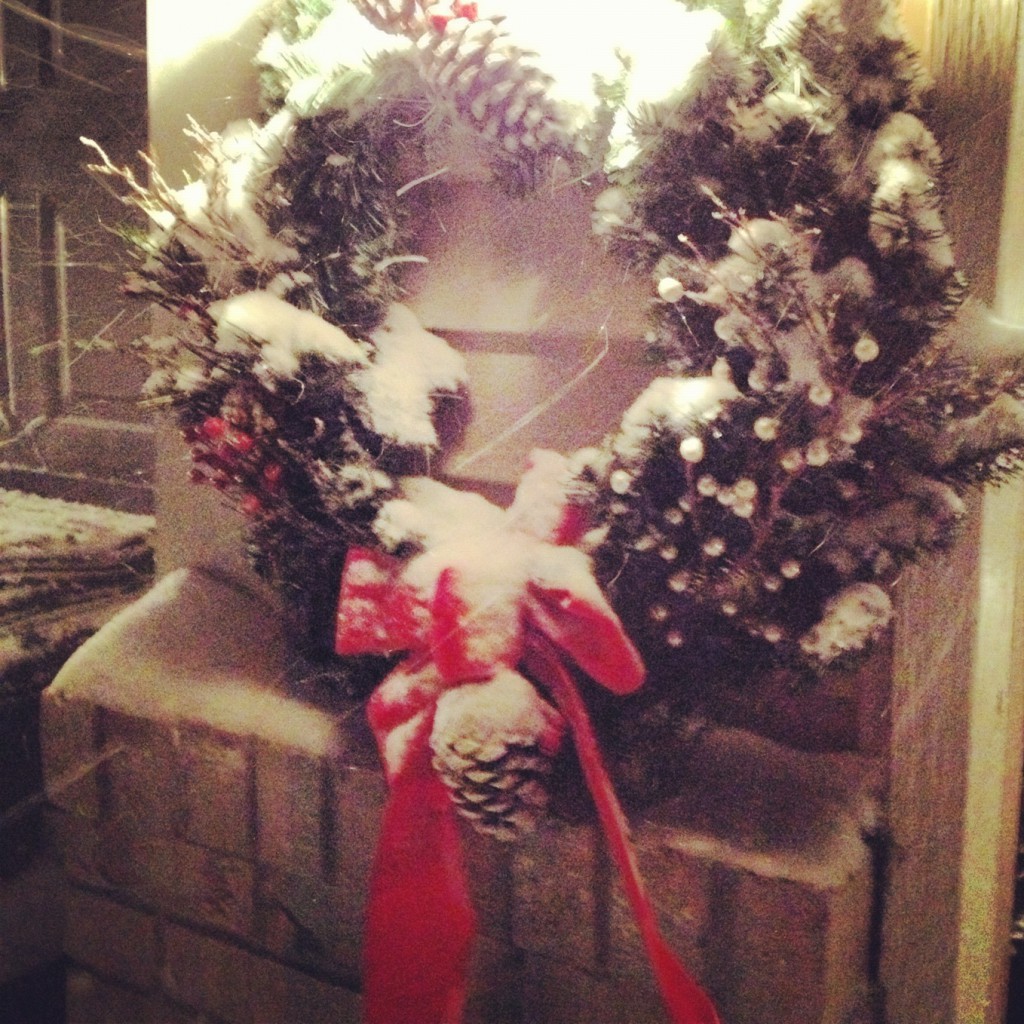 But it's TWO WEEKS to Christmas. And I think I should be in panic mode but quite frankly, I'm not. Long ago I decided not to give in to the frenzy that accompanies this most beautiful of holidays, choosing instead to focus on the reason for such a blessed day. I do some baking, but these days I'm giving away the goods more than keeping them; I do set up our decorations, I do send out cards and a few gifts, I do wish to find a perfect something for Mike and Griffin, but if I don't I can't sweat it. Life will go on, with or without these, and there will be rain when there should be snow and each 24 hours will pass whether I choose to cram them full of glad tidings, or sit quietly in front of the fire with a glass of wine. We had a very sad loss in our family last week and our plans for this past Sunday came screeching to a halt as we gathered to bid a final farewell, among the thickly falling snow. I can't put all that much emphasis on festive decorations and holiday jubilee when I know someone's heart is hurting. It just pulls so much into perspective.
But we still need to eat something. And after a day of struggling over icy, snow covered roads and feeling so much sorrow, having an option for a really quick meal was so nice to have. After clearing a foot of snow from our driveway, I quickly pulled together a flatbread pizza, using Flat-Out's new line of Flatbread Pizza Crusts. In less than 10 minutes, I had a simple dinner that filled up the hollow space inside.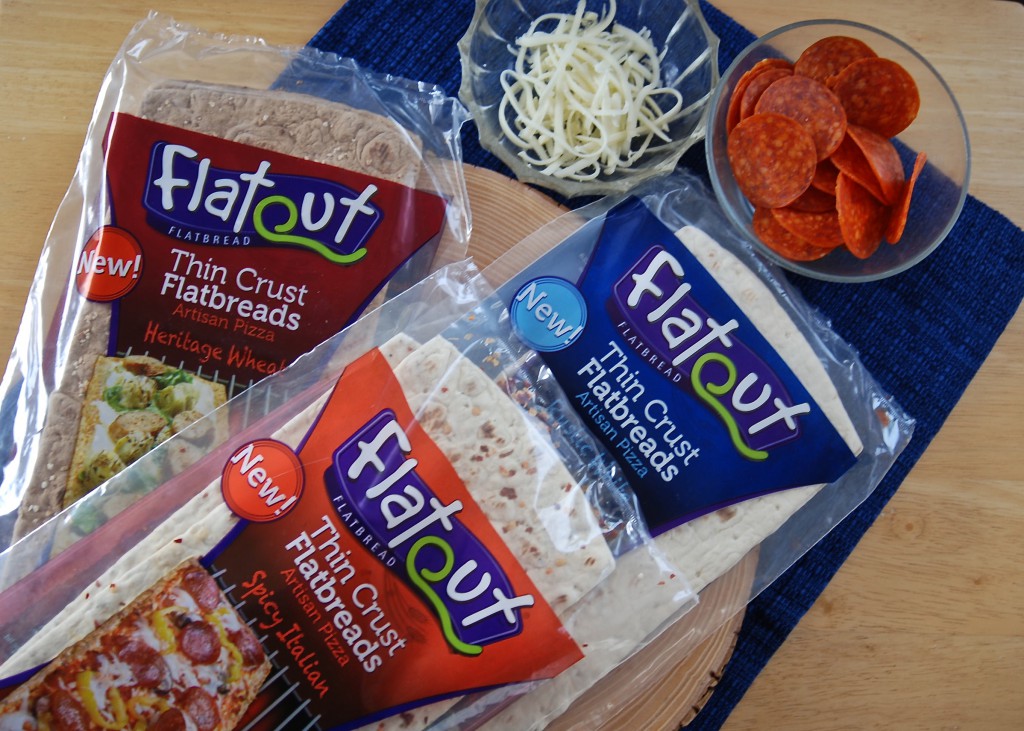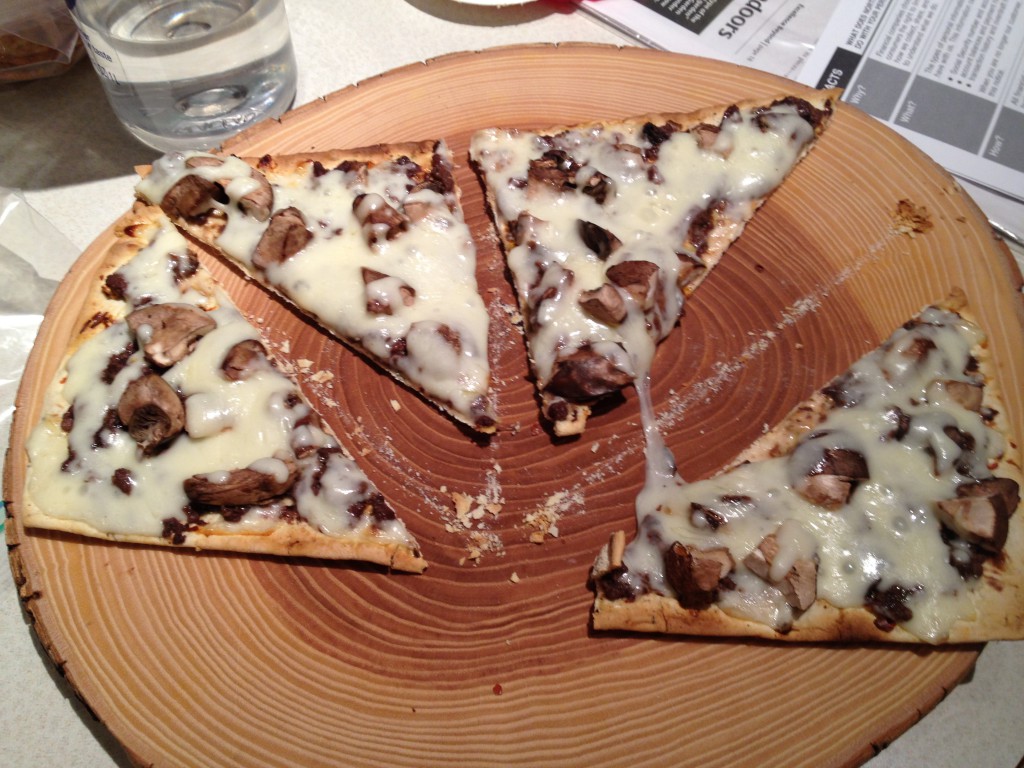 Flat Outs new line of ready to eat pizza crusts couldn't be any easier for making a quick meal. From a frozen state, you can place them right in the oven (or use a handy toaster oven, too) and they thaw in minutes. Top them in whatever fashion you love and place them back in the oven to heat the toppings. That pizza above didn't even take 10 minutes from start to finish.
Flat-Out pizza crusts are perfect for a casual gathering, or movie night with family. Put your favorite holiday classic on… mine is The Christmas Story, or A Charlie Brown Christmas; you need little else besides a variety of pizza toppings to suit everyone's tastes. A hot oven, and Flat-Outs three crust options- Rustic White, Heritage Wheat or Spicy Italian- and you've got the potential for endless combinations. While my boy could live happily with a pizza loaded with meat, Mike and I prefer lighter, vegetarian pizza. I love how we can create our own with these simple crusts, and not be so stuffed afterwards due to how light they are.
My simple recipe for an exquisite pizza was olive tapenade on the bottom, fresh mushrooms and shredded mozzarella cheese. We also have used pickled banana peppers, roasted red peppers, and kalamata olives; my boy used italian sausage and sliced pepperoni on his pizzas.
DISCLAIMER:




I was provided a gift card and all the Flat-Out Artisan Pizza Crusts needed by 

The Motherhood

, 




in exchange for this post. 




Flat-Out Artisan Pizza Crusts are 

introduced exclusively at WalMart

.