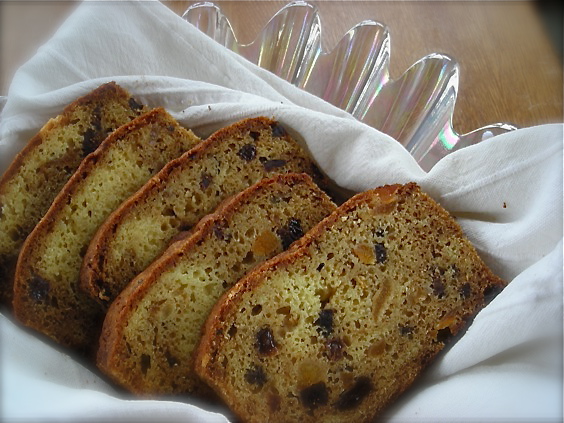 The downside of shopping for your Christmas tree the day after a rare December rainstorm is that you're bringing a soaking wet pine tree in to your home. As you set it up, it's dripping down on your shoulders while you twist the screws on the stand in to place. You need a sheet underneath, an old one, to catch the water as it falls and those boxes you've stockpiled, filled with decades of memories and treasures and pressed tin icicles, baubles and bangles and bows now must sit and wait for your tree to dry.
Waiting is what the month of December is all about, it seems. We wait for the birth day of Christ, for the celebration and pageantry, for the singing of familiar songs and melodies. We wait for the lighting of candles, pans of latkes, stories of the past. We wait. And we wait. Our plans to put up our tree last weekend were derailed by a monster storm, and a death in the family, so we waited for a week of busy days to pass for a few free hours to seek out a perfect tree for us. We wait for cookies to bake. We wait for the celebrations that come. And we wait while aromatic fruit bread bakes in the oven, filling the home with nostalgic memories.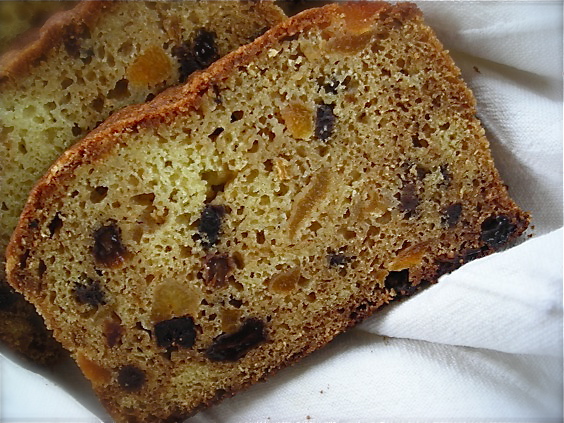 The first time I made this bread three years ago, the smell of dried fruit macerating in apple cider on the counter drove such a knife of remembrance through me that it stopped me cold. Try as I might, I couldn't dredge up where it originated, what brought it on. Somewhere in a long ago year, most likely around Christmas and in the waiting, I was enveloped by a smell, or tasted a bread like this one, rich with dried fruit, sweet with a butter crumb. It made an impression on me that never left, though it dove deep beneath the surface to linger without my knowledge.
I find that happens a lot in December. Keeping company with our waiting are the memories of a lifetime of Decembers, wrapped up in dusty boxes that we pull out and unwrap, willingly remembered or the unplanned ones that throw us off kilter. I'm always surprised when I open the decorations from last year because there will always be something I've forgotten, a new ornament or tabletop decoration that came late to the party, or in the aftermath of Christmas that gets tucked away. I love these surprises, along with the waiting, and I love the way our brains can rightly kick out something at the most opportune time for us to recall with fondness or joy. I don't know where the memory came from, triggered by the making of this sweet bread, but it left me feeling comforted and at ease, so I know it has to be from a happy time. Whatever the origin, I can draw on it's feeling with one breath, and a simple recipe each December, enjoying this bread while I wait for the 25th to come.
Fruktkaka

4 oz. each dried figs, apricots and raisins- fine chop figs and apricots
1/2 c. dark rum (use apple cider for a non-alcoholic option)
1 T. orange zest
1-1/2 t. lemon zest
12 T. unsalted butter, softened
1-3/4 c. AP flour
1 t. baking soda
1 c. superfine sugar
4 eggs

Combine figs, apricots, raisins and both fruit zest with rum (or cider) and stir to combine. Cover and allow to sit at room temperature for up to 4 hours, and as long as overnight. Stir the mixture on occasion.

Heat oven to 350°. Grease the bottom and sides of a standard 9×5 loaf pan and dust with flour. Tap out excess and set aside.

Whisk flour and baking soda in a measuring cup and set aside. Combine the sugar and butter in the bowl of a stand mixer, and blend on medium speed until pale and fluffy, about 3-4 minutes. Scrape the bowl a few times to make sure it's uniform. Add the eggs one at a time and blend thoroughly after each one. Add the fruit, then the flour mixture and blend until fully combined. Scrape the batter into the prepared pan, smooth the top and bake for 40-45 minutes, or until a toothpick inserted into the middle of the loaf comes out clean. Unmold cake after 15-20 minutes, then cool completely on a wire rack before slicing.

From the December 2009 issue of Saveur magazine