Lynne Rosetto Kasper is the host of The Splendid Table, radio broadcast through American Public Media on Minnesota Public Radio since 1997. She is the author of numerous books as well, like The Splendid Table, The Splendid Table's How to Eat Supper and The Italian Country Table. The books are beautifully photographed and relish in the simple preparations of good food shared with others.
I was recently sent a copy of the first in her new e-book series, Eating In, with Lynne Rosetto Kasper and was once again treated to the lovely pictures and simple creations that these books offer.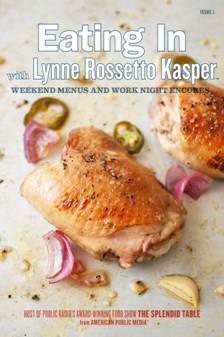 Lynne's books are comforting and so simple to explore. Never intimidating, these books urge home cooks to let go of complicated recipes and entertaining, and instead focus on easy preparations that utilize food on hand, requiring no more than a desire to make delicious meals. This new e-book series begins with what Lynne refers to as "Sunday food" delighting in "the unexpected places that a recipe can take you." She talks about how to eat all week on recipes created on Sundays, 'work night encores' and the fascination in "the way a recipe keeps on giving. Each recipe is like the fingers on your hand; it can take you in so many directions, and open up so many possibilities. Each direction becomes a lesson in the power you gain when you know what's happening beyond the written recipe."
The book also talks about shopping tips, offers feedback on brand tasting for canned tomatoes and stock, and offers a sound bite interview with journalist Tom Mueller ('Extra Virginity; The Sublime and Scandalous World of Olive Oil') about choosing a good olive oil for your home cooking. The interview itself would be worth the price of this book, which is a bargain at $3.99. I learned more from listening to Tom's interview than I'd ever known about olive oil, and now want to find his book. You can find the information in the interview on his website as well.
I really found a lot to relate to in this book, loving the explanation of how a recipe can drive your creativity, as that is exactly how I enjoy cooking the most. I love having leftovers on hand to re-create in a new form, delighting in making more than one meal for pennies on the dollar. I appreciate all the work that goes in to her books, especially her tastings and descriptions of store brands that either delight or disappoint. Her palate is trustworthy, no doubt. I'm excited to see the next in the series, and what delicious tastes and information await.
{I was provided a code to download this e-book at no cost. All words, opinions and feedback are solely my own}