We celebrated our 11th anniversary with a quiet weekend at the lake, just the two of us.
It was perfect in many ways.
Mike was already at the lake ahead of me, taking a day to relax and work there, as he's been doing a lot this summer. I planned to go after work on Friday, and before I left work, Griffin had texted me asking me to bring home dinner and eat with him before I left. My boy, 19 and sweetly independent, doesn't ask me for much, so I know that this request was needed before we left him alone for the weekend.
I brought home pizza for us, and a huge chocolate cupcake for him. That boy loves treats. His eyes not only got big at the sight of a whole pizza to himself, but at that cupcake in it's see-through container, carefully draped in perfect swirls of chocolate buttercream. Although he could barely put down three pieces of pizza, he happily ate the entire cupcake without so much as taking a breath. His belly filled, and his soul nourished from sitting together over food, I was able to get all my things in check and leave him with a hug. He was smiling as I walked out the door.
The weather was so glorious on that drive, and as I sped along bucolic country roads, the sunset chased me, tempting me to turn and look as it fell in the sky, sweeping dark gold beams against a lavender background. I wished to be on the dock at the lake, right then, camera poised to snap away, but I had to simply watch in the rear-view mirror, the sky changing shades with each passing moment. August sunsets come much too quickly these days.
Saturday morning, the mist covered the lake, mirrored and still and we sat, steaming mugs of coffee in hand on our screen porch, blankets wrapped around our legs to ward off the early morning chill. The sunrise climbs behind our cabin, gliding up over the fields across the road and brightening the lake, morning breeze stirring the first fingers across the water, disrupting that clear image. I treasure the moments before the lake awakens, before the first boat starts off from the launch, pushing swells over the surface.  I scrolled through a few digital magazine sites on the iPad, my belly rumbling. I was thinking about breakfast. I was wishing for something delicious, something comforting to take the chill from my skin. Browsing back and forth through too many amazing digital options, I can't remember which magazine I was in when I came across the recipe for Bananas Foster Baked Oatmeal, but it stopped me in my tracks for two reasons.
A) It looked amazing and delicious and did I mention that I was really hungry?
B) Surprisingly, we had all the ingredients needed at the lake to make it. This in itself was a miracle.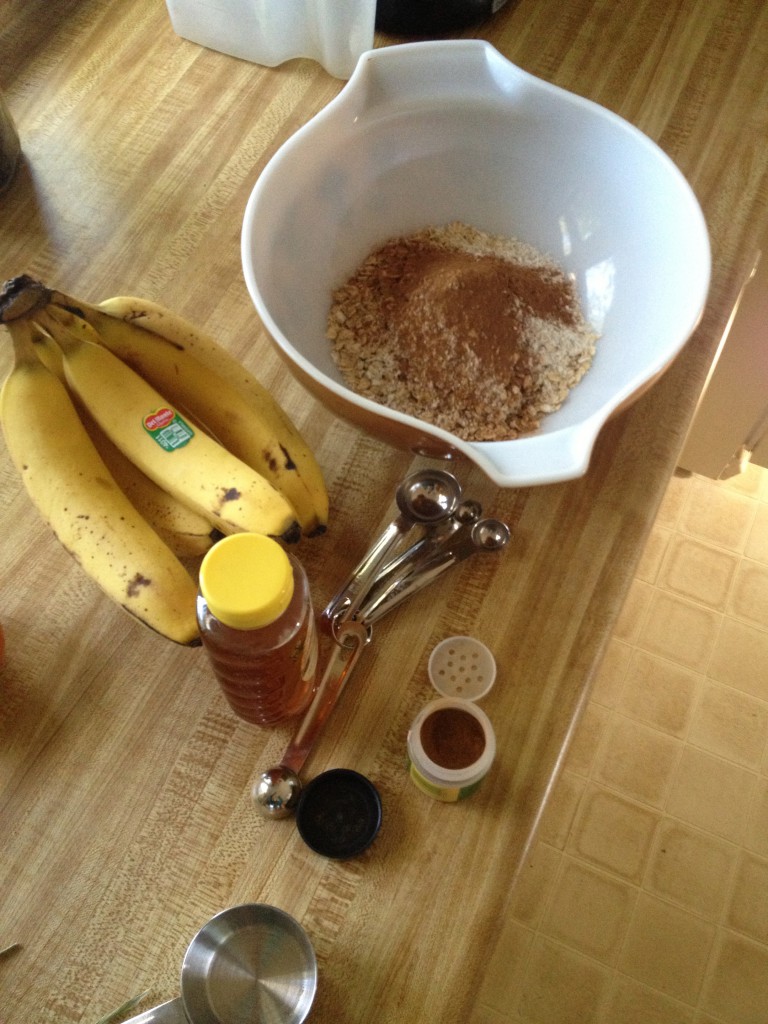 I've been consuming my body weight in oats this summer, usually cold-soaked with chia, fresh berries or other fruit, and we've made several recipes of Baked Oatmeal before, but this vegan recipe has no eggs in it, and I was delighted to find that it was much better than the heavier options we had before. Subbing in butter for the missing coconut oil, the oatmeal was in the oven in less than 10 minutes, and soon enough, with bellies growling, the aromatic pan was sitting in front of us.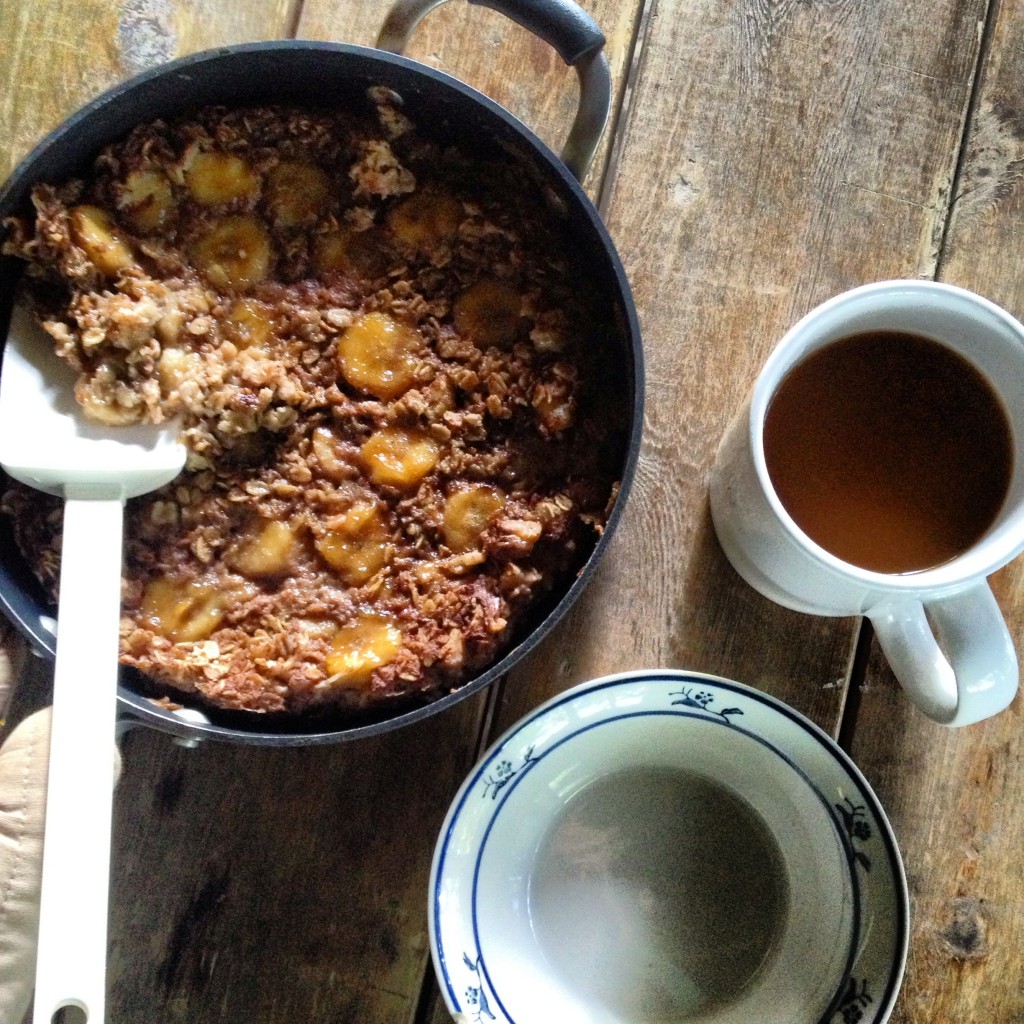 It was just what that morning needed, so sweet and summery, the mist drifting off the water as it warmed. The flavor of this oatmeal, baked with brown sugar glazed bananas on top, banana chunks stirred inside and aromatic with cinnamon and nutmeg, was light enough to insure we didn't need a nap after eating it, but also substantial enough to carry us through an intense 11-mile hike we decided to take on later that morning. 11 years, 11 miles; not intentional, but a hearty diversion for the day through shadowy forests ringed with abundant fields of plenty. We may have been tuckered out, but it was in a good, good way.
I doubled the recipe and we finished it the next day, warmer and with less time needed under the blankets on the screen porch. The breeze was already busily dancing across the top of the lake when we awoke on Sunday, so the magical, glassy morning view wasn't to be seen, but the day graced us with deeper sunshine as we lounged and dealt with a few tasks before reluctantly packing up and heading home. Time spent as such, just the two of us and a summer lake with boats and shouting is rare and treasured, and happily, I not only take away from it sweet memories, but a delicious baked breakfast to put on repeat for the coming cold weather.
The original recipe for this dish is from Angela Liddon's Oh She Glows blog, but I'll print the means I used to make it, with a few substitutions.
Bananas Foster Baked Oatmeal

For the oats:

1-1/2 cups whole rolled oats (use regular or GF)
1/2 c. oat flour (made from 1/4 c. whole rolled oats ground in a spice grinder or blender)
2 t. cinnamon
1 t. baking powder
2-1/2 c. almond milk
1 medium to large firm banana, chopped
Pinch of sea salt and ground nutmeg

Heat oven to 350°. In a large oven-safe baking dish sprayed with cooking spray, place all dry ingredients and the one chopped banana, then add the milk. Stir to combine and allow to sit while you make the Bananas Foster. I used a 2″ deep, 10″ oven safe skillet.

For the Bananas Foster:

2 medium to large firm bananas, sliced
2 T. butter (sub in coconut oil for vegan option)
2 T. brown sugar (or pure maple syrup)
2 t. pure vanilla extract
Sprinkle of cinnamon

In a large skillet, melt the butter and add the brown sugar, stirring to mix. Stir in the vanilla and when bubbling, add the sliced bananas and stir to coat. Cook for a few minutes on one side, then carefully flip the slices over and cook for a few more minutes on the other side. Do not allow them to get too soft. Turn off the heat, sprinkle with a bit of cinnamon and carefully pour over the oat mixture in the pan, spreading the slices around. Sprinkle with a bit of sea salt and place in the oven for 35-40 minutes. The edges and top should be browned and the middle still slightly wet. It will set more as it cools. Serve warm, with almond milk drizzled over the top.

Or get real with it, and top it with ice cream. It would make a stellar dessert as well.