There's only a few foods that I simply can't imagine not having on hand. Can you guess???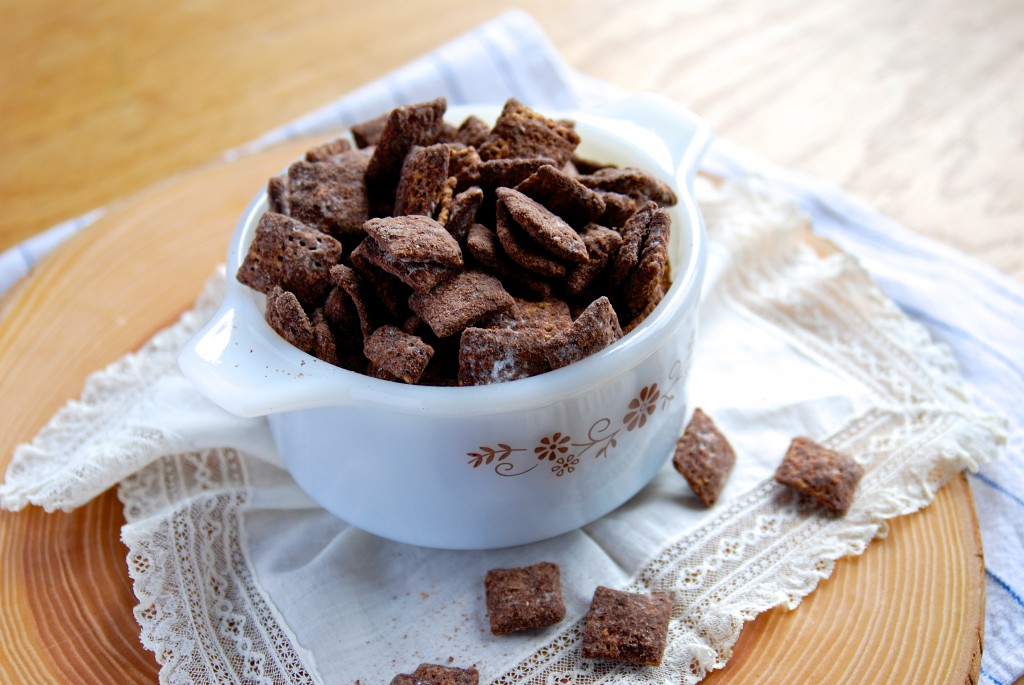 At the top of the list is peanut butter. But I bet you thought I was going to say Nutella, didn't you?
My apologies to all the die-hard Nutella fans out there, but I don't get the love for that spread. It's good. Don't get me wrong. But I don't feel the need to purchase it, digging in with a spoon and eating it until I burst. The ingredient list gives me pause because I can taste the palm oil in it and I'm not a fan of that. I know there are other hazelnut spreads out there, too.
I could, however, eat peanut butter daily. With a spoon, or my finger dipped in the jar. Most definitely.
But I have a jar of Nutella in the house, and I know I purchased it for a reason because I don't indulge in it otherwise; for what reason I have it on hand remains a mystery, though, and when this recipe for a more tasteful version of the beloved chocolate-peanut butter Muddy Buddies (or Puppy Chow, if you go that route) landed in email from The Kitchn, my sweet tooth, and my heart did a little jump.
I don't make foods like this that often. My guys have zero self-control when it comes to sweets and can't help but devour anything that's sitting around. However, Mike's birthday was this past week, and in lieu of a cake, a batch of Muddy Buddies was treat enough to put a smile on his face. Plus, I often feel that if a recipe comes your way and you happen to have all the ingredients on hand to make it, that's a telling sign to take the leap and get cooking.
This recipe is way less sweet than the standard option. Dark chocolate cuts down the sugar-sweet factor, replacing it with that rich, smoky taste that only 60% cacao has; plus, what you shake the chocolate coated cereal in is a mix of powdered sugar and cocoa powder, and uses way less in order to allow the nutty taste of the Nutella, and the rich dark chocolate to come through. And as if that's not enough, in gilding the lily even more, the whole thing is sprinkled in sea salt while still damp and warm, making that all-important salty-sweet combination that drives people wild.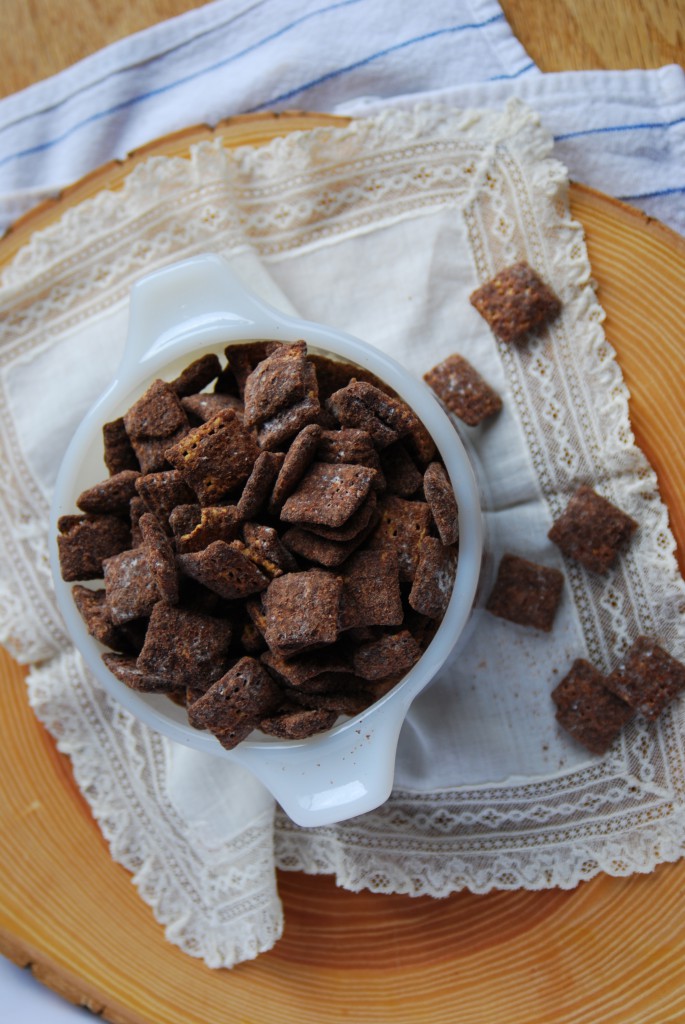 I've been less inclined to sweet indulgences as I've gotten older, and most recipes for Muddy Buddies border on teeth-aching sweetness that I just can't enjoy too much, or at all. This version from The Kitchn's website is far less cloying, and way more munchable. I increased the recipe by half and am glad I did as we've reached for the bag numerous times a day since. They're terrific with morning coffee, as we've discovered.
There was one glitch in the recipe that surprised me, being that it came from a reputable source as The Kitchn. When melting the butter, chocolate and Nutella together, they call for then stirring in the vanilla extract, and my brain said 'Whoa! Won't that make the chocolate seize to add liquid?' but this is The Kitchn. They know their stuff, right? So I tipped the spoon of vanilla in to the beautifully smooth, melted chocolate and Nutella and gave it a stir. Instantly, it thickened. Not to the point of seizing completely, but enough to make an otherwise smooth mixture too thick to pour, and definitely a challenge to stir in to the cereal. In hindsight, I might leave out the vanilla extract in another go-round of this. Or possibly melt the butter first, add the vanilla, then the Nutella and chocolate, continue melting, and see if that works. It did come out OK in the end, but some of the cereal was rather clumped together, and it was clearly not as easy as it should have been.
Regardless, this recipe bears an appearance in your kitchen, and being so simple to make, would be great for an after-school snack, movie night, kids slumber parties, picnics or potluck gatherings. I still have more dark chocolate, and Nutella. And cereal.
Dark Chocolate Nutella Muddy Buddies

5 c. Chex cereal (I used Corn)
1/2 c. cocoa powder
1/4 c. powdered sugar
1/4 t. fine sea salt
1/3 c. dark chocolate  (I used Ghiradhelli 60% cacao)
1/2 c. Nutella hazelnut spread  (or alternate brand)
2 T. unsalted butter (cut in to squares)

Place cereal in a large bowl. In a gallon sized zip lock bag, shake together the cocoa powder, powdered sugar and sea salt.

In a microwave safe bowl or measuring cup, place the dark chocolate, Nutella and butter. Microwave for 30 seconds at 60% power. Remove and swirl gently to mix. Microwave one more 30 second burst at 60% power, then remove and gently stir with a fork. (This was all I needed to melt mine together, but given different power levels of microwaves and water content of chocolate, yours might take longer.)

Pour mixture over cereal, and with a rubber spatula, gently but quickly stir to coat. Pour cereal in gallon bag, zip shut and shake until it's mixed well. A few more tablespoons of powdered sugar could be added if you like it a bit more sweet. Dump contents of gallon bag back in the bowl and sprinkle with another 1/4-1/2 t. of the fine sea salt, stirring to coat.