It's hard to believe, when I think about it, what I used to eat on a regular basis. I was a certified junk-food addict for certain parts of my life, but I could easily justify it because I was so active that I was always thin. Trouble was, I was never healthy. I suffered severe sinus problems for years, respiratory illness was common for me in the Winter and my skin was always breaking out. I may have been a year-round bicyclist, riding upwards of 100 miles a week or more, and taking leisure rides for hours at a time, but on the inside, my body was showing all the signs of relentless poor nutrition. It wasn't until I had a small child, and saw the foods that I was teaching him to eat that I decided I had to make some permanent changes.
Thankfully I've managed to move away from the poor foods and junk that I used to consume, and eating healthy is a huge priority for me and my family. Even my boy, an avowed carnivore, has embraced the plant-based eating that Mike and I took on in 2011, as long as he can still have a steak here and there. Mike does not eat any meat at all, no eggs and very little dairy. I will eat a small amount of meat, I eat eggs and a bit of dairy, but at home, we follow a vegetarian diet, with grains, nuts and seeds and legumes as well.
When the makers of Linwoods Super Food Products contacted me about sampling some of their items, I knew it would fit right in with our way of eating. Linwoods Super Foods are packaged and ground foods that pack a crazy good nutritional punch.
From their website:
"Super foods are also known as Functional Foods, or a food that delivers a Structural or Functional benefit. Our Super Foods range offers you a wide variety of health benefits due to the vitamins, minerals and essential fatty acids that are found naturally in these foods. When used daily, they may help maintain a healthy heart, boost your energy and support a well-balanced diet
and active lifestyle."
Out of all the choices Linwoods offers, they sent me three varieties.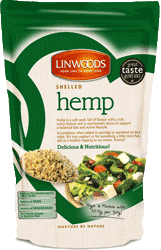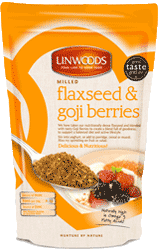 The samples can be used in multiple ways, from adding to baked goods to sprinkling over Oatmeal or other hot cereals, or adding them to smoothies. I received small sample packets and basically just poured them over my cold soaked Oats that I eat every morning. The flavor is minimal, mostly a nutty texture as the product is fairly well ground. I like that it's simple enough to use that I just need to open a package, and not go through chopping nuts or grinding flaxseeds. I use whole nuts, flaxseeds and other items like this already in my kitchen, but sometimes those extra few minutes to chop or grind and add them hardly seem worth it. The Linwoods products make it a lot easier.
Linwoods has a wide selection of packaged and ground Super Foods available, and their website also lists extensive nutritional information on what these products can do for your health. I love the combinations they have, and at reasonable prices too, considering what you'd pay if you purchased all of these separately. And if you need inspiration for them beyond using on cereal or in smoothies, they have a nice recipe page to peruse, too.
{I was provided sample packets of Linwoods Super Food Products free of charge in exchange for this review.
All opinions are solely my own, and I was not compensated for this post.}