Winter feels like an endless slap to the face this year, doesn't it? Arctic, brutal cold. Snowfall upon snowfall upon snowfall, and we're running out of room to put it when clearing sidewalks and driveways. The mounds next to our driveway are so high that it's becoming difficult to see down the street, and the winding curve of our road makes for challenging navigations as the piles block our sight lines, even after the city came through and plowed some of them back.
I get it. Really, I do.
But I confess, as you might have seen on social media, that I still love the snow as it falls. Recently, awaking from an afternoon nap on the sofa in our sunroom, the light was fading fast to that purple hue of late Winter, and snowflakes, big and fat, were gently sifting down. I sat up, reaching for my glasses and propped a pillow up behind me, pulling the fleece blanket closer. Sitting there, in the dim, waning light I watched the parade of flakes and felt a peace slip over me, soothed by the patterns. The snowfall hushes the world around us, silence like a blanket, a magic hand that tosses out a fresh white covering across the land. Yes, it's piling up high. Is it excessive? Hardly. Current accumulation in the Twin Cities is 47″ for the season. The year I was a Senior in High School, and the subsequent year after that we had the two snowiest Winters on record in Minnesota, with total of near 100″ each year, and in January 1982 alone, 46.8 inches of snow fell.
So this? Is nothing. Really.
But I get it. And I think what gets us in a melancholy mind worst of all is not the lack of sunlight, as most believe, but the pervasive lack of vibrant color.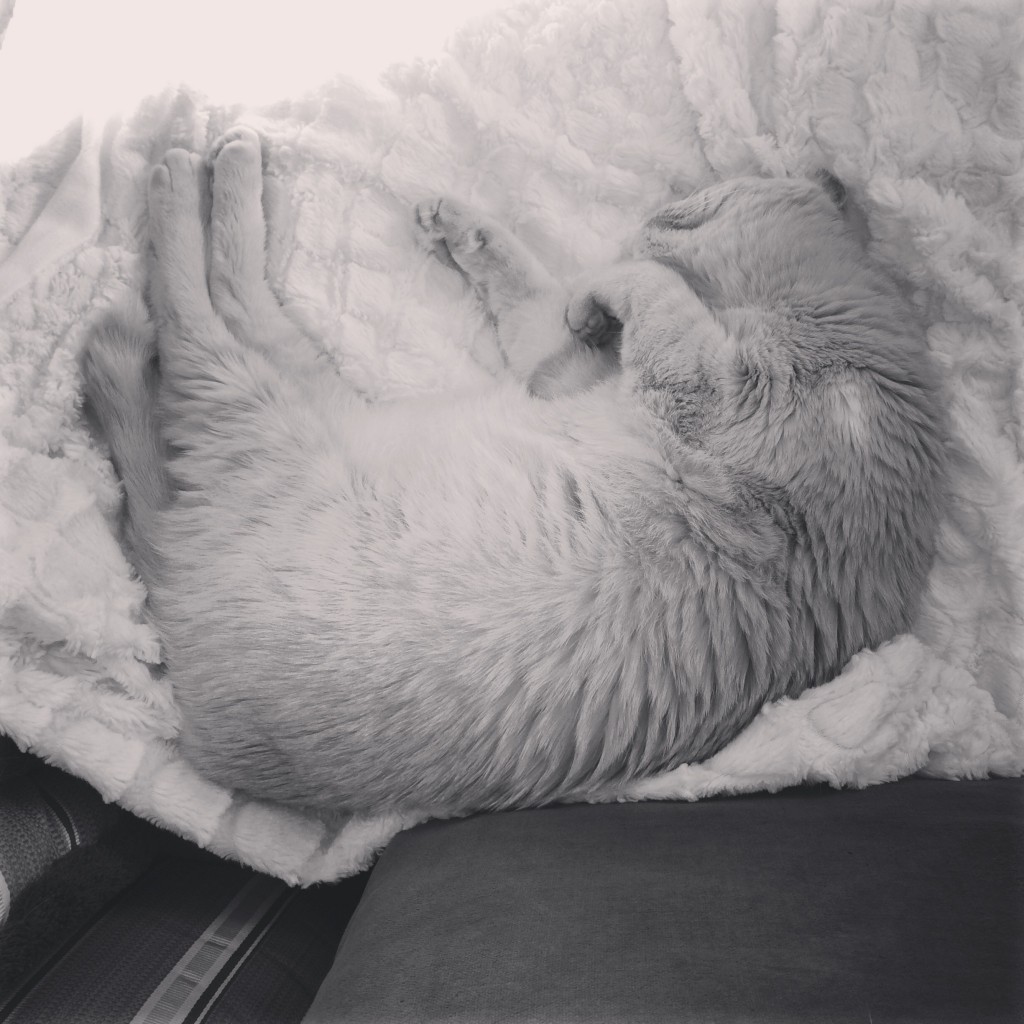 So, let's make some color, shall we??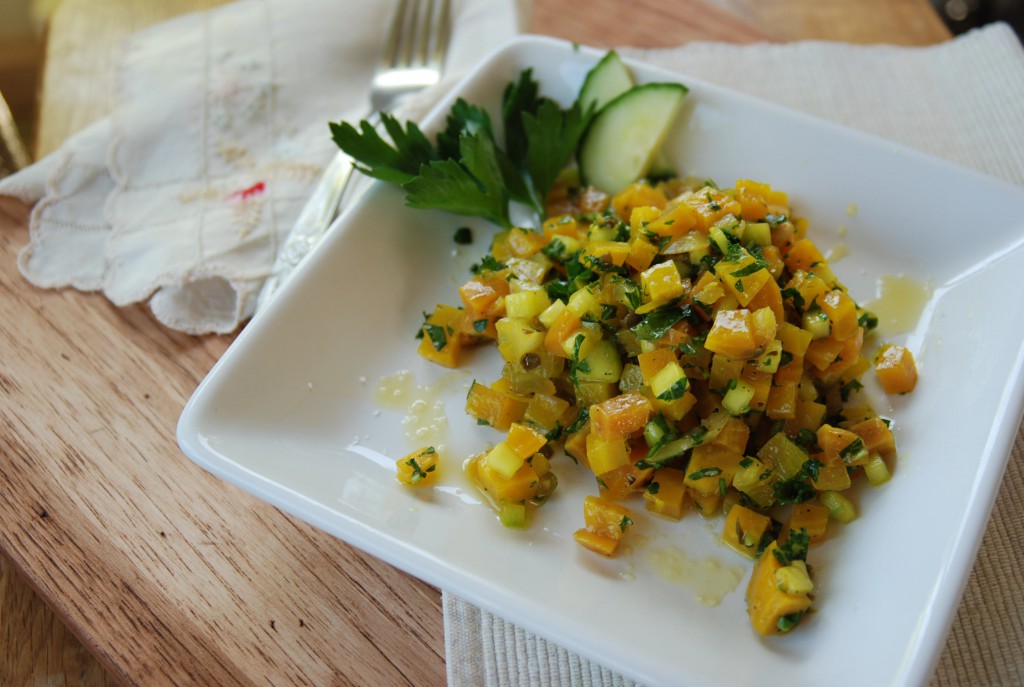 Back in June of 2012, I received an amazing cookbook, Herbivoracious, by Michael Natkin. Out of that book came this delicious Gold Beet Tartare salad, and I was hooked, making it just about every week until it wore out it's welcome across my palate. It favors endless variations, and bursts with color, flavor and texture to awaken tired mouths, hinting at the abundant season ahead. One variation I thought was just splendid was to omit the English Cucumber, and sub in diced raw Fennel instead. Or? Roast that fennel if you prefer, with the Beets and Vidalia Onions. Does your local market carry the young and tender Spring Vidalias right now? Looking like an overgrown scallion, the young Vidalias are sweet and flavorful, making a perfect addition for this salad. Make it a warm option, because of that Winter white outside. Switch up the standard lemon for a Meyer Lemon to add a bit more intensity. What I love about this recipe, or really, any recipe, is the versatility that allows for one to make it solely your own. This is just a guide. You know your tastes best, so explore, imagine and chop for the color you crave, the flavor you need to pull you through these last weeks of cold, of white and snow and shoveling and those towering piles everywhere.
Gold Beet Salad

3 medium beets, tops trimmed (save them and eat them if it's your thing)
1/2 an English Cucumber, peeled and finely diced
1/2 medium Vidalia onion, grilled but still somewhat crunchy, finely diced
1 T. capers, drained and minced
1/2 c. kale leaves, finely minced (recommend: lacinato)
3 T. olive oil
1 t. fresh lemon zest
1 T. fresh squeezed lemon juice
1 T. fresh chives, minced
2 T. fresh parsley, minced (I used flat leaf; curly would work just as well)
Sea salt and fresh ground black pepper

Heat oven to 400°. Place a square of foil in an 8×8 baking pan and put beets in the foil. Drizzle with a bit of olive oil and fold the foil over the beets. Roast the beets until a knife inserted in them slips out easily. The time will depend on the size of your beets, but plan for at least 45 minutes to an hour. Allow the beets to cool, then peel and dice them.

In a bowl, add the beets, cucumber, onion, capers, kale, lemon zest and juice, chives and parsley. Drizzle in the oil, add a few shakes of sea salt and grinds of pepper. Stir to combine and taste for seasoning. Allowing the salad to sit for a few hours, or overnight before serving will deepen the flavors. Adjust seasonings before serving.