There's no shortage of weather folklore to be found, in which the rhythm of the seasons can be a harbinger for predicting coming temperatures. This one seemed particularly fitting to our current weather in Minnesota.
When leaves fall early,
Fall and Winter will be mild;
When leaves fall late,
Winter will be severe.
Our whole theater of seasons in Minnesota was far, far behind the norm this year, with snow falling on May 1st, the growing season extended to near the end of October, and Autumn leaves peaking weeks behind schedule. Is it all an indication that our Winter will continue to be caught in a deep freeze? Stick around.
Decembers as of late have been all across the board for weather; we've had monster blizzards (December '10) that dumped nearly 2-1/2 feet of snow on us, and Christmas weeks that have had nothing but hard rain (December '12).
This December, it's been the season of sub-zero temperatures.
It's a languid post-Christmas week (languid for me as I took 9 days off after Christmas), and we're already experiencing a second round of deep cold and unpleasant wind chills, of complaining and groaning over why one lives in such a place, running through Instagram photos of island vacations past, to dream of warm sand and sunshine and forget that exposed skin could acquire frostbite in just 10 minutes exposure outside. We bake to ward off the chill, simmer kettles of soup or slowly braise a comforting pot, cuddle under blankets, binge-watch Netflix and Hulu or movie catalogs, or just plain deal with it when the temperatures plummet and the wind bites with gnashing teeth at our skin. But one thing remains; we're all in this together.
Cold weather isn't much of an issue with me. I'll add another layer, pull out the thick, warm wool mittens, tug on some leg warmers and keep my head down from the wind. Inside, I slip on wooly hand warmers, sheepskin slippers and invite the cats for a snuggle. Cranking up the oven helps too, as adding warm, cozy foods to the menu is the best way to keep warm from the inside.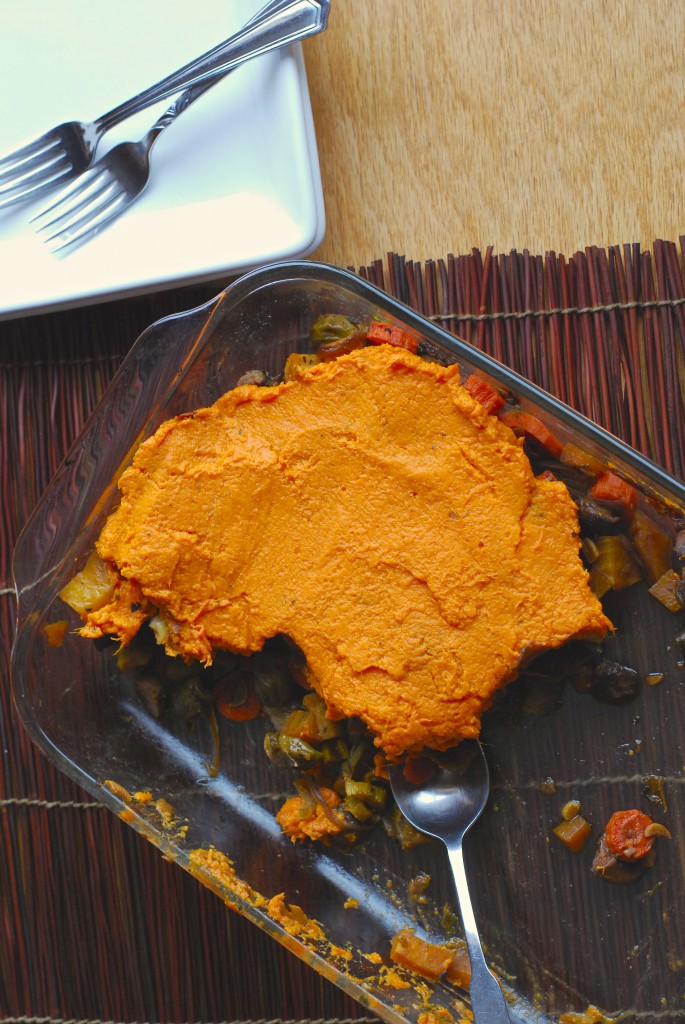 This Vegetable Shepherd's Pie was created as a vegetarian entree I was designated to bring for a Christmas gathering with my in-laws. I wanted something that would be universally accepted across the board by all the various dietary needs of our extended family; the Primal eaters, the wheat-free, the dairy-free and the meatless. It covers all those bases with it's lush pile of heavenly roasted vegetables bathed in a balsamic glaze and a simple shower of salt and pepper. I chose not to use a binder to hold it all together, and instead of rich, buttery potatoes coating the top, I used roasted sweet potatoes, spun to a silken mass with a hand-mixer, touched only with good seasonings. The result was remarkable in flavor, eye-catching in presentation. I was thankful that it was so well-received, and grateful to have still a large portion to bring home and consume, post Christmas, as the deep cold set in.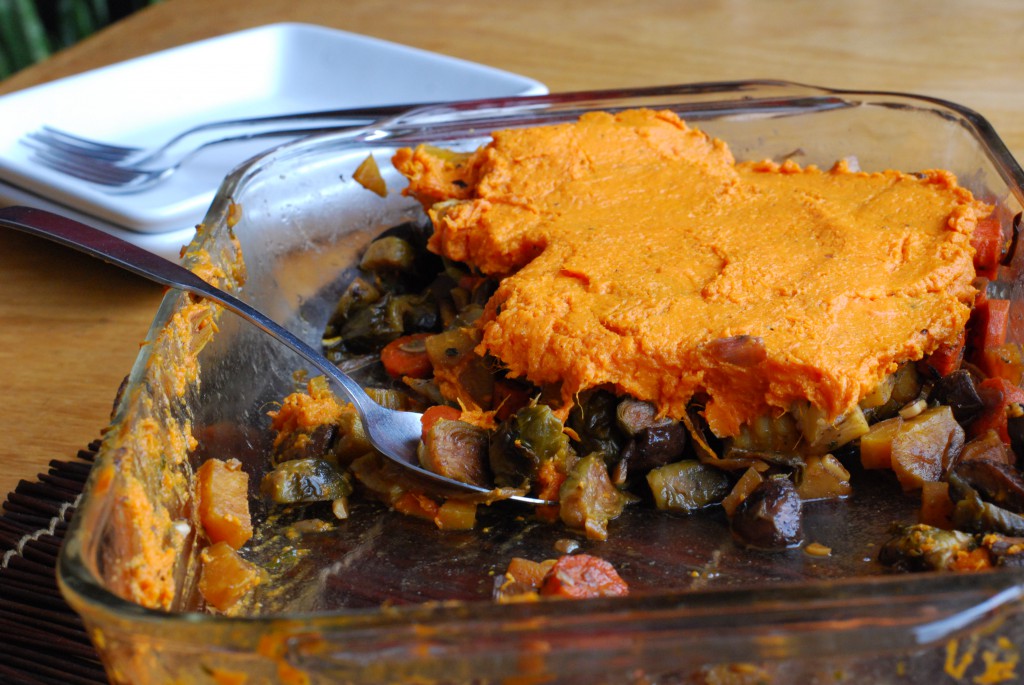 Don't be put off by the long recipe; you roast most of the vegetables, which can be accomplished while the sweet potatoes and beets do their thing in a hot oven. You'll spend some time prepping those veggies, but putting it all together happens quickly. You can make the recipe in two 8×8 pans, saving one in the freezer for another time. Another elegant presentation would be to portion out ramekins for individual servings, an ultimate dinner party delight. The recipe makes plenty of filling to do with as your creativity leads you.
Best of all, when the temperatures drop and your belly growls it's hunger at you, this feeds you with warmth, good health and well-being. For the upcoming winter, you'll love having this in your repertoire.
Vegetable Shepherd's Pie

3 Parsnips, peeled, cut to 1/2" chunks
4 medium carrots, peeled, cut to 1/2" chunks
2 stalks celery, cut to 1/2" pieces
2 8-oz pkgs whole baby portabella mushrooms, quartered
1 medium onion, halved, sliced thin
4 cloves garlic, peeled and rough chopped
3 cups Brussels Sprouts, trimmed and halved
4 small to medium gold beets (from one bunch) scrubbed, greens removed if needed
5 medium sweet potatoes, scrubbed well
1/3 c. mixed fresh herbs, minced (oregano, parsley and thyme are delicious)
olive oil
salt and pepper
balsamic vinegar

Heat oven to 400 degrees. You will be roasting all of the vegetables except for the celery, onion, mushroom and garlic. They will all take different amounts of time to finish, so start with the ones that will take the longest: poke the sweet potatoes a few times with a sharp knife and place on a foil lined baking sheet. Wrap beets well in foil. Place both in hot oven and roast until tender. A fork should slip easily in to the beets when they are done. Set aside to cool.

In a bowl, toss parsnips with a bit of olive oil and salt and scrape onto one side of a baking sheet. Repeat with carrots, and place on the other side of the baking sheet. Roast in hot oven until just tender. Place back in bowl and set aside. Repeat with Brussels sprouts, roasting until just tender. Scrape from pan in to bowl with parsnips and carrots.

Meanwhile, in a large, deep skillet, warm 2 tablespoons of olive oil and 2 tablespoons butter. When bubbling, add mushrooms, and sauté over medium-high heat, stirring regularly, until they release their liquid. Add onion and celery and continue to cook, stirring often, until they soften, about 5 minutes. Reduce heat slightly, and cook for about 10 minutes, allowing the mushrooms to brown in spots and become very fragrant. Stir in garlic and sauté for about a minute, then add about 1/3 cup of balsamic vinegar. Scrape up any browned bits in the skillet, and simmer until the vinegar is absorbed. Add in the parsnips, carrots, and brussels sprouts and 1/4 cup balsamic vinegar. Stir to combine and allow to simmer over low heat for a few minutes. Turn off the heat. Peel the beets, chop in to bite sized pieces and stir in to vegetable mix with the fresh herbs. Scrape entire pan in to a 9×13 baking dish.

Peel sweet potatoes and place in a bowl. Mash with a fork, or potato masher until smooth and creamy, season with salt and pepper. Spread evenly over vegetables. Place back in the oven for 15-20 minutes to heat through.