If you recall, Whole Foods invited me to participate in a 28-day challenge based on the Engine 2 eating plan (I hate the word 'diet' and won't use it) that calls for a 100% plant based way of food consumption. It goes so far as to exclude fats and salt as well. My take on it was to kick out the meat. We eat more than I want mostly because my teenager really loves meat, but Mike and I were getting tired of it. And it's the costliest item in our food budget. As well as going meat-free, I've cut out my beloved butter, the only dairy I consume and I've cut down on oil usage and tried to avoid salt.
So… two weeks in to this eating plan, and what's been happening?
#1- The teenager is a bit miffed. 'What do we eat!?' he says with emphatic resignation. But the meat free meals that leap from the stove top have him devouring his portion with gusto. I've given in to his need for meat on occasion, utilizing small amounts of chicken for him, and having a meal with shrimp. But this boy is not suffering. No no…..
#2- My pants fit better. And I can get myself in to two pairs of jeans that I haven't been able to wear since last summer. Some of the belly fat is disappearing. I think my face looks thinner. I have a bit of a way to go with reaching what I think is an ideal weight for me, but this eating plan wasn't about losing weight at all. I needed maybe a 10 pound drop at most and when I started the plan I had already lost about 5 of those pounds. For me, this is about eating more healthy foods and feeling better.
#3- This is a big one. Several months ago I started experiencing symptoms of menopause, mostly in the way of hot flashes. They had become really intense, and a constant in my day. They'd cover my neck and shoulders, resulting often in getting so overheated that the underside of my hair would become very damp. And the worse ones came at night, radiating through my pelvis and hips and down my legs, causing me to kick off the blankets to cool down. I'd fall asleep, then waken later absolutely freezing. This night cycle went on and on, and it wasn't helping my sleep patterns at all. But since giving up meat consumption, the hot flashes have fallen off dramatically, the lower body ones disappeared completely and the consistency has been reduced to only a few light ones each day, mostly very manageable. No more damp hair!! And this happened within days of giving up meat. It's been completely unexpected but such an amazing finding. If I'd known giving up meat would help this, I would have done it ages ago. Another physical aspect that has fully disappeared when meat left my meals is any kind of stomach upset. I've been blissfully comfortable for the past two weeks with no indigestion, no upset or gas and no bloating.
#4- I miss my popcorn fix, but that's about the only food I really want to be eating that I'm not. I simply can't eat popcorn without melted butter and salt, and at least once a week I would pop a big bowl of it and crunch crunch crunch my way through, sighing in contentment, slurping buttery salty fingers and smiling through eyes half closed in a popcorn induced ecstasy. I think I love the sensation of it, the textural pleasure of eating something so noisy, and so flavorful. I don't really miss meat, nor crave it. See #3. But I really miss my popcorn.
What this plan is doing for me that I do love is really giving me a lot more reasons to look at the foods I eat and make the best possible choices. I was out for an evening with some friends and had to take a good hard look at the menu options for something that fit this challenge; thankfully I had three choices to pick from, all of them acceptable. Eating out may be more challenging, and thankfully we don't do it that often. But we've also been eating pretty mindfully prior to starting this plan. This gives us a reason to take it one, or ten steps further.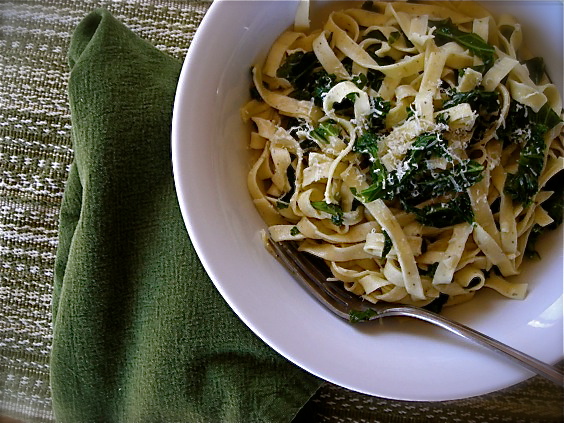 This pasta dish is halfway acceptable for the eating plan, in that it's loaded with braised kale. The fettuccine isn't exactly E2 friendly, but it was what I wanted to eat after an intense afternoon of gardening. Sometimes you've just got to allow for a dish that nourishes the soul as well as it fills the belly. I really struggle with any aspect of eating that deprives us of what we really want. If I really want popcorn, I'm going to make it. If I want a juicy bratwurst, I will grill one so that the skin splits and it sizzles in delight, pressed between the edges of a perfect bakery roll and slathered with the best mustard in my fridge.
But at the same time, what I put in this body of mine, the only one I've got, really does make a difference in how I feel, the energy I have and the way I get through my day. I've felt it, noticing when I don't eat healthy foods and had to force myself through the side effects of poor eating; the sluggishness, the lack of energy, the belly aches or heartburn. I'm not harming myself by consuming a grilled piece of chicken, or some perfectly cooked shrimp. And I've found that by really paying attention to making 90% of the foods I eat be healthy, plant based foods, it really has made a huge difference in how I feel. Should I go to 100%? Should I give up the oils, the salt? Should I? For me, this alternative plan makes sense. I like the results, the way it makes me feel and the relative ease on my pocketbook. And if in just two weeks it's got me thinking of even more ways to have healthier options in our meals then I feel it's achieved something great.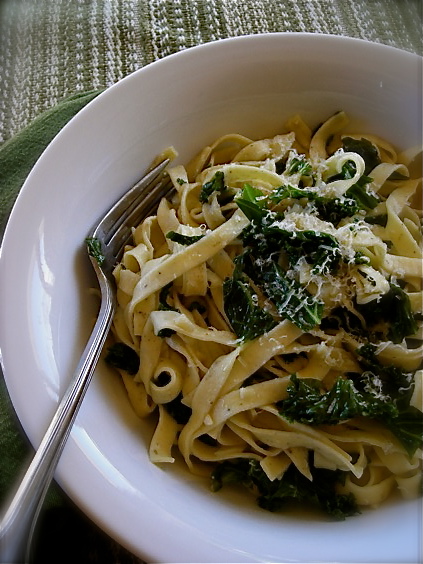 Like I said about this dish, it fit what I really wanted to be eating, when the hunger became so great from all the activity that I'd done I found myself with shaky hands and that trembly feeling of a deeply low blood sugar. I needed about 20 minutes to gently cook the kale until it was silky soft and lush, and only a few minutes to cook the fresh dried fettuccine I had on hand. A toss together in the deep skillet with a few dashes of lemon juice and some rosemary Manchego cheese I had on hand (totally not E2 friendly, but ah well…..) and I sat down with a deep bowl, a thick heavy fork and a content sigh. It had been a long day, but a full one, one with accomplishments and a lot of good spring sunshine. Eating a terrific and healthy meal was like placing a fancy top hat on the end of this day, and swinging off with a jaunty step.
Braised Kale with Spaghetti

1 pound lacinato kale (about 2 bunches), large center ribs and stems removed, cut crosswise into 1/2-inch slices
3 tablespoons olive oil, divided
1 medium onion, finely chopped (about 1 1/2 cups)
8 large garlic cloves, thinly sliced
1/2 pound spaghetti
2 teaspoons fresh lemon juice
Finely grated Parmesan cheese

Rinse kale. Drain; transfer to bowl with some water still clinging.


Heat 2 tablespoons olive oil in heavy large pot over medium heat. Add chopped onion and cook until soft and translucent, stirring occasionally, about 6 minutes. Add sliced garlic and sprinkle with salt; cook until onion is golden brown, stirring occasionally, about 5 minutes. Add kale and remaining 1 tablespoon olive oil and toss until wilted, about 3 minutes. Cover pot and reduce heat to medium-low. Continue cooking until kale is very tender, stirring occasionally and adding water by teaspoonfuls if dry, about 20 minutes.

Meanwhile, cook spaghetti in medium pot of boiling salted water until tender but still firm to bite, stirring occasionally. Drain, reserving 1/4 cup cooking liquid. Add cooked spaghetti to kale mixture in pot. Add lemon juice and 2 tablespoons reserved cooking liquid; toss to combine, adding more liquid by tablespoonfuls if dry. Sprinkle spaghetti with grated Parmesan cheese and serve.

Original recipe from Orangette.

KATE'S NOTES: I made this with regular curly leaf kale, and used a 16-oz bag of gourmet basil fettuccine in place of the spaghetti. I did not use onion, and only used 3 cloves of garlic; it was plenty!  Do make sure you give the kale a nice slow simmer. The result is so tender and delicious that it's positively addicting, and well it should be. This recipe is what turned Molly's mind away from hating kale and I'm pretty sure if you let it, it will do the same for you.