Just 10 days ago, I underwent LASIK eye surgery and my life shifted in ways that I'm still learning to understand. I'm trying to make sense of it all, but only those who've been under the burden of eyeglasses for their entire life, then freed from the need in a quick, 7 minute procedure would be able to know why this is such a huge, life-changing shift.
So for the rest of you, I'll just talk about pasta. Because that's just not that big of a deal, right? But this dish I created recently, well, this IS a big deal.
I've been pasta-less most of the past year, and not for the standard 'I'm carb-free' or 'I don't DO pasta' whine whine that this basic staple is devil spawn. We went through a long period where pasta was standard in our dinner repertoire, and I just became tired of it. Then, lately, there's been that nagging sense that something was causing pure belly sadness and pasta, being cloaked in wheat, was ignored. Finally, I realized that I missed a steaming bowl of carb goodness. It was March in Minnesota, after all. Enough said.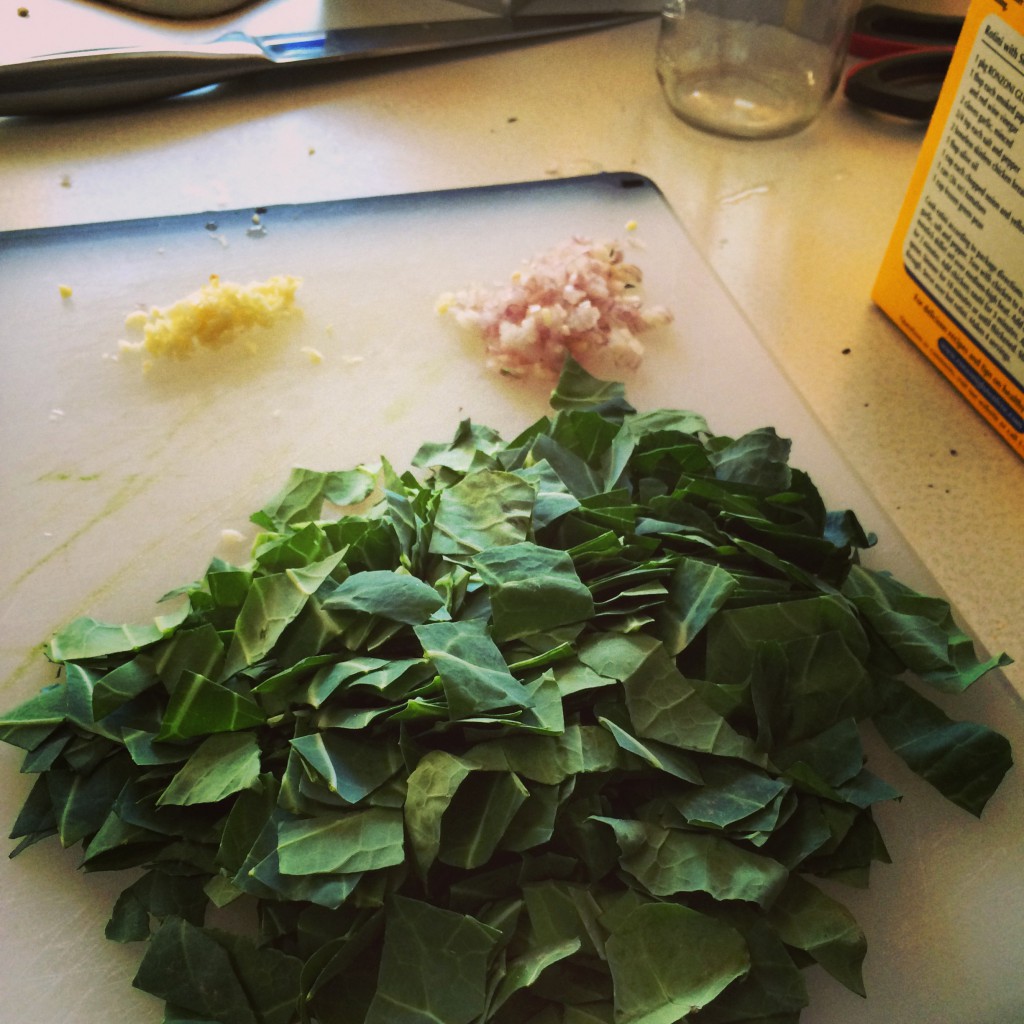 After the first few days post-LASIK, where my eyes felt like being perpetually stuck behind dirty contacts, hazy edges of everything and light that nearly pierced my brain in it's brightness, I hadn't experimented with just how my new means of vision would translate in the kitchen, and my need to clearly see my hands. Mike had brought home a box of gluten-free pasta that promised in large, persuasive text that it had a 'White Pasta Taste!' and my family would never know the difference. I craved a bowl of buttery noodles, covered in a thin layer of shaved parmesan, a salve for the body that was now rendered off in a new direction, brain and eyes communicating after a lifetime of silence. Everything was new. And I needed something old and familiar.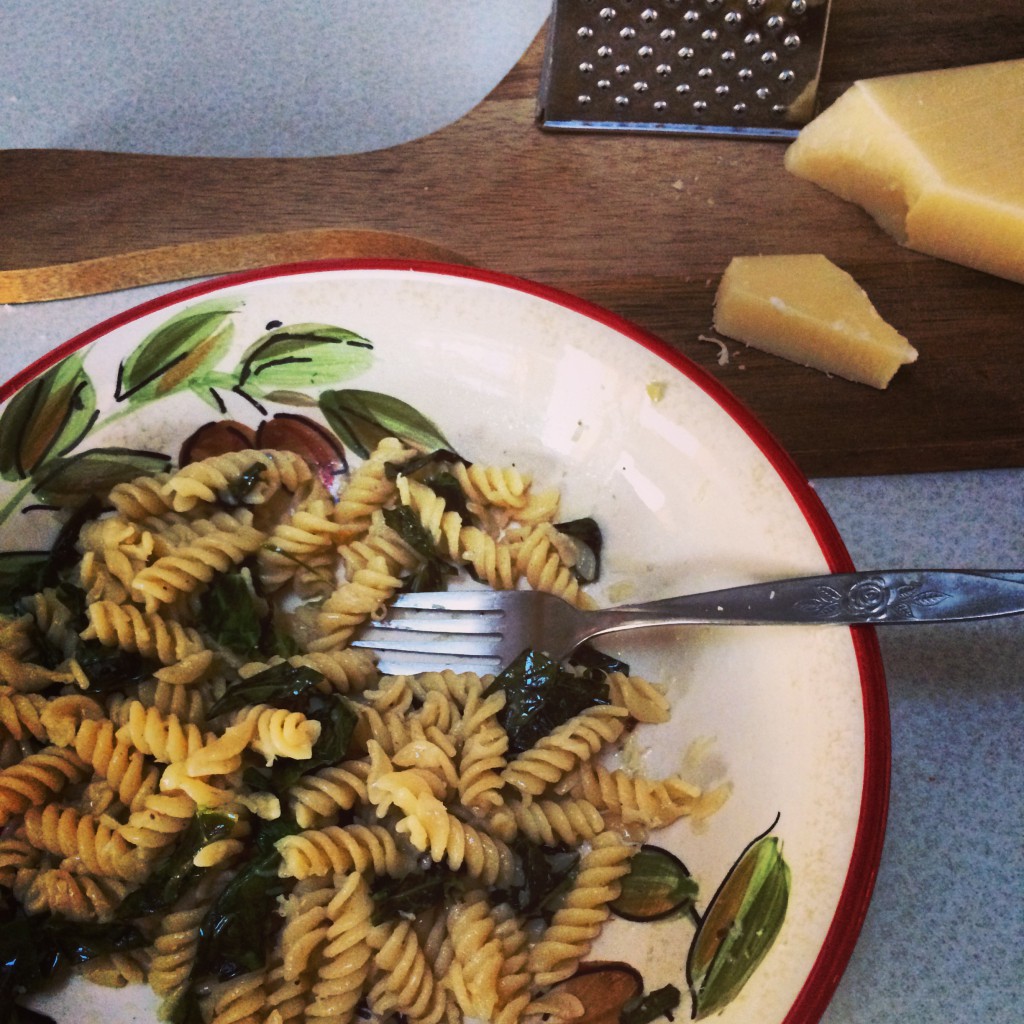 But this dish turned out to be anything but, yet, at the same time, it soothed immensely. It was buttery noodles. There was lots of fresh shaved parmesan cheese, just as I desired. But there were sautéed collard greens, a deeply burnished bed of shallots and garlic, and all of it was bathed in the deep umami of a thick anchovy fillet, melted in a puddle of olive oil. Skipping over the familiar, I added a dose of the here and now, trying to pull together two sides of my life that were now in conflict inside my head. I wish I could explain it better than that, but there's so much to comprehend from this simple procedure that I never anticipated, so much emotion- being able to read the labels on the bottles in my shower, seeing the texture of the ceiling when I awake, pressing my cheek to my husband's without the pinch of eyeglasses between us- the simplest of life moments that so many take for granted and never think about that suddenly are part of my life. I'm close to weeping every day at this wonderful, unfamiliar and amazing world. I can't wait to leap in to a lake or pool this summer and come up with clear vision. I may break down crying at how great that will feel.
My boy wandered in the kitchen, dressed for his Wednesday night youth group at church and stuck his nose in the pot of pasta I was stirring together, clinging to thin sheets of collards and tiny chunks of allium, steam rising from the glistening spirals. His eyebrows rose in anticipation and he drew two forks from the drawer, and together we stuck a few noodles to the tines and lifted them to our mouths. I shaved the parm on his bowl, then mine, and we bent our elbows to the island in our kitchen, shoulder to shoulder and dipped our forks. This act of simple consumption with he and I is a need for both of us, to connect over a bowl of modest food, leaning together in companionable silence except for the clink of silverware, a swift moment to just be. It added to the familiar that my brain was seeking. He sighed as he scooped up the last noodle, moving it around the bowl to grab the last drops of oil and butter, the remaining bits of cheese. He smiled at me and leaned his shoulder in to mine, his gesture of thanks well received, another wave of the familiar among a week of new discoveries.
This pasta was so good; simple, deeply flavorful and crazy easy to make. If you haven't experimented with anchovies in pasta dishes, I urge you to just try it, as they add immense depth.
Pasta with Collard Greens and Anchovy

1# pasta, cooked
1 thick bunch Collard Greens, stems removed, washed and rough chopped
1 medium shallot
2 cloves garlic
1 Anchovy fillet (or two, depending on size; I used Wild Planet White Anchovies, and they are BIG)
Butter and olive oil for cooking.
Parmesan cheese to taste

Cook pasta according to personal taste. While the pasta is cooking, heat a large, deep skillet and add a knob of good butter, along with a drizzle of olive oil. Sauté the shallot and garlic, stirring frequently, until golden in color. Add the anchovy fillet and mash with a spoon to break it up. Stir in the collard greens to coat, add about 1/4 cup of water, then cover the pan and reduce the heat to medium-low. Cook until the collards are soft, but still retain some texture.

Drain pasta, reserving a small amount of liquid. Add pasta to pot with collards and stir well to combine. Grind some black pepper over it, along with a few shakes of sea salt, stir some more and taste for seasoning. Adjust if you like. Add another drizzle of olive oil, or some more butter if you prefer, or some of the pasta water if it seems too dry. Spoon in to serving bowls and top with shaved parmesan cheese to taste. Grab a fork, and someone you love.