In moving past the continual consumption of meat with our meals, it brings to light an entirely new way of going out to eat, as I'm left wondering how up to date any restaurant will be with their meatless options. There are those places that soar, offering a wealth of meat-free entrees that dazzle, while others places rely on pasta dishes as their sole vegetarian fare.
Pasta isn't bad, mind you. I do enjoy it. But these days, having just a pasta dish or two with vegetables as your meatless menu offering is pretty unimaginative for a restaurant.
But that being said, pasta has it's virtues.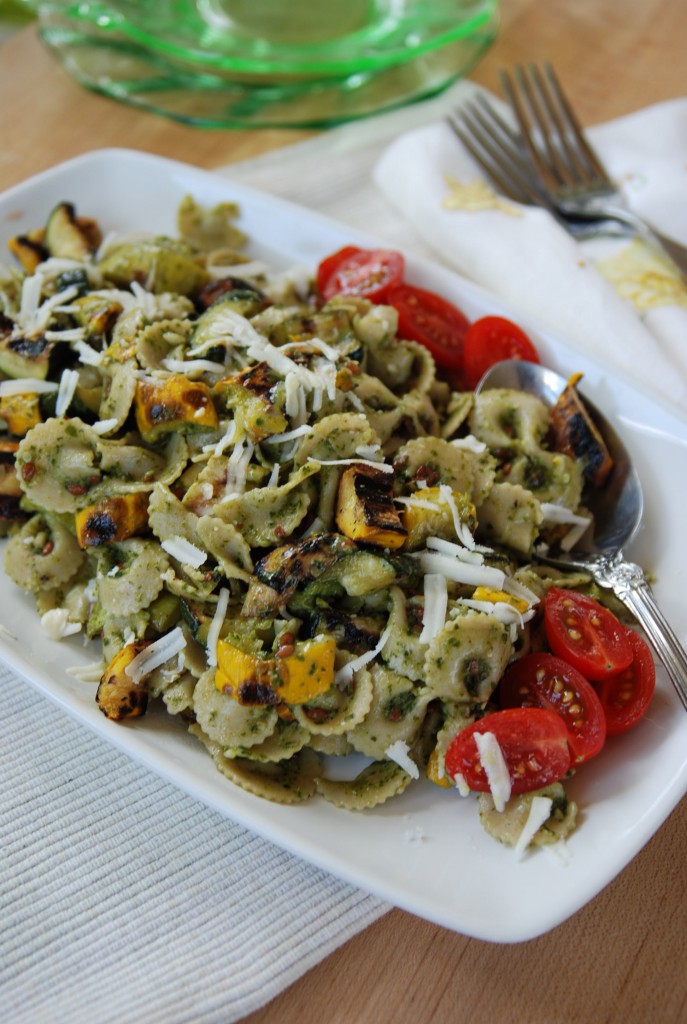 Hodgson Mills Pasta is running a recipe contest on Pinterest and I'm participating with this recipe. Are you on Pinterest? There's a special page for Hodgson Mills that has all the recipe entries on it. 
I'd appreciate a vote if you're so inclined. There are some pretty nice prizes. You must go to the page linked above to vote. Pinning this recipe from my blog won't count.
And Hodgson Mills was nice enough to offer $25 dollars of assorted pasta to one lucky winner from my blog. That's a lot of pasta! All you need to do to enter is leave a comment on my blog stating your favorite way to prepare pasta (US residents only, with a valid mailing address, please) You have until Thursday July 5th to leave a comment and be entered for the giveaway. I will choose one commenter through Random.Org and contact you via email, so be sure to leave that information. Hodgson Mills will ship directly to you.
Do you love your pasta rich and cheesy? How about chock full of rich tomato sauce and italian sausage? Plain with simple garlic and olive oil? I've been enjoying Hodgson Mills whole wheat pasta with summer fresh pesto and grilled vegetables, and creating this recipe was a deliciously fun way to use up a huge box of basil that I'd been given. Food gifts are the best, aren't they?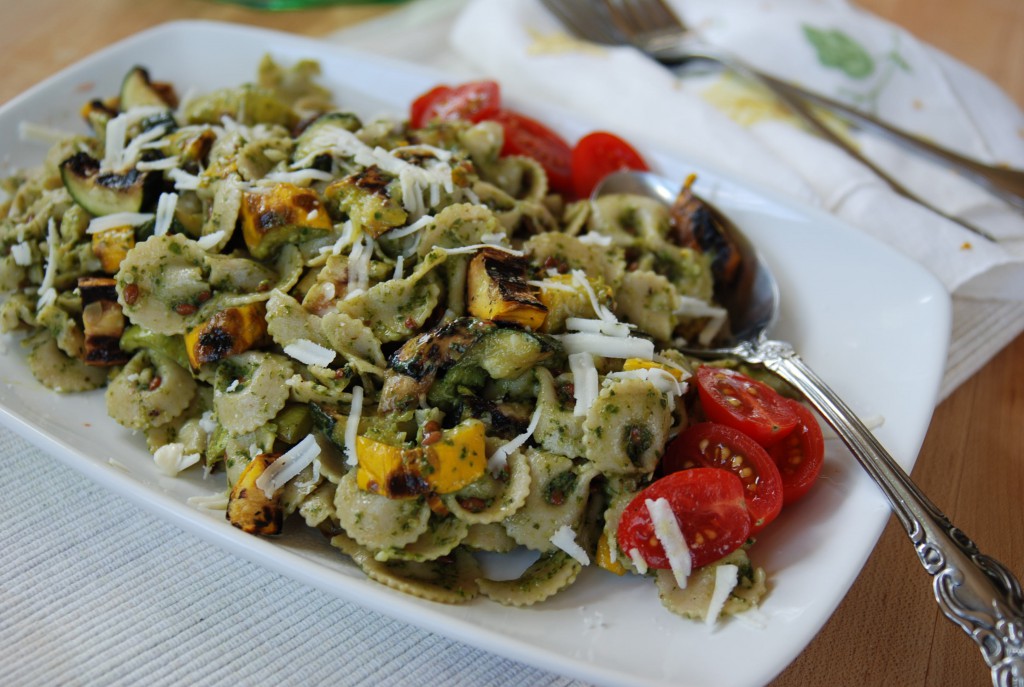 Summer Pesto Pasta with Grilled Zucchini

1-lb Hodgson Mills Bow Tie Pasta
2 medium zucchini
1/4 c. olive oil
2 T. fresh squeezed lemon juice
1 t. prepared spicy mustard
1 c. prepared pesto (or make your own from scratch, method included)
Fresh Cherry tomatoes, optional

Prepare zucchini:
Heat gas grill on high for 10 minutes. Just prior to cooking, reduce heat to medium-low and brush grill grates with canola or other neutral oil. Whisk together the olive oil, lemon juice and prepared mustard; set aside. Wash zucchini thoroughly and trim off root end. Slice zucchini the long way into three strips about 1/4″ thick. Brush with the mustard oil and place, oiled side down on prepared grill grates. Cook without moving for 5 minutes. Using tongs, carefully turn zucchini over and continue to cook until tender, about 7-10 minutes more. Remove from grill and set aside to cool. Cut zucchini in to bite sized pieces.

For the Pesto:

4 cups loosely packed basil leaves
1/3 c. olive oil
2 T. shredded parmesan cheese, plus more for finished pasta.
2 T. pine nuts (optional)
1 T. kosher salt
1 t. fresh cracked black pepper

Place all ingredients in the work bowl of a 2-quart food processor. Process in pulses until thoroughly combined, adding more olive oil if needed and scraping down sides as necessary. Scrape prepared pesto in to a bowl and press plastic wrap over the surface to prevent discoloration.

In a 6-quart stockpot, bring water to a boil. Add pasta and salt, if desired. Cook pasta until just al dente. Reserve one cup of the cooking water, drain pasta and place back in the stock pot. Add half the pesto to the hot pasta. Drizzle in a little of the cooking water and stir to combine, adding in a bit more cooking water if needed. Add more pesto if needed, along with the cooking water until it's to your preferred consistency. Stir in the grilled and chopped zucchini and more parmesan cheese, if desired. Taste and season with salt and pepper. Chill pasta for up to an hour before serving, or overnight if desired. Taste prior to serving to adjust for seasoning, and add sliced cherry tomatoes for garnish and color.