I have a tendency not to share these dishes we eat, mostly thrown together with ingredients from the fridge that likely need to be used up before they become this years compost material. This 'Cowboy Cooking', as Mike calls it, is a strange gift that I have, an ability to see what's available and be able to make something delicious from it. Plenty of people do it, I'm sure.
I just need to share it more often. Because the results are often pretty spectacular.
On one of my last trips through CostCo, I came across a 4-lb bag of red quinoa for $15.99. At $4 a pound, this gorgeously colored grain was significantly less expensive than any bulk option I'd ever seen anywhere, and I snatched a sack off the shelf as if they might vaporize right in front of my eyes. Cooking off a large pan at a time, I freeze what I don't use, which then helps the 'Cowboy Cooking' at some point down the road. My favorite means of preparing this delicious grain is to use half coconut water and half coconut milk, along with smoked paprika and turmeric, as it creates a flavor bomb that blows off the top of your head in delight, as well as mixing in that beautiful yellow color that turmeric is known for, making the end result even more gorgeous. Pretty food makes everything better, doesn't it?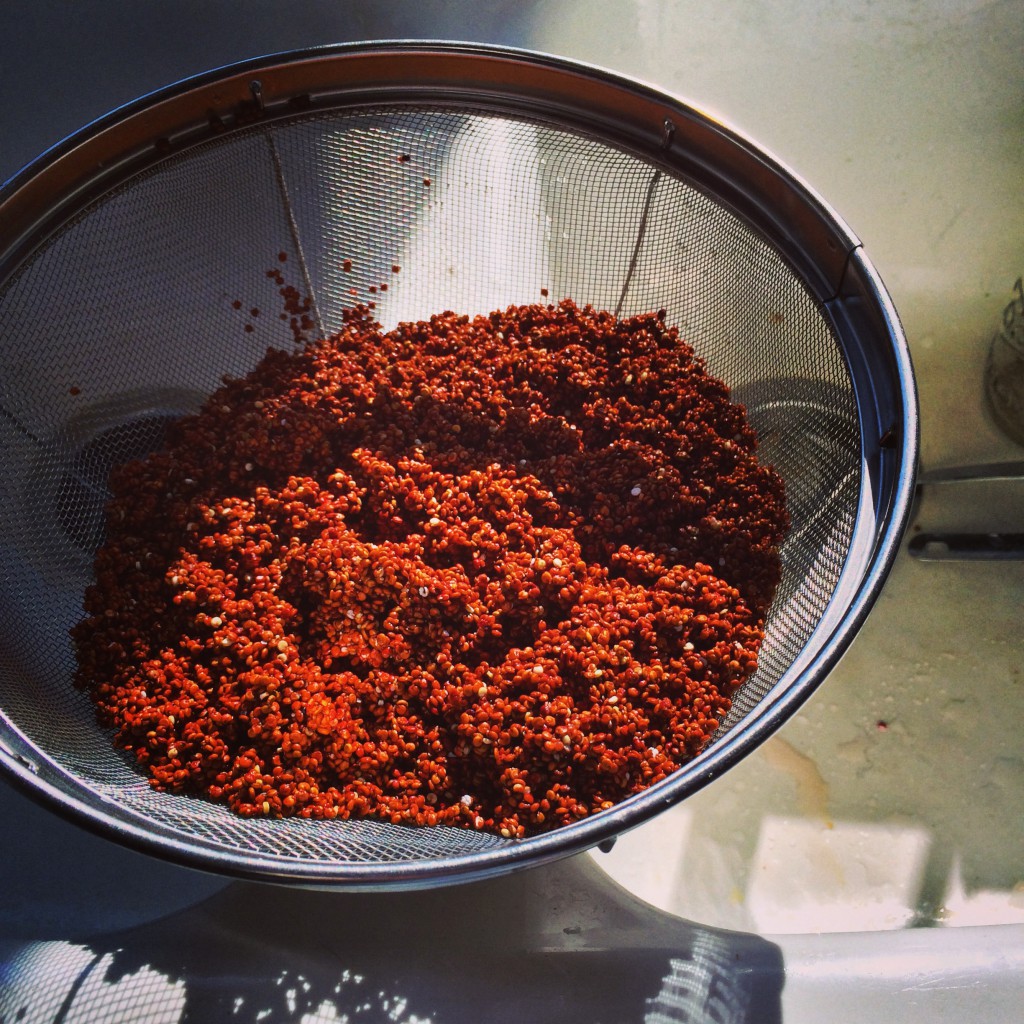 I realize that everything about this dish screams of the current love of all things kale and roasted cauliflower and blah, blah blah with the addition of the ubiquitous quinoa, and more blah, blah, blah coconut water, and where is the creativity or uniqueness in any of that?? You're right. There isn't any. Maybe you've already done this dish; tossed together a pan of burnished cauliflower with your own uniquely cooked quinoa, and a pan of silky, slowly braised kale that's pungently scented with garlic and thought that you were a million ways brilliant like I did. There's nothing to it. And that's part of why I want to share this delicious and superbly easy dish. There IS nothing to it. Which means you don't need a whole resume of skills to get a fantastic dinner on the table. Or really, a lot of hands-on time.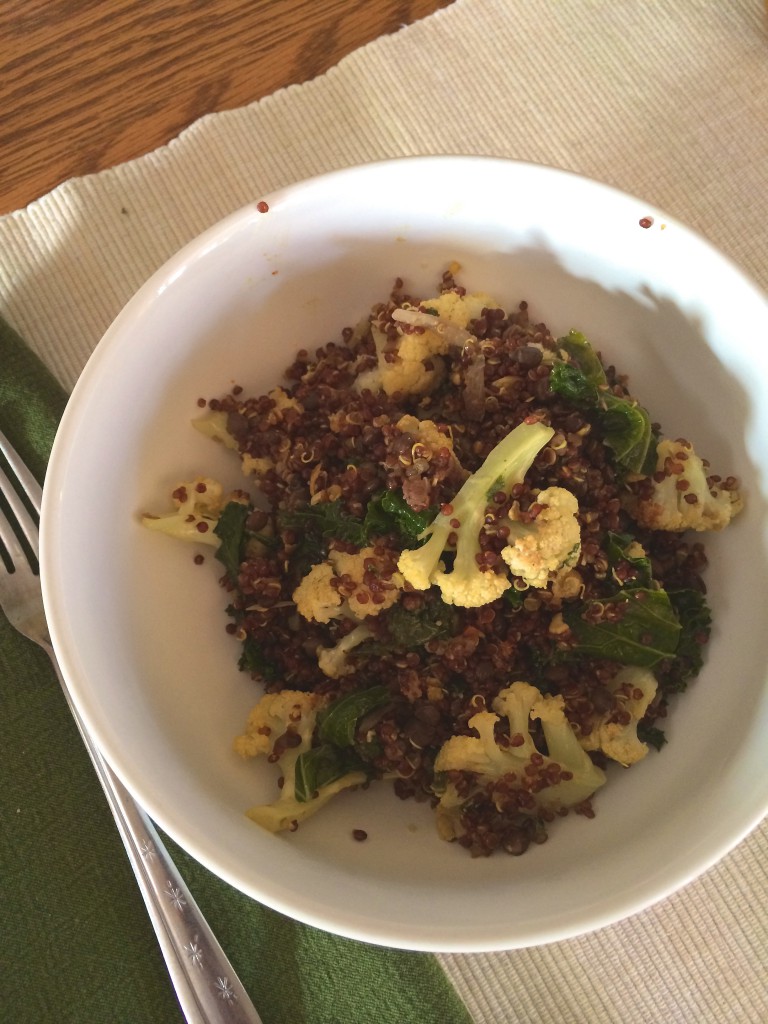 Let's take that quinoa: it's one of the simplest grains ever to cook. Forget that whole 2:1 ratio of water to grain, though; with quinoa, it's wrong, and will result in a mushy, unappetizing food that no one in your house will want to touch. Here's the deal: one cup of quinoa needs 1-1/4 cups of liquid. That's it. It needs a simple simmer, and then…. here's the easiest part; it needs about 15 minutes of you ignoring it on a hot pad when it's done. Yup. Take it off the heat when the water is absorbed, set it aside, covered, and ignore it. You can ignore it for an hour and it won't care. In fact, it LOVES to be ignored. You can cook it in the morning and ignore it all day until dinner and it won't care. Your result, however, will be a toothsome bite to the grain that reveals all of quinoa's beautiful tastes. Nothing mushy here, folks.
And that kale? Have you ever found curly kale to be tough and chewy? Not to your liking? Try a slow braise of it, on the lowest heat setting your stove will offer, with just a tiny bit of liquid. I promise you this method will render the toughness right out of this nutritional bomb, making it silky, smooth and delicious to eat. Start with a small onion, or shallot, add a few cloves of garlic, then drop the chopped kale in the pan, stir for a few minutes, add enough liquid to cover the bottom of the pan, a pinch of kosher salt, and cover it to cook. You can ignore this one too for a while and it's ok. Curly kale doesn't mind. Stir it a few times, and after about 20 minutes or so, the kale will start to show you it's better side. If it still tastes tough when you sample a leaf, give it more time. Add another pinch of salt, too. It helps break down the cellular walls and tenderize the leaves.
The tender cauliflower, nutty grain and silky kale make for a mouth-awakening dish. And just for fun, I dumped in a bunch of cooked lentils that I had in the fridge to add to all the lip-smacking goodness. This dish…. it's good when it's hot; it tastes great at room temperature, and it's wonderful chilled too. Easy. Endlessly versatile. Colorful. Healthy. It's got it all. Now YOU need to get it all.
Red Quinoa, Braised Kale & Roasted Cauliflower

1 c. red quinoa, washed well and drained (regular white is fine, too)
1-1/4 c. water (or combination of equal liquids such as coconut water & coconut milk)
1 T. ground turmeric
1 T. smoked paprika
1 bunch curly Kale, washed and de-stemmed
1 medium shallot, minced
2 cloves garlic, minced
1 head Cauliflower, washed and broken in to bite sized pieces.
Salt and pepper to taste.

In a small saucepan, bring water or liquids to a boil. Add the quinoa, turmeric and smoke paprika and stir to combine. Bring to a boil, reduce to simmer, cover and allow to cook until the liquid has been absorbed. Keep covered, remove from heat and set aside for at least 15 minutes, or up to several hours. No need to chill. Fluff the grains before utilizing.

Meanwhile, heat your oven to 400°. Place cauliflower on a baking sheet and drizzle with a bit of olive oil and a sprinkle of kosher salt. Mix well and place in hot oven. Stir occasionally and roast until fork-tender and browned in spots.

In a medium skillet, heat a small amount of oil and sear the shallot and garlic until tender and slightly browned. Add the kale and stir until coated. Pour about 1/3 cup of water in the pan, sprinkle a pinch of kosher salt on the kale and stir to combine. Cover the pan, reduce to the lowest heat setting and allow to cook, stirring once or twice, for 20-25 minutes. Taste a kale leaf; if it still tastes chewy, cook for 5-10 more minutes. The kale should be silky and tender in your teeth. Keep the heat LOW.

Combine the quinoa, cauliflower and kale in a large bowl and taste for seasoning, adding more salt or pepper if desired.

{NOTE: I don't include cooking times for this recipe, or any of mine really, because your oven and stovetop is not the same as mine. Instinct, as a cook, is a necessity; your browned cauliflower might look different than mine. Your onions could cook quicker, and your Low setting on your stove could be higher than mine and cook that kale faster. Trust. Taste as you go. And trust some more. Your mouth will tell you when it's done.}