Rice bowls sound so 1970. Especially brown rice bowls. With tofu. I'm old enough to remember the 1970's, the retro colors, long flowing skirts and hair and the food culture of healthier options. I look around now and see so much of the same, in people far too young to even know what it was all about.
I enjoy tofu now, which helps when one doesn't eat much meat. There's a lot of controversy around tofu, and soy products in general, but I think if you are purchasing non-GMO and organic tofu, you really don't have reason to be afraid of eating it. I like my tofu with rich deep flavors embedded in it, and I love it when it gets a bit chewy, instead of too creamy.
Rain fell hard last night as the final touches of this dish came together. A welcome stint of chill and rain has fallen on us, the steady drumming of drops against the skylight in my kitchen is always a welcome background to a humming stove, the warmth on my legs so soothing. I've felt a bit out of sorts lately, and a visit with a holistic doctor started the process of turning it around, hopefully. I'll be eliminating caffeine and starting a detoxification process in the next few days, and while thinking of this turnaround, the idea of having a decent dinner was heavy on my mind.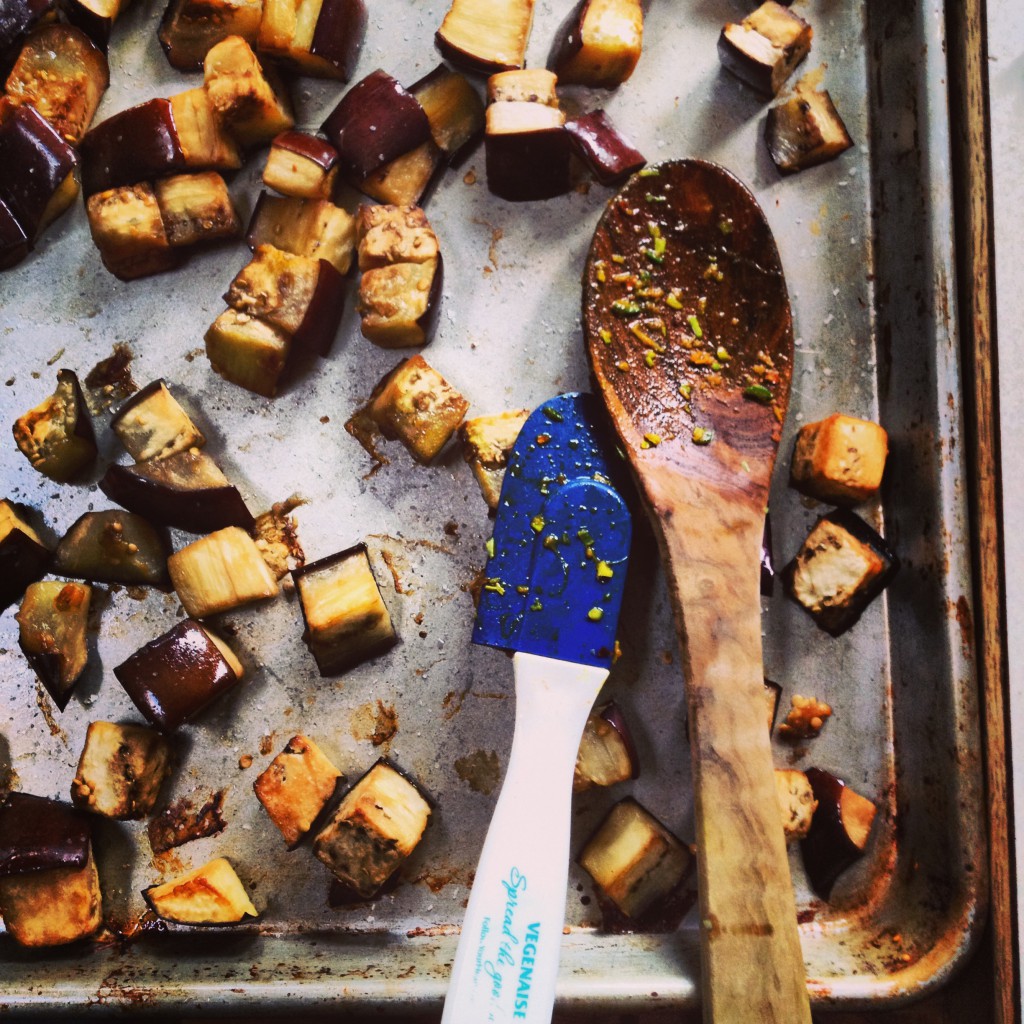 I roasted a big heavy eggplant, and a tray of soy sauce soaked tofu while stirring together a turmeric stained pan of onions, lemongrass, garlic and ginger in to a fragrant mass. Brown rice waited for the final toss, and a handful of organic micro-greens rounded out the entire bowl. It was a mass of texture, flavor, crunchy cashews and a hint of heat from crushed red chili pepper and a tiny fiery red serrano.
Lightning flashed and thunder rolled, and the rain poured blessedly down. I caught up with Griffin before he left for church, scraping the last of the flavorful grains from my bowl, then methodically washed dishes to the strobe-like lightning, laughing quietly at the cat who happened to be caught up outside in the fat, falling drops. Thankfully, these next weeks spent detoxifying the body won't look all that different from what we normally eat, with the exception of no coffee. I'm pretty sure I can manage it, and once again, I glanced over the guide and instructions and meal plan and recipes upon recipes to take me through the 21-day program. I hope for success, for better sleep, for relief from the insane hormonal roller coaster ride I've been on. If my meals are at all similar to this rice bowl, I'll probably love every minute of it.
Brown Rice Bowl with Tofu, Lemongrass
and Roasted Eggplant

2-1/2 cups cooked brown rice
1 package extra firm tofu, pressed for 15 minutes and cut to 1/2″ cubes
1 medium eggplant, diced to 1/2″
1 small onion, sliced very thin
1″ knob of fresh ginger, minced
3 cloves garlic, minced
3 T. fresh lemongrass, minced (from the tender white part only)
1 small serrano pepper, minced
2 t. crushed red pepper
2 t. turmeric
3 T. soy sauce, divided
1 c. frozen peas, thawed
Juice of half a lime
Cashews and cilantro for garnish, if desired

Heat the oven to 375°.

Toss the cubed tofu with 2 T. of the soy sauce and 1 t. of olive oil. Spread on a baking sheet and bake, turning once or twice, until browned and chewy, about a half hour.

Toss the eggplant with the remaining 1 T. of soy sauce, 2 T. of olive oil and a few grinds of fresh black pepper. Spread on another baking sheet (or just re-use the one for tofu) and bake until tender, gently turning once or twice.

In a large skillet or wok, heat oil of choice and add the onion, lemongrass, garlic, ginger and serrano all at once. Cook, stirring continually for a few minutes, then add the turmeric and crushed red pepper. Toss to coat, add the peas, stir everything together and cook until the onions are soft and tender, about 5 minutes. Add in the tofu, eggplant, and lime juice, then gently stir in the rice. Cover the pan and allow it all to heat through.

Serve topped with chopped cashews and cilantro. Season with more soy sauce, if you wish.

This recipe is heavily modified from this one on The Kitchn website.