October is a great month for many good happenings in the kitchen, like baking, and soup simmering, and fragrant dishes of all kinds, but THIS October is different as I'm in the midst of a 3-week detox, with many a limitation on what I'm eating. I'm hoping it helps to re-set some health issues I've been having, and support more consistent sleep patterns.
It isn't all bad. I'm actually allowed a lot of delicious foods and I'm never hungry, but I'm wishing I could make pumpkin bread and eat a thick slice dredged in good butter. I'll be celebrating Halloween by doing just that.
Until then…..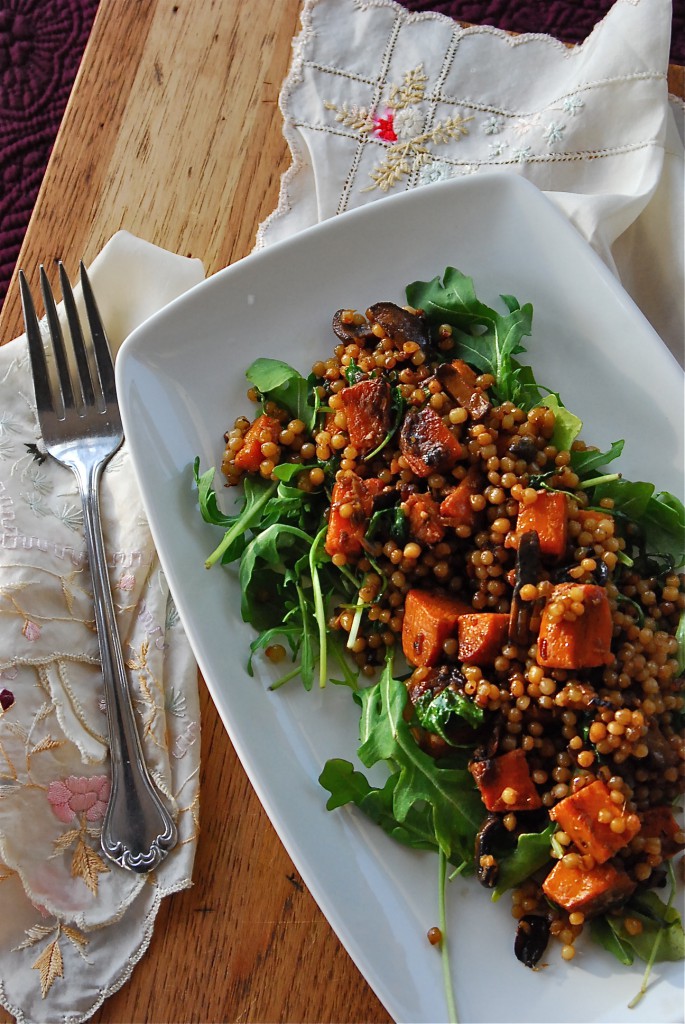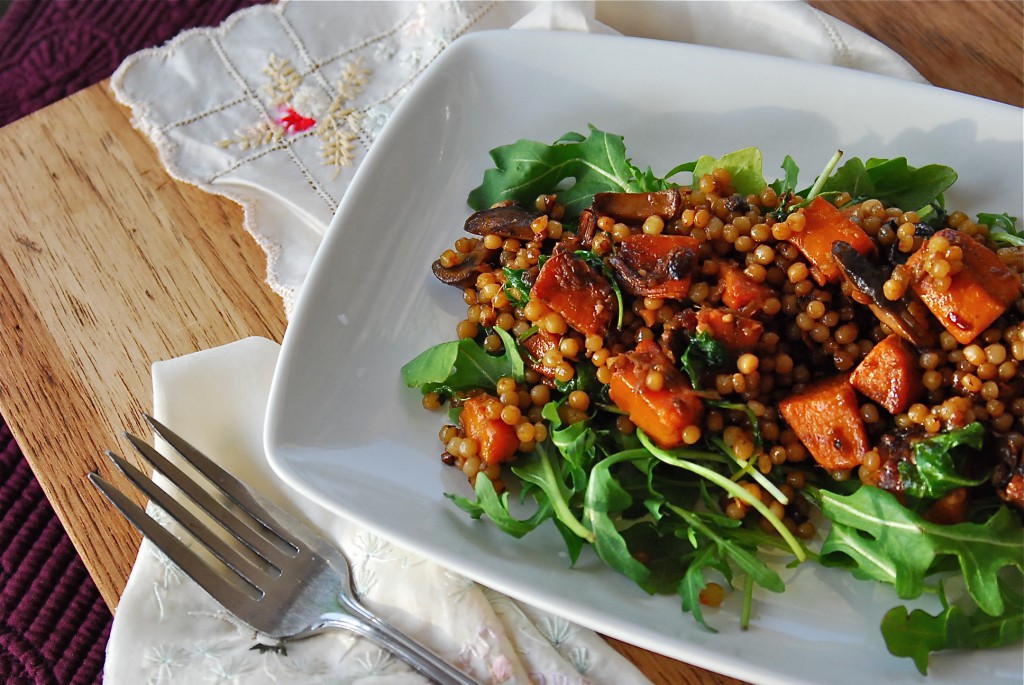 This recipe is so perfect for right now. We're being drenched in Autumn rain and it's become quite gloomy outside. Fall color has it's own beauty against the dull and gray rainclouds, though, and inside your kitchen, this dish can bring a blaze of burnished color to a chilly and uninspiring day.
I first made this dish last Winter and we absolutely fell in love with it. While it does take a bit of work, the flavor is compelling, and well worth a bit of time. Pour a glass of good wine, or a delicious craft beer and sip while you cook, stir and inhale.
Caramelized Vegetables with Pearl Couscous

Salt
2 c. pearl couscous
Grapeseed, or coconut oil
1 large sweet potato (about 3/4 pound), peeled and diced, about 1/4″-1/2″
1 large onion (about 1 pound), finely diced
4 cloves garlic, minced
3-inch piece fresh ginger — peeled and chopped fine, about 1 tablespoon
1-8oz pkg portabella mushrooms, sliced, with stems removed
1 T. balsamic vinegar
2 T. soy sauce
3 big leaves chard or kale, stalks removed and leaves finely chopped — about 2 cups (I subbed in the equivalent of arugula)
Freshly ground black pepper
Parmesan, optional

Heat a large pot of water to boiling and salt it generously. Cook the couscous until barely al dente — about 5 minutes. Drain and toss with a generous drizzle of oil so that the grains are lightly coated with oil. Set aside.

Heat a large sauté or frying pan (the largest you have — you want plenty of room and hot surface) over high heat. Drizzle in a little grapeseed or coconut oil (not olive oil — you want an oil with a high smoke point) and heat until very hot. Add the sweet potatoes and arrange them in one layer. Cook them over high heat until they are beginning to caramelize and turn brown — about 4 minutes. Flip them over and cook for another 3 minutes or so.

Turn the heat down to medium and add the onions, sprinkling them with about a teaspoon of salt. Cook, stirring occasionally, until the onions are beginning to turn brown. Add the minced garlic and chopped ginger and stir them into the onions. Push the sweet potato and onions to the edges of the pan, making room in the center.

Add the sliced portabella mushrooms to the hot center of the pan and cook them for 4 minutes without turning them. Then flip and stir them and cook for another 4 minutes. Once browned, stir them in to the sweet potato and onions. Keep the heat at medium, or slightly higher. Stir the vegetables occasionally. You want them richly browned.

At this point everything should be getting well-cooked; the onions should be quite dark brown and the garlic should be golden and soft. The potatoes should be softening.

Whisk together the vinegar, soy sauce, and 2 tablespoons of oil. Pour this into the pan with the vegetables and mix everything together, scraping the bottom as you go. Cook all the elements together for about 3 minutes on medium heat. Then turn the heat up to high, as high as it will go.

Add the couscous gradually, shaking in about a cup at a time, stirring and scraping constantly. Cook the couscous over high heat with the rest of the vegetables for about 5 minutes, letting the couscous get browned on the bottom of the pan, then scraping it up. You are developing a little more color and flavor on the pasta, and helping all the flavors combine. (I cooked this a bit longer to get more flavor in the couscous. The browning of it smells glorious)

Finally, toss the greens into the mix and cook for 1 more minute or until the greens are barely wilted. Turn off the heat and taste. Add salt and pepper if needed. Serve hot, with shavings of Parmesan if desired. (We didn't even consider the parmesan. And I don't think it even needed it.)