I collect a lot of recipes. Papers overflow the corner of our counter where they tend to land; recipes of all types from desserts to main dishes. Trouble is, I rarely use them, verbatim anyway. They serve as a sort of spiritual guidance, infusing me with inspiration to cull what I need to make up a dish all on my own. I'm only home a few nights a week to cook these days. And although I could give any one of the recipes to my guys and they'd likely be able to pull it off, there's no way I could hand them two or three, with all sorts of odd instructions such as 'Take this part' and 'Do this but not this' and expect it will come out the way I envision it. My brain works way differently than theirs when it comes to putting recipes together.
Still, even with all the inspiration at my fingertips (or these days, stuffed in a drawer) sometimes the meals I create are derived from a leap or two of inspiration that comes not from a printed source, but from a few wild ideas my brain churns out that I think sound good together.
I certainly had no doubt that we would enjoy this silky braised kale, infused with coconut milk and some fragrant curry powder, but I had no idea that it would swirl through my mouth with such immense flavors, causing me to think almost obsessively about it, plotting the exact next time I could simmer up a large pan of it for us to enjoy. Griffin won't eat it, and that's fine. He has tried a few bites of cooked greens that we consume but he's just not there yet. Mike and I fell over ourselves in adoration for this dish, easily a complete meal. Alone with a large helping of kale, it's perfect as is, but the second go-round I made of it, I added a large bunch of red chard, complete with the chopped stems and if it's even possible, the dish was so much better, with richer, deeper flavor and much more balanced.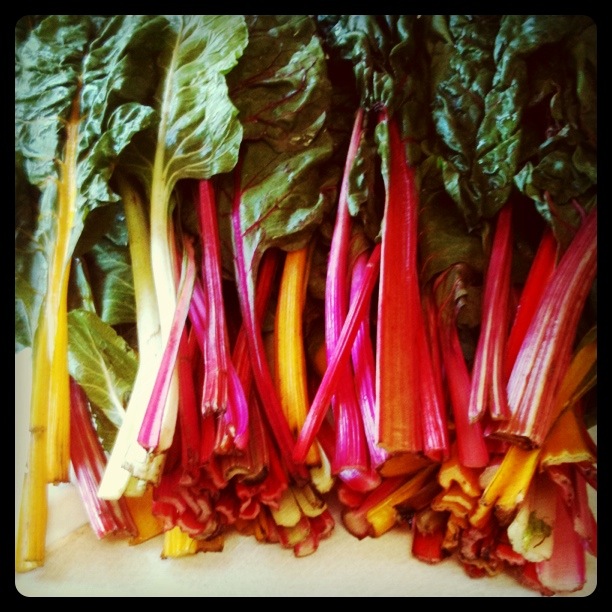 The best part about making this dish on one of the first bone-chillingly cold days of December, was placing my nose down among the wisps of steam that rose from the pan and breathing in the fresh green scent of kale and chard. It easily transported my mind back to late summer, the bounty of chard bunches to be had for a dollar apiece that I would bring home from the markets each week. Thankfully I can find inexpensive one pound bags of prepared kale, and chard is reasonable for the taking so I won't be missing my greens all that much. I just won't be shopping in a flippy skirt and tank top when I buy them.
Braised Kale and Chickpeas in Coconut Milk

1/2# prepared kale, tough stems removed, roughly chopped
1 15-oz can lite coconut milk (you can use full-fat as well)
1 15-oz can chickpeas, rinsed well
2 garlic cloves, minced
2-3 t. prepared curry powder, or curry paste (both red or yellow would be perfect- adjust to taste)

In a large deep skillet with a lid, heat about a tablespoon of olive oil, and add garlic. Cook and stir for a few minutes until garlic becomes opaque. Add kale in handfuls, stirring continually, until it's all in the pan. Continue to stir until it turns a very bright and dark green and has taken on the oil in the pan. Add about a half cup of water and cover the pan, allowing to simmer for about 10 minutes. Stir in the chickpeas, coconut milk and curry powder. Cover and allow to cook, slowly, anywhere from 5-15 minutes more, depending on how you like your kale to taste. Stir again, seasoning with salt and pepper, if desired. If the kale seems a bit watery, remove the lid and allow some of the liquid to cook off.
Kate's Notes: If you wish to use chard as well, you can add that after the kale has simmered for the first 10 minutes. Stir in the rough chopped chard and allow the heat to steam it tender. If using the stems too, chop them fine and add them with the garlic in the beginning.