Brownies are awesome, let me just get this out of the way. I can't think of anything I like more than a good chewy brownie. Especially one from the edge of the pan where there might be a bit of dense crust that gets a little hard, more intensely chewy. Those are the best ones. And a corner piece? Rapture.
I've always loved brownies, and all forms of them too. I like them with chocolate chips and without. I like them with toffee bits in them, I like them swirled with cheesecake, studded with some nuts or topped with a thick layer of ganache. I like brownies. And they have a special place in my heart in regards to my child too, because I have the fondest memory of my boy at the tender age of five, with a very loose tooth on the bottom- his first to be exact- and he had taken a brownie that was a little harder than normal since it was a few days old. He was sitting at our tiny little kitchen table happily chewing away when he suddenly got this look on his face that was a combination of panic and elation.
"My tooth came out!" He exclaimed loudly. Then he opened his brownie filled mouth, reached in and withdrew his tooth, holding it out to me in the palm of his hand, thoroughly covered in chocolate. He was thrilled and smiled widely, while chocolate-y drool seeped over his lips. Then he did what any kid in his place does;  out of sheer excitement, he opened his mouth to show me the empty gap. Yep. His mushed up brownie filled mouth. He was five. What else do you do but smile and praise him?
And then tell that story over and over again for the next 11 years. I couldn't help it. What a memory!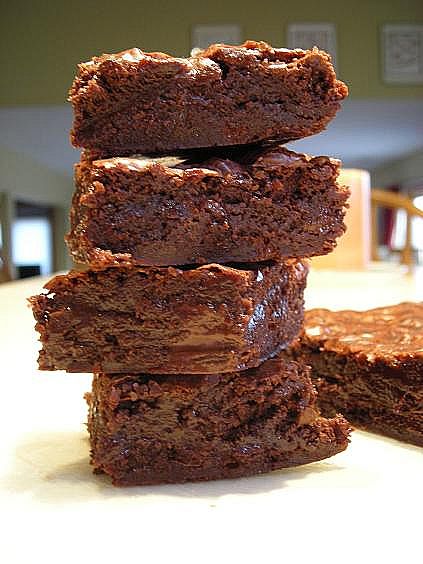 These Brownies likely won't ever cause a tooth to come out; they're fudgey, moist and perfectly dense with a delectable chocolate taste. What they are, also, is really low in fat. I like that in a brownie, and I like even more when you get a product that's low in fat that doesn't taste that way at all. These are a quintessential brownie experience, a blast of rich chocolate, a sure-fire solution to that sullen mood, crappy day or the loudly demanding desire for something deliciously chocolate.
Indulge at your own risk, and don't say I didn't warn you.
Dark Fudgy Brownies
from Eating Well magazine, Jan/Feb 2007
3/4 cup all-purpose flour
2/3 cup confectioners' sugar
3 tablespoons unsweetened cocoa powder, American-style or Dutch-process
3 ounces dark or bittersweet chocolate (50-72% cacao), coarsely chopped, plus 2 1/2 ounces chopped into mini chip-size pieces, divided
1 1/2 tablespoons canola oil
1/4 cup granulated sugar
1 1/2 tablespoons light corn syrup blended with 3 tablespoons lukewarm water
2 teaspoons vanilla extract
1/8 teaspoon salt
1 large egg
1/3 cup chopped toasted walnuts, optional
Position rack in center of oven; preheat to 350°F. Line an 8-inch-square baking pan with foil, letting it overhang on two opposing sides. Coat with cooking spray.
Sift flour, confectioners' sugar and cocoa together into a small bowl. Combine the 3 ounces coarsely chopped chocolate and oil in a heavy medium saucepan; place over the lowest heat, stirring, until just melted and smooth, being very careful the chocolate does not overheat. Remove from the heat and stir in granulated sugar, corn syrup mixture, vanilla and salt until the sugar dissolves. Vigorously stir in egg until smoothly incorporated. Gently stir in the dry ingredients. Fold in the walnuts (if using) and the remaining 2 1/2 ounces chopped chocolate just until well blended. It will be VERY thick.  Turn out the batter into the pan, spreading evenly.
Bake the brownies until almost firm in the center and a toothpick inserted comes out with some moist batter clinging to it, 20 to 24 minutes. Let cool completely on a wire rack, about 2 1/2 hours.
Using the overhanging foil as handles, carefully lift the brownie slab from the pan. Peel the foil from the bottom; set the slab right-side up on a cutting board. Cut into desired size. Can be frozen. In fact, they are amazing from the freezer. Like killer good fudge.
NUTRITION INFORMATION: Per brownie: 86 calories; 3 g fat (1 g sat, 1 g mono); 11 mg cholesterol; 15 g carbohydrate; 2 g protein; 0 g fiber; 19 mg sodium; 25 mg potassium.
1 Carbohydrate Serving Exchanges: 1 other carbohydrate