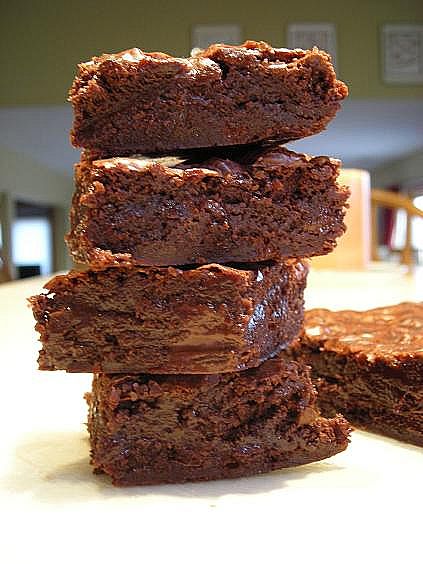 Tell me if you think those look like they are low in fat.
Uh huh, yeah…… a low fat brownie. Oh, and do they look like they might taste pretty good? Rich and fudgey like a true brownie should? Gooey in the center with a nice firm edge that's chewy, but soft too?? A low-fat brownie that may never pass as one if you didn't give it away?
Well that was the goal, for certain; I was just convinced -utterly convinced -that it would never happen. I mean- a Brownie! Low fat?!- doesn't seem possible, especially one that tastes like a fudge filled chunk of chocolate dynamite in your mouth, a small chunk so totally satisfying, but surprisingly light and full of all that good earthy brownie flavor that you crave, that sends you into chocolate nirvana. Can it be achieved without 2 sticks of butter, 2 cups of sugar and 4 eggs?
Apparently, it can. But I was mighty skeptical.
There are few baked goods that scream pure decadence like a really good chocolate brownie, yet all that richness comes at a pretty high cost calorie wise, and in fat. While they're nice once in a while, to have them around when you're trying hard to look good for the very-quickly-approaching time of year when the layers are shed and the body is finally exposed again, they wouldn't be on the top of the list to indulge in. So what do you do when a Brownie Craving hits you like a freight train? Well….
The go-to brownie recipe I've used for the past 10 years is a fully satisfactory example of how licentious a brownie can be. Butter, sugar, eggs and chocolate are melted, blended and mixed together with the requisite flour and leavening and the gooey mass is baked to a fudge-like consistency, a perfect pan of firm edges and gooey centers. And likely about a thousand calories a pop- not kidding. The 1999 Taste of Home annual has a ton of fantastic brownie recipes in it from their Brownie Contest; I've tried several and they're all amazing. Low in fat? For shame. It's a brownie; were it low in fat it would likely hide it's head in disgrace.
So now lets fast forward 10 years. Wow, times have changed. While we still love our baked goods- rich and decadent- we know that pumping all that butter and refined sugar into our bodies gives us folds and jiggle that we just don't need. Still, we desire a brownie, and a good one to boot. So in times of pure craving, when the need for a really amazing but acceptable treat cries out to pass my lips, I go….where else? To the good folks at Eating Well magazine.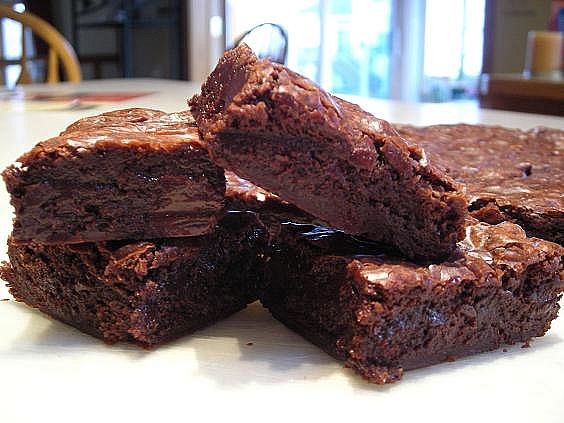 Darn it! There they are again! Taunting me!
In searching the EW website for 'Brownies' , I came across about a half dozen delightful looking recipes, settling on one promising 'dark' and 'fudgy'….two of my most favorite words besides  "Relax! I'll cook dinner!"
The premise was very similar to my artery clogging favorite; melt some chocolate, stir in some sugar and egg and then blend it with the dry ingredients.

The resulting thick mass is then pressed into a foil-lined pan and baked for about 25 minutes.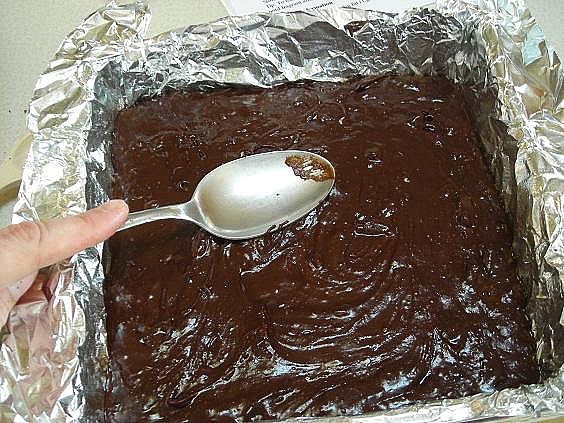 The key to the aromatic and mouth-watering richness of these brownies was to use dark chocolate- and only just enough. Some is melted into the first step, and the rest, chopped into bits is mixed into the batter itself to melt and get all gooey in the oven.
Within minutes of popping the pan into the oven, the smell of chocolate filled the house, but this wasn't just any chocolate smell. This was dark, seductive and beyond the normal scent of your everyday brownie. If you remember PePe LePew, the rakish, dissolute skunk of Walt Disney cartoons and how he used to float through the air after a particularly beguiling smell then you might understand how I felt as these baked. With the fresh scent of the fast approaching Spring coming in through the open windows on a picture perfect day, I was in olfactory heaven. Then the pan came out of the oven and I seriously had to get out of the house to stop thinking about how they might taste. My willpower won out and it was after dinner before I slipped the foil from the pan and sliced into the chunk.
Low fat AND delicious??? Get out. It IS possible!!!!!! And 86 calories per brownie. 86!!! They were dense and rich, but amazingly light which I realize is totally ironic. I never would have believed it either.
Dark Fudgy Brownies
from Eating Well magazine, Jan/Feb 2007
3/4 cup all-purpose flour
2/3 cup confectioners' sugar
3 tablespoons unsweetened cocoa powder, American-style or Dutch-process
3 ounces dark or bittersweet chocolate (50-72% cacao), coarsely chopped, plus 2 1/2 ounces chopped into mini chip-size pieces, divided
1 1/2 tablespoons canola oil
1/4 cup granulated sugar
1 1/2 tablespoons light corn syrup blended with 3 tablespoons lukewarm water
2 teaspoons vanilla extract
1/8 teaspoon salt
1 large egg
1/3 cup chopped toasted walnuts, optional
Position rack in center of oven; preheat to 350°F. Line an 8-inch-square baking pan with foil, letting it overhang on two opposing sides. Coat with cooking spray.
Sift flour, confectioners' sugar and cocoa together into a small bowl. Combine the 3 ounces coarsely chopped chocolate and oil in a heavy medium saucepan; place over the lowest heat, stirring, until just melted and smooth, being very careful the chocolate does not overheat. Remove from the heat and stir in granulated sugar, corn syrup mixture, vanilla and salt until the sugar dissolves. Vigorously stir in egg until smoothly incorporated. Gently stir in the dry ingredients. Fold in the walnuts (if using) and the remaining 2 1/2 ounces chopped chocolate just until well blended. Turn out the batter into the pan, spreading evenly.
Bake the brownies until almost firm in the center and a toothpick inserted comes out with some moist batter clinging to it, 20 to 24 minutes. Let cool completely on a wire rack, about 2 1/2 hours.
Using the overhanging foil as handles, carefully lift the brownie slab from the pan. Peel the foil from the bottom; set the slab right-side up on a cutting board. Cut into desired size. Can be frozen.
NUTRITION INFORMATION: Per brownie: 86 calories; 3 g fat (1 g sat, 1 g mono); 11 mg cholesterol; 15 g carbohydrate; 2 g protein; 0 g fiber; 19 mg sodium; 25 mg potassium.
1 Carbohydrate Serving Exchanges: 1 other carbohydrate