For starters, there are WAY too many vowels in this muffin description!!
But they are worth every twisted tongue and exhaustible explanation because they are fragrant, tropical and fabulous.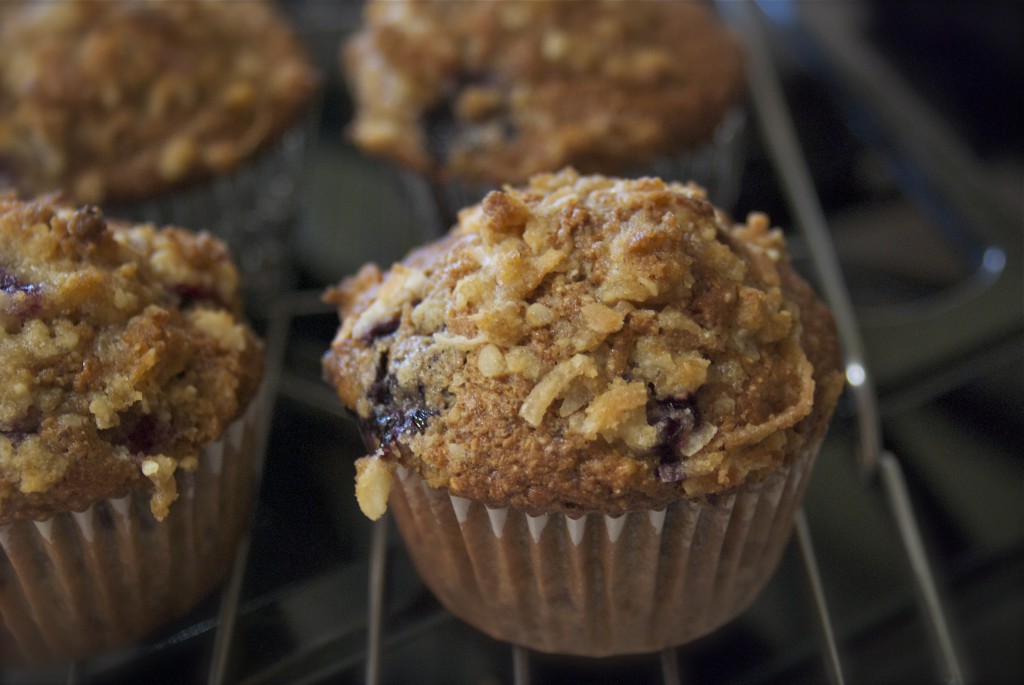 About a month ago I was contacted by a company called Oh! Nuts! and asked if I wanted some products to use for my holiday baking. I'd done some business with Oh! Nuts! before and was really pleased with the quality and freshness of their bulk nuts and dried fruits. Oh! Nuts! has a lot of attractive gift options for holiday giving, as well as fresh nuts, dried fruits, candy and other items for year-round baking. I highly recommend their products and can personally vouch for the quality. I was more than happy to have another chance to use some of their items.
For my personal use this time around, I requested Macadamia Nuts and Calymyrna Figs, and within a week, they landed on my doorstep. The figs are gigantic and sweet with a soft bite, and the macadamia nuts are perfectly tender and moist. I've been just tickled with both products and decided that before I gobble them all up in my adoration, I would at least make an attempt to bake something with them. It isn't often you get a world class nut like macadamia gracing your pantry.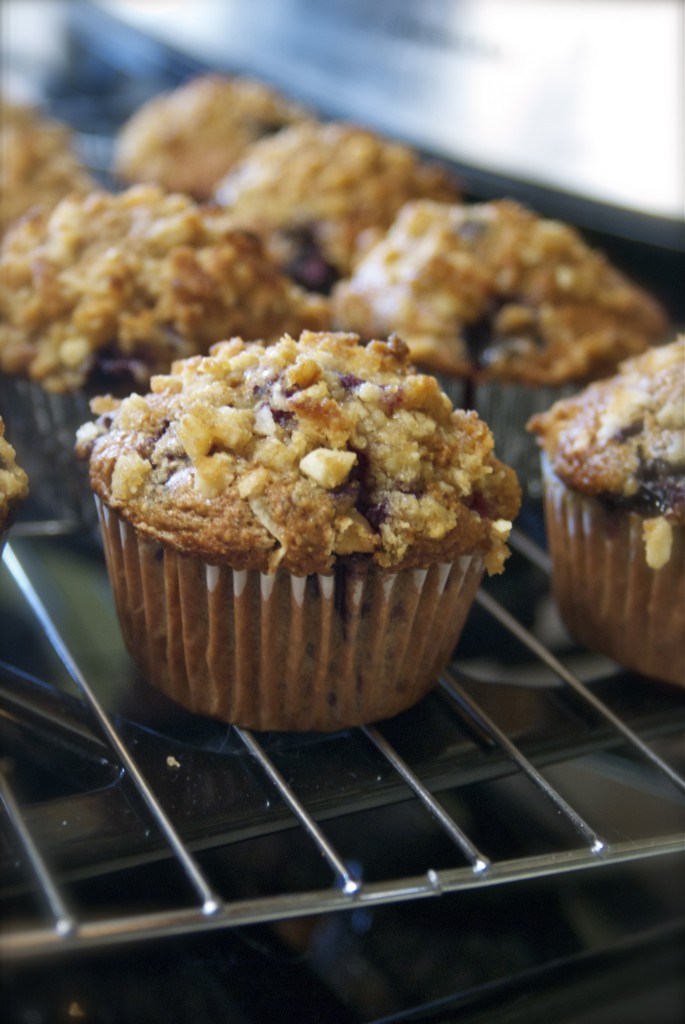 This muffin recipe has been hanging around my kitchen for some time now; originally it's from the Fall 2006 issue of Eating Well magazine. And in a current frenzy through the recipe stack threatening to take over it's designated drawer, I serendipitously came across it, magically having everything on hand to whisk up a batch of these to make a sunny, yet chilly December day feel a bit more cozy.
The recipe itself is without a great deal of fat or sugar, thankfully. But the muffin doesn't suffer in the loss of theses tasty ingredients. They burst with blueberry taste, crunchy bits of chopped macadamia nuts and a hearty, nutty crumb that is moist but not at all cake like. If it's supposed to be a muffin, I want a muffin, not a cupcake disguised as something else. With it's crunchy streusel-like topping and tender fruit, this will be a repeat in my kitchen, a perfect means to use the frozen berries in my freezer, and to draw more warmth to our frozen landscape.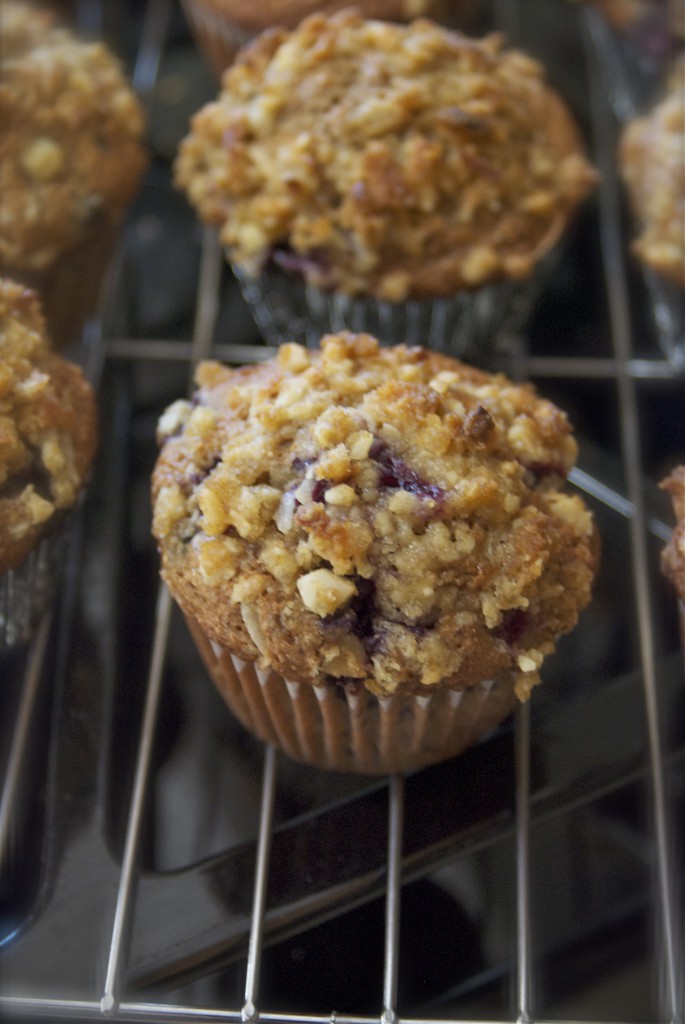 Blueberry Coconut Macadamia Nut Muffins

1/4 c. unsweetened flake coconut
3/4 c. + 2 T. AP flour (divided)
1/2 c. + 2 T. packed brown sugar (divided)
1/2 c. chopped macadamia nuts
3 T. good quality olive oil
1 c. whole wheat flour
2 T. ground flaxseed
1 t. baking powder
1/2 t. baking soda
1/8 t. sea salt
1 T. ground cinnamon
1 large egg
1 large egg white
3/4 c. skim milk
2 T. plain or vanilla lowfat yogurt
1 t. lemon extract (can sub vanilla, or coconut as well)
1-1/2 c. fresh or frozen (not thawed) blueberries

Heat your oven to 400°. Line two six-cup muffin tins with papers. Alternately, spray the muffin pans with non-stick cooking spray.

In a small bowl, combine the coconut with 2 Tablespoons each of AP flour and brown sugar with 2 Tablespoons of the chopped macadamia nuts. Drizzle this with one Tablespoon of the olive oil and stir to combine. Set aside for muffin topping.

Whisk together the remaining 3/4 cup of AP flour, the whole wheat flour, flaxseed, baking powder and soda, salt and cinnamon until well combined. In a large measuring cup, whisk the 1/2 cup of brown sugar, the egg and egg white, skim milk, yogurt and extract until smooth. Make a well in the dry ingredients and whisk in the wet until only just mixed. Add the blueberries, and the remaining macadamia nuts and carefully fold in until blended.

Spoon batter equally in to the muffin tins, then sprinkle a bit of the reserved coconut topping on each muffin. Press gently in to the batter, and bake for 20-25 minutes until golden brown and a tester inserted in the center comes out clean. Allow to cool in muffin pans for 15 minutes, then turn on to a wire rack to cool completely.
Original recipe from Eating Well magazine; posted here with heavy modifications.
DISCLAIMER:
Oh! Nuts! provided me with both the macadamia nuts and the calymyrna figs free of charge
and without expectation of any reciprocal endorsement. Everything stated in this post are
my own thoughts and are freely expressed.