I always love the free product offers that come my way due to this food blog, but the fact is, I turn down way more of them than I actually accept, mostly because the product offered just isn't one that I would use.
This cookie dough from Pillsbury, however, is one of those that had me firmly on the fence. I decided that it would be worth a least a respectable glance, and you certainly can't argue with 'Free'.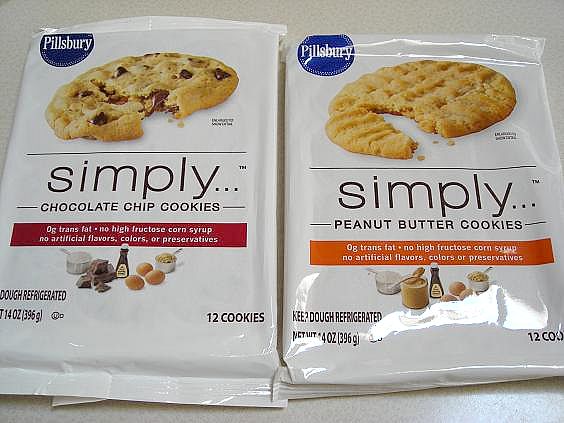 I grew up with scratch cookies that my Mom made. We never ate anything store-bought, and even now I rarely, if ever, buy store cookies. In keeping the right kinds of ingredients on hand, I can have a batch of warm cookies in about a half hour, and I know I don't even have to tell you a thing about the superior flavor of a home-baked cookie. But this product did intrigue me because it claimed to be nothing more than your basic cookie dough- no additives, preservatives or funny chemicals that you can taste even through the glass of milk that you drink to wash down your warm cookie.
And Pillsbury delivers on that. The ingredient list reads like any recipe should- flour, butter, eggs, baking soda, salt….your basic mix. The cookies come in two flavors- Peanut Butter and Chocolate Chip and I was sent two free vouchers, plus some really nice, sturdy canvas bags and a full informative press kit. My local grocer had the cookie dough on sale as well- two packages for $5.00, with each package containing 12 pucks. I bought four, essentially getting half for free.
I baked a package of each cookie right away. The day was a bit warm and the dough sat out on the counter for maybe 10 minutes before I placed the pucks on sheets and they had become quite soft.  The cookies were pretty flavorful but I detected an off flavor in the chocolate chip version, owing to what I think is an inferior chip. They aren't bad, but when you're used to Guittard or Ghiradhelli chips in your cookies, anything else can seem pretty bland. I did, however, really like the peanut butter cookie. I've always enjoyed a good peanut butter cookie but tend to be put off by the usual grainy or chalky texture they tend to have; this one had none of that, just good clean peanut butter taste.
I wouldn't buy these for home use, but they would be a really good option for us to have on hand at our lake home for a quick treat. They're simple to use and bake, and keep in the freezer for up to 60 days.  Price-wise, even at $2.50 per package I think it's too expensive, coming out to be $0.21 per cookie. You can make them from scratch for pennies. The product is geared towards your everyday 'Busy Mom' who wants to offer home-baked taste without a fuss. As fas as pre-made products go, these are a very good option that you can feel good about serving, really the nicest and most flavorful of any pre-made cookie dough I've had and that's fine if it's your thing, but it isn't mine. I'm happy to tell others about it though!