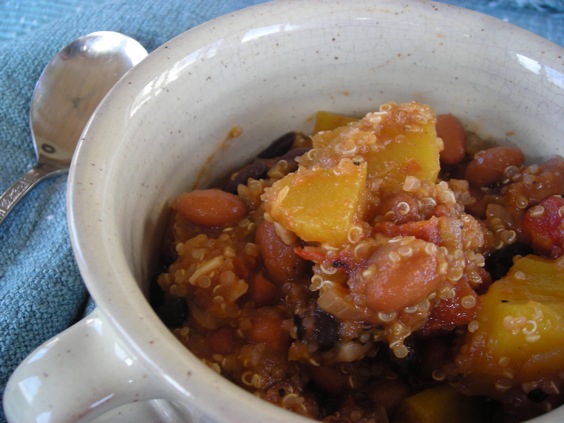 This is a perfect stew for right now, for November, for cool nights and for filling your house with warmth. I made this two years ago and we loved it; this being long before we passed on meat in favor of hearty vegetable dishes and grains. So bringing it up again serves more than a purposeful means to introduce you to something I loved, but to reintroduce myself to a great idea, once more.
I'm giving you the Weeknight Version of this hearty and delicious stew, ready in about as much time as it takes for your squash to cook in the pan. If you are so inclined, use dried beans instead, with the proper soaking. As with many soups or stews, this dish tastes better with a day in the fridge, but it also thickens substantially so you'll want to add more broth or liquid the next day.
Delicious and hearty, with a good healthy twist and terrific for a cool weather meal, what's NOT to love about this??
Andean Bean Stew with Winter Squash and Quinoa

1 winter squash of choice, peeled and cut into 1/2″ chunks
2 cans pinto beans, drained and rinsed
1 medium onion, chopped
1 T. sweet paprika
4 garlic cloves, minced
1 can fire-roasted tomatoes, with liquid (use regular if you don't have these available)
1/2 c. quinoa, rinsed well
1 bay leaf
3 T. chopped basil or parsley

In a sturdy stockpot, brown the onion in oil of choice, about 10 minutes or so. Add the paprika and stir to coat, cooking for a minute. Add in garlic and stir, cook for 30 seconds or until very fragrant. Add in tomatoes and their juice and cook for a few minutes to combine flavors. Stir in the beans and squash. Fill the tomato can with water and empty into the pot. The solids should be only just covered with liquid. This is a thick stew. Add more if necessary and put the bay leaf in the pot. Bring to a boil and then allow to simmer, covered, until the squash is tender, but not thoroughly cooked- 30 minutes or so. Stir in the quinoa and simmer until the grain is translucent and the tiny thread appears- about 10-15 minutes more. Season to taste with salt and pepper. Serve topped with basil or parsley.
from The New York Times, Recipes for Health and Nutrition, Nov. 2008
What's on YOUR plate this month??