Last year wasn't my favorite year. Come to think of it, 2008 tossed some bombs my way and it all seemed to carry over, spreading out over time and trying to suck all the life out of me at every turn. As 2010 approached, and I looked back on the 12 months behind me, it was a bit sad to see that I'd paid far too much attention to the valleys in my life, and forgot to take in the view from the peaks.
Life is all about valleys and peaks. We're up, we're down and when we're not, there's the climbing out of the abyss and of course, slipping as we fall back into it. Sometimes our peaks are long, straight paths that resonate with light and glory, and we feel great. For a long time. Life is good and we breathe easy. But we slip, once more. The valleys can be dark. It's hard sometimes to keep remembering that it doesn't last forever. I've struggled to keep my chin up, part of me wishing fervently that this time of trial would just end already because really, I've had quite enough, thank you. Then I always realize that I'm climbing once again.
One aspect of 2010 that I've really wanted to do more of was to keep focused on the good, even when it seemed like there was nothing but darkness all around me. Fortunately, we're only 6 weeks in, and what few dark moments that presented themselves passed rather quickly. It's exciting to see the Earth changing around me, to notice with delight that there is still light at 5:45pm, that the tilt of the sun has changed enough to make 15° in February feel way different than it did in January. Or December. We've been absolutely dumped on in terms of the snowfall, and it's given us quite a gorgeous landscape to look out over, and some stellar cross-country skiing. But beyond the natural turn that is happening, and the shorter amount of time between us and the arrival of Spring, it seems like there's a whirlwind of good happening around me too. I hope to be able to share much more of what it entails as it pans out, but right now it's slowly starting to twirl, like a tentative pirouette, moments of time pressing together and gradually expanding that are quietly whispering "Soon. Be Patient."
The famous poem 'Desiderata' by Max Ehrmann has a line that says "… and whether or not it is clear to you, no doubt the universe is unfolding as it should." For a long time it just never felt clear to me, it felt more like I was standing still while the world twisted and moved on around me. That's changing, as is my perspective and I'm grateful. I've had this sensation inside me for a while now that I'm standing at the edge of a cliff, and everything in me knows that I just have to leap despite the voice in my head that's saying "No- step back! You're really scaring me!" I'm in my Indiana Jones moment, on the edge of that precipice. And this is my leap of faith. There is a bridge there that will catch me, even though I can't see it.
There is one aspect of this extended time of trial in my life, and that is being available to just stop and enjoy those tiny moments along the way that can be so easily overlooked. Sitting down for a cup of tea one day really opened my eyes as the square cup seemed to fill my hands so perfectly. Moments of clarity that come from spending days with my almost 2-year old niece Nina,losing track of myself for awhile as I see life through her eyes. A Fall hike on a misty day that seems to leave the world around me at a standstill, smothered in the thick, wet air.
And with food too. Simple, easy and nourishing; stopping myself long enough to savor my lunch or an afternoon snack, taking the time to taste, smell and appreciate what's in front of me.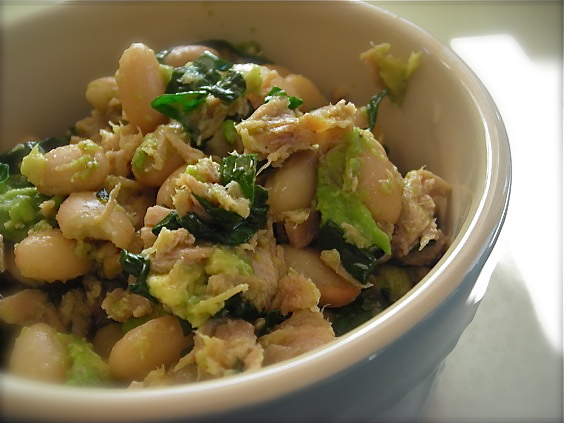 I've spoken out for these garlicky white beans before, urging you to try them and fall in love with their simplicity like I have, the endless ways they can be dressed up as a quick yet nutritious meal. One bright and sunny afternoon I set out to simply stir together this favorite of mine, and as I perused the pantry, fridge and countertop, I reached for a can of tuna, half an avocado and some washed spinach, which when paired this time with lime zest and juice instead of lemon, made yet another winning combination. Great taste, good for the body and with the first few bites, apparently very good for the soul.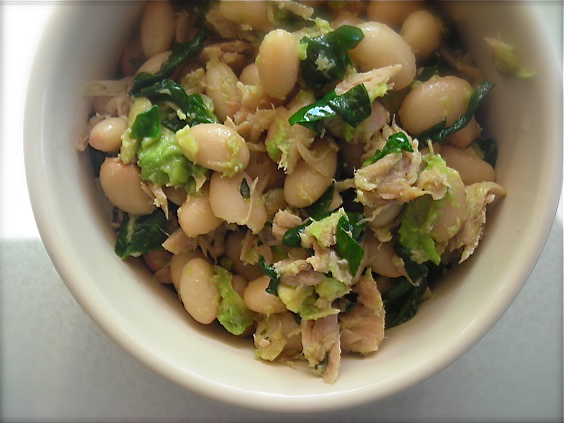 White Bean and Tuna Salad
by Kate
1 15-oz can great northern beans, drained and well rinsed
1 3-oz can of tuna, drained
2 cloves garlic, thinly sliced or minced
1/2 a ripe avocado, diced
1 c. fresh spinach, washed and chopped
Lime zest and juice to taste
Fresh thyme (optional)
In a medium skillet, warm about 3 tablespoons of oil and add garlic, sauteing gently until lightly browned. Add in the beans and tuna and warm, stirring to combine. When hot and steaming, add about half the spinach and stir until wilted slightly. Repeat with remaining spinach. Grate in some of the lime zest and squeeze in about 2 tablespoons of the juice. Stir and taste. Season with salt and pepper, more lime zest and juice if desired. Remove from heat and scrape into a bowl. Add the avocado and gently mix it in. Sprinkle with thyme and serve warm with rye crackers if you wish, or toasted pita bread.