I've never liked peas. Never. But again, as always, I'd been exposed only to frozen cooked peas, often overdone and alarming in their color and consistency. Even the smell made me want to gag.
But then again, up until just last year, I'd never had peas fresh, raw and straight from the shell. I popped this raw pea in to my mouth in a moment of bravery and bit down. It was, obviously, a revelation, and the continuation of these eye-opening food experiences as an adult has been nothing short of wondrous, proving that it is never, ever to late to learn about new foods.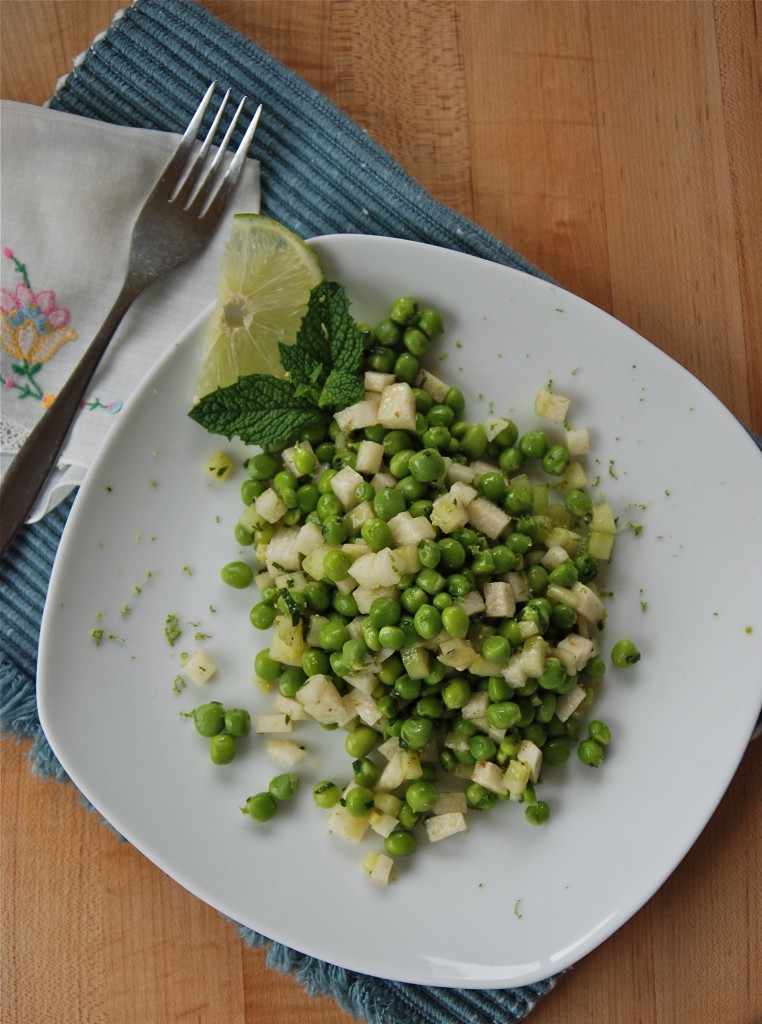 Still, I'd never decided to push myself in to making something with raw peas until this summer when the idea began forming in my head for this salad. Coupled with the opening day of the Shoreview Farmers Market near us (and a day off of work for me) I picked up two baskets of sugar snap peas and spent an ungodly amount of time shelling them. As I stood there, thumbs slipping through the shells, watching the peas tumble in to the water, I thought back over time to how many women had done this task before me, sitting on a breezy porch or back steps in the warmth of late Spring, a basket of peas in their lap listening to the 'plup plup' of tiny peas hitting the bowl. I love the nostalgia of food, how the simple means of connecting with our sustenance has been practiced for generations, going back in time when eating local wasn't considered trendy because it was all anyone could ever do. Sometimes I long for that ability to connect, to be caught deeply in a season of plenty sitting right outside my kitchen door.
Maybe I was born in the wrong era.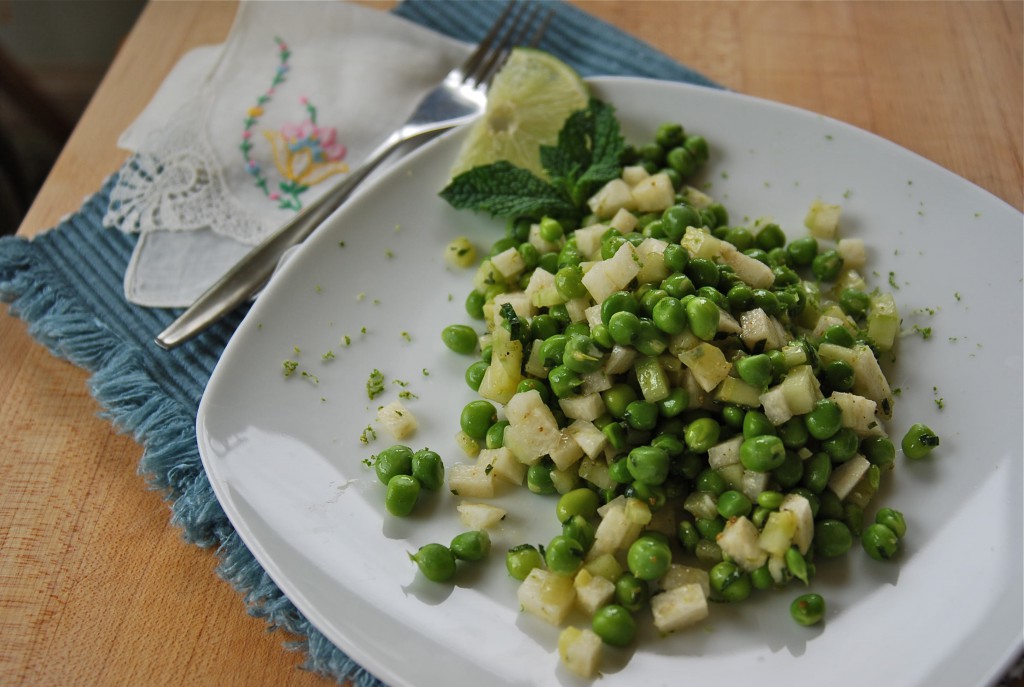 I couldn't begin to tell you where the urge for this salad came from; it arrived with the heat blasting Minnesota, wringing us out in humidity and a continual dance of thunderstorms bringing severe damage, flooding and devastation. I've been shocked and saddened every day as photos flit across my screen showing the aftermath of these storms. Amidst all the chaos and rain-soaked days, the idea shimmered like the waves of sunlight, boiling up in me and urging itself along. Peas. Jicama. Cucumber and especially the mint. For some reason in my head, it all worked so I shelled, chopped, mixed and crossed my fingers. A squeeze of fresh lime juice, a few shakes of cumin and salt and a spoon lifted to my mouth assured me that my mind was right, as right as heat in the summertime and peas that will always need shelling. Right in the ways of that only simple can be.
I'd be completely at home in the wide open country, on an open back porch under the sunshine and immensely fresh air. I know I would. But in my lifetime that's unlikely to happen. I won't be picking sugar snap peas in my garden, warm in the heat, listening to them fall in a bowl but rest assured, I will be making this salad again. From the first bite, to the next and finally a stolen spoonful the following day to remind myself of how good it was, how fresh and summery it tasted in my mouth, it was so perfect, so crunchy sweet and all mixed up with flavor and snap. Here's to the joy of Summer time.
Raw Pea Salad with Jicama, Cucumber & Mint

3# shelled sugar snap peas
1 c. english cucumber, peeled and diced fine
1 c. jicama, peeled and diced fine
1/4 c. chopped mint
1/3 c. good quality olive oil
3 T. fresh squeezed lime juice
1 T. fresh lime zest
1/2 t. ground cumin
Sea salt and fresh ground black pepper to taste

In a large bowl, combine the peas, cucumber, jicama and mint. Whisk together the oil, lime juice and zest, cumin, salt and pepper. Adjust to taste and pour over salad. Stir to combine, adjust salt and pepper. Chill for an hour before serving; taste for seasoning.
This salad was excellent served atop a bed of fresh salad greens, too. The vinaigrette dresses the greens beautifully.
Once chilled, the olive oil will solidify slightly;
you can let the salad sit at room temperature for a few minutes if that doesn't appeal to you.