I've saved the best for last. This week, it's the Magazine Edition!
That's right; THREE cookbooks culled from cooking magazines, including the long-gone, but never forgotten Gourmet magazine.
Congratulations to last week's winners:
On a Stick- Kristin Dannecker
Real Stew- Ann Matthiesen 
First time here? Not sure what's going on? Let's get the scoop, one last time.
THE DETAILS

:

~~Each week in October, starting on Monday, I will put up a post offering cookbooks to give away.
BUT YOU'LL HAVE TO ACT FAST! Each cookbook offer will be up for only FIVE DAYS. 

~~At the end of the day on Friday, each week, I'll close out the current giveaway, choose the winner and notify them quick as a wink.
So in order to be eligible- YOU MUST leave comments on these posts that contain your contact information.
Don't go through all the work of commenting without that!

~~If you are chosen as the cookbook winner, you will be asked to provide a mailing address so I can send you your book.
If you're local, I'd be happy to meet up with you to hand you your winning cookbook in person!

Unfortunately, given the expense of mailing books, I have to limit these giveaways to US residents only.

Aaaand….. without further ado:

THE BEST OF GOURMET: Sixty Five Years, Sixty Five Favorite Recipes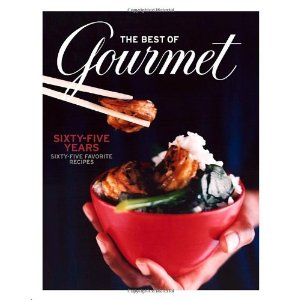 I loved Gourmet magazine and just mourned when it stopped publishing. This book is as good as it gets to the classic fare of that classic magazine. Plenty of photos and beautiful recipes, spanning the 65 years that Gourmet held our fascination. This is as much a coffee table book as it is a cookbook and it's definitely worth treasuring. I hope you will love it as much as I did.
FOOD AND WINE: The Magazine's Annual 2010 Cookbook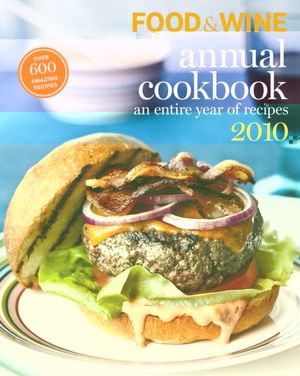 The best part about Food & Wine magazine is that you can purchase their annual cookbooks with EVERY recipe from the past year in it. No need to save magazines! This book has over 600 recipes in it, all from 2010. It's full of amazing dishes to serve for any occasion. One book, every recipe, every dish. You could spend months cooking your way through it.
THE ESSENTIAL EATING WELL COOKBOOK
Eating Well magazine is one of my favorite food magazines. It's always stuffed with delicious, healthy and easy to prepare recipes, plus cutting edge information on health news and the purveyors and people who are passionate about eating well, and eating right. This book is a wonderful option for anyone wishing to enhance the nutritional value of their food without losing any of it's flavor.
Eating Well recipes have never failed to disappoint me.
ENTER THE GIVEAWAY:
Leave one comment on this post, telling me which cookbook you'd like to have and why.
It's THAT easy.
(and remember…. in order to WIN, you MUST have contact information embedded in your comment
or I won't have any way to reach you.)
DO YOU WANT TO INCREASE YOUR CHANCES?
~~Come on over and hang out with me on Facebook!
Leave one more comment telling me that you did!
~~Follow along with me on Twitter! And share YOUR Twitter account.
Leave me another comment about this!
~~Want even MORE chances? I LOVE Instagram. You can find me there under @kate_selner.
Follow along with me, leave me a comment here that you did and share YOUR Instagram account so I can follow you.
I sure hope you enjoyed these giveaways.
And CONGRATULATIONS to ALL the winners!!
As for our Monday Fun Day Cookbook Giveaways…….