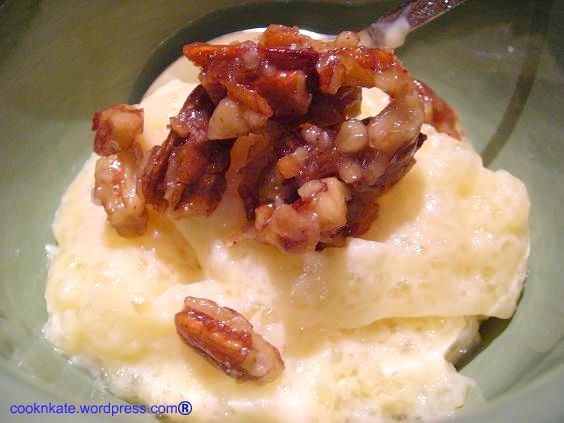 Maple Tapioca Pudding with Pralines
from Eating Well magazine, March/April 2007
1 cup low-fat milk
1 large egg, well beaten
1 tablespoon plus 1 teaspoon quick-cooking tapioca
1/8 teaspoon salt
1/4 cup plus 1 tablespoon pure maple syrup, divided
1/2 teaspoon vanilla extract
2 tablespoons chopped pecans
Pinch of ground cinnamon
Pinch of ground nutmeg
1. Combine milk, egg, tapioca and salt in a medium saucepan. Let stand for 5 minutes.
2. Place the saucepan over medium-low heat and cook, stirring constantly, until the mixture comes to a boil, 6 to 18 minutes (depending on your stove). Remove from the heat; stir in 1/4 cup syrup and vanilla.
3. Divide the pudding between 2 ramekins or custard cups. Let cool for at least 30 minutes or refrigerate until chilled.
4. Meanwhile, line a small plate with parchment or wax paper. Coat the paper with cooking spray. Combine pecans, the remaining 1 tablespoon syrup, cinnamon and nutmeg in a small saucepan or skillet. Heat over medium-low heat, stirring, until most of the syrup has evaporated, 1 to 4 minutes. Spread the nuts out onto the prepared paper and place in the freezer until cool, about 10 minutes.
5. Crumble the chilled pecan topping into pieces. Serve the pudding topped with the maple walnuts.
<!–p>
<br /–> NUTRITION INFORMATION: Per serving: 301 calories; 9 g fat (2 g sat, 2 g mono); 113 mg cholesterol; 48 g carbohydrate; 9 g protein; 1 g fiber; 250 mg sodium; 169 mg potassium. Nutrition bonus: Calcium (20% daily value), Zinc (17% dv).
3 Carbohydrate Servings
Exchanges: 2 1/2 other carbohydrate, 1/2 reduced-fat milk, 1 fat