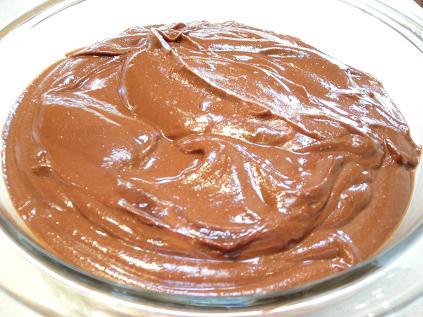 Admittedly, if I fell into a bowl of chocolate pudding and drowned, I would die a very happy woman. I just love the stuff. Let me tell you though, if I am ever around a bowl of chocolate pudding that is large enough for an adult to fall into and drown, that in itself would be amazing. I would hope to get pictures before my death.
When I came across this new recipe for chocolate pudding, I was immediately intrigued because the main ingredient is silken firm tofu. Yep. Tofu. I know, I know….I scratched my head a bit too, it's OK. But then I decided 'What the heck!' and made it. I'm always willing to learn something new.
People, I may never go back to my full fat, super ultra rich and thick chocolate pudding recipe that I love to death. Never.
Wait. Did I really say that??
Yes. I did. This stuff will blow your mind. You can send me packing if I am wrong, but the texture is so smooth and creamy, the taste so amazingly rich; my god, you would think it was made with the finest cream on earth. It will cure your most agonizing chocolate craving in one tempting lick of your finger; it will pursue and make a hasty retreat to any rotten day you've had and likely will make you wish to dance across your kitchen in the sheer spectacular-ness of it. Should you desire to eat it with fresh strawberries, I guarantee sweet dreams, for sure. Make sure no one is lurking nearby with a hidden camera or they may catch your brazen dive, face first, into it's dark delicious-ness and some day use it against you.
Do you LOVE chocolate?? I mean, totally, incredibly, crave-it-til-you-can't-see-straight absolutely LURRRRRRVE chocolate?? Then go…..NOW….and buy what you need and do yourself a huge favor. Make. This. Recipe.
Oh yeah. If you have kids, and they love chocolate too, send them to the neighbors first, or perhaps to a sleepover. For a weekend. You will not want to share. But if you do, have them taste it first before you tell them it has tofu in it if they aren't so used to that sort of thing, because, really….they won't know. Or care. Better yet, if you really wish to eat it all yourself and no neighbors or sleepovers are imminent, tell them it has tofu FIRST, and watch them recoil in horror. Then smile and say, with an all-knowing sigh
"You have no idea what you're missing!"
Griffin did eat it, even after I told him it had tofu in it. He took another bite, looked at the pudding, then at me and said "What's tofu again?? Is it chocolate?"
(recipe after the jump)
Chocolate Soy Surprise Pudding
from the July issue of Taste For Life, a magazine supplement of Healthy Foods & Healthy Ways natural foods store.
1 container silken firm tofu
1/2 c. semi sweet chocolate chips
1/2 c. dark chocolate chips
1/2 c. maple syrup
1 T. natural vanilla
Melt chocolate over low heat, a double boiler or in the microwave.
In food processor, blend tofu smooth, scraping sides as needed. Add in syrup and vanilla, blend to mix well. Add melted chocolate all at once, and blend to mix well, scraping if needed. Pour into a bowl and chill. Serve with fruit, angel food cake or by itself.
The chilled texture of this is similar to fine truffles. It is thick, dense and firm. Soften in the microwave before eating if you prefer.
235 cal/ serving; 6 g. protein; 37 g. carbohydrates; 2 g. fiber; 11 g. total fat(5 sat, 5 mono, 1 poly) 9 mg. sodium
Manganese, copper, zinc, calcium, iron, magnesium, phosphorus and selenium