Who doesn't like a good cake?

Especially one that combines the best of two important cake flavors; chocolate and gingerbread. I admit a bit of skepticism when I first saw the recipe, but I love chocolate and I adore gingerbread so I took a deep breath and cranked out the recipe.
And then over the course of two days, it magically kept disappearing every time I looked in the pan.
It's from Martha. Can we really go wrong here? She doesn't do much that makes me shrug with indifference. And I tend not to favor many of her recipes, but I loved this cake. My guys did too, hence the magic 'poof and it's gone' act. It's a snack cake, a breakfast cake, a perfect dessert with ice cream or yogurt and it just plain tastes delicious. It's chocolate. It's gingerbread. It's a keeper.
Martha Stewart's Chocolate Gingerbread Cake

4 tablespoons (1/2 stick) unsalted butter, melted, plus more for pan
1/4 cup unsweetened cocoa powder, plus more for pan
3/4 cup all-purpose flour (spooned and leveled)
1 teaspoon ground ginger
1 teaspoon pumpkin-pie spice
1/2 teaspoon baking soda
1/2 cup packed dark-brown sugar
1/4 cup unsulfured molasses
1 large egg
1/4 cup sour cream
1/2 cup semisweet chocolate chips
confectioners' sugar, for dusting (optional)

Preheat oven to 350 degrees. Butter an 8-inch square baking pan. Line bottom with a strip of parchment paper, leaving an overhang on two sides; butter paper. Dust paper and sides of pan with cocoa; set aside. In a medium bowl, whisk together cocoa, flour, ginger, pumpkin-pie spice, and baking soda; set aside.
In a large bowl, whisk together butter, brown sugar, molasses, egg, and sour cream until smooth. Add flour mixture; stir just until moistened (do not overmix). Stir in chocolate chips. Transfer batter to prepared pan; smooth top.
Bake until a toothpick inserted in center comes out clean, 30 to 35 minutes. Transfer to a wire rack; let cool completely. Using paper overhang, lift gingerbread from pan. Transfer to a cutting board, and cut into 16 squares. Before serving, dust bars with confectioners sugar, if desired. (To store, keep in an airtight container at room temperature, up to 3 days.)
What's on YOUR plate for November??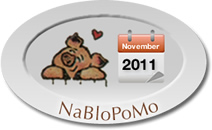 {{{Yesterday's post included a pretty awesome giveaway for a gift code to Red Envelope.


Go back and comment on the post for a chance to win. That's all you do!!}}}