The FDA is pretty darn good at sounding the alarm over foods that one shouldn't eat, or maybe not in excess. They're just as good at recanting that advice after a year or so, more research and maybe some hand deep in their back pocket, but do they ever go the opposite direction? Can a food item be so stuffed with good ingredients, a high health quotient and incredible good taste that it's possibly too good for you? Would the mighty FDA ever come at us like a pack of angry Chihuahuas for bypassing the french fry in favor of whole grains and fruit?
Eh, I think not. But this muffin might come a wee bit close to inducing a good health coma, if that is indeed possible.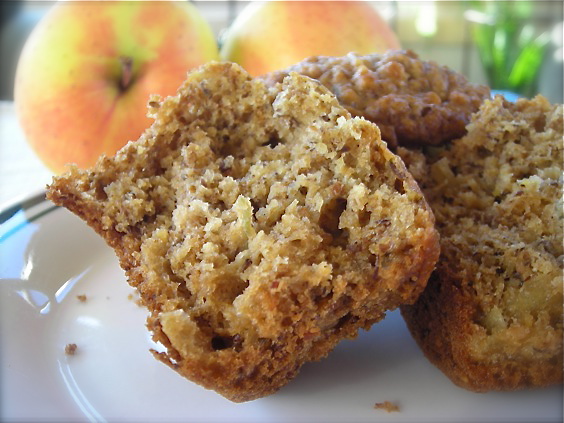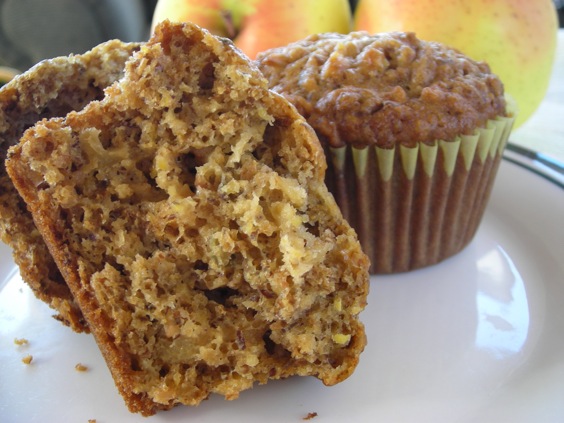 Muffins are one of my favorite snack items to make. There is so much that can be done to your basic muffin that I could spend from now until next November making a different variety each week and likely never run out of options. They tend to have a split personality though; as much as everyone wants to believe that eating a muffin is healthier, most of them sold in stores or coffee shops aren't any better for you than eating a cookie or a croissant. And they're HUGE, usually. Much too huge, and come on….who eats only half of those monsters? Uh, huh. That's what I thought.
These basic whole grain muffins are one of my favorite recipes to play with, and they're loaded with healthy ingredients. With their good hearty texture, they're wonderful for any eating need from morning coffee to a late night indulgence and they adapt to any kind of extra I can dream up to mix into the batter. I've made them with zucchini, chopped pears and pecans, banana, blueberries and here in this version with apples. They freeze beautifully too, as any good muffin should.
Whole Grain Muffins
by Kate
1 ½ c. buttermilk
2 large eggs
2 T. butter, melted
¼ c. oil
¼ c. real maple syrup
1-1/2 c. All-Bran cereal
½ c. packaged 7-Grain cereal (like Bob's Red Mill; 5-Grain or 10-Grain is fine too)
3 T. whole rolled oats
1-1/2 c. AP flour (can sub Whole wheat flour for half, if desired)
2 T. ground flaxseed
¼ c. brown sugar
1 t. EACH baking powder and baking soda
¼ t. salt.
Heat oven to 375°. Line muffin tins with paper liners, or spray with cooking spray.
In a medium bowl, whisk together buttermilk, eggs, butter, oil and maple syrup. Stir in All Bran cereal, oats and the 7-Grain cereal. Let stand for about 10 minutes, stirring occasionally.
In another bowl, whisk together the flour, brown sugar, flaxseed, baking powder, baking soda and salt. Blend in the wet ingredients and fold together until just combined. Scoop into muffins tins to 2/3 full and bake for 18-20 minutes, or until tops spring back when touched. Cool on wire rack for about 10-15 minutes, then remove muffins from pan to cool completely.
Added ingredients– 1 c. blueberries, frozen (do not thaw) or fresh; 1 c. chopped pear like a D'Anjou or Bosc; 1-2 mashed ripe bananas, 1/2 c. of any nut you prefer; 1 c. shredded zucchini; 1 medium apple, cored and chopped or shredded (or about a half cup of chunky applesauce), 1/2 c. coconut (delicious with banana and pecans)  The possibilities are endless for what you put in these!!
And yes! Pumpkin, sweet potato or even squash is an option too, but check out this recipe for a delicious muffin idea with those ingredients.