You're not a potato, my chalky tuber. You are not even really considered a yam, by the true means of the word. But to avoid confusion and misunderstanding, you are required to carry the moniker 'Sweet Potato'. You are golden, bright orange, pale yellow and the color of a sunrise, at once starchy and dry, as well as moist and tender. You make amazing oven fries, stunning side dishes, distinct risottos and perfect pies. You have that multiple personality trait down to a science, don't you? Who would have thought that you were distantly related to gorgeous Morning Glory flowers? And aren't you the healthy one? Rich in antioxidants like beta carotene and Vitamin A, complex carbs and fiber, you rank awfully high on the nutritional value chart, giving us iron and calcium to boot. Oprah is a big fan of you, lucky spud. That pretty much guarantees you'll be the talk of the town, doesn't it?  We can come by you quite inexpensively too, although no one can call you cheap- you are a class act, my friend. You hold up well to storage too. And thankfully, you are in great supply, for our demand for you is high and you're readily available all year round. And if we choose to cook you, mash you and store you in the freezer, you never complain. And patiently you wait for us to bring you back out and make something wonderful from you.
Like these muffins. Thanks for offering up all your golden glory to a humble breakfast and snack food.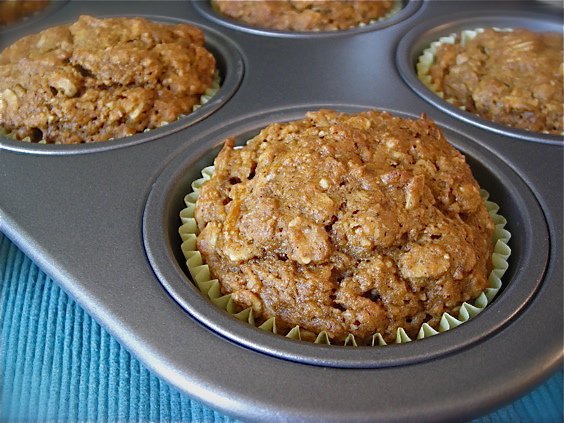 You and I, though, we haven't always been friends, and I'm sorry I ignored you all those years. Think of the fun we would have had! But no matter. We're tight now, and that's all that counts. I love it hanging out with you, and am so glad I introduced you to my good pal oatmeal. The two of you make quite a pair in this delicious and stout muffin, don't you?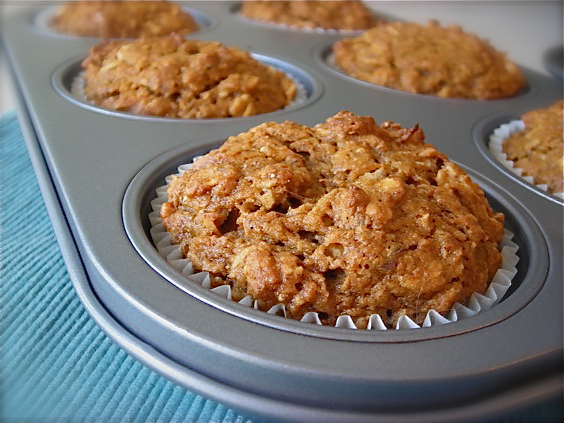 I'm not at all jealous that you get along so well, in fact, I really like it when my friends find something good about each other, something they enjoy that has little to do with me. I was happy to introduce you two; it seems to be a match made in heaven, and how easy is it to get you two to hang out? Really, it takes little effort, and for my gain I get delightful and simple muffins that speak poetically of Fall, warm with cinnamon and nutmeg and the hearty toothsome bite of whole oats. Not to mention that sweet tender tang of you, my tuberous pal. I'm so glad I gave you more than a passing glance. We're great friends for life, yes we are.
Oh by the way, have you met another good friend of mine, her name is sweet cream butter?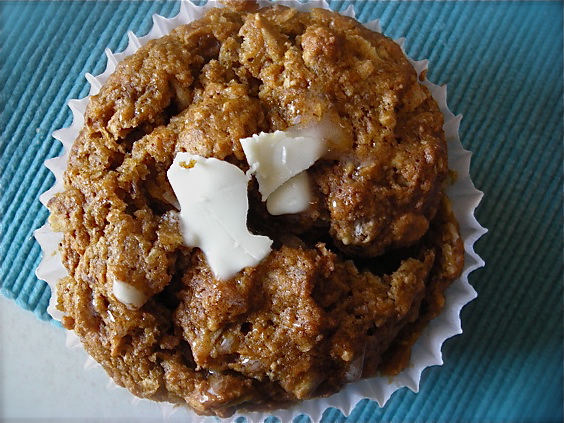 Oatmeal Sweet Potato Muffins
from the Louisiana Sweet Potato Commission
1 c. old fashioned rolled oats
1 c. flour (AP or Whole Wheat, or both)
1 t. baking powder
1/2 t. baking soda
1 t. ground cinnamon
1/2 t. ground nutmeg
1 T. ground flaxseed
1 c. cooked and mashed sweet potato
3/4 c. brown sugar
1/3 c. canola oil
1/4 c. skim milk
1 large egg
1 t. pure vanilla extract
Preheat oven to 400°. Line two standard muffin tins with paper liners.
In a medium bowl, whisk oatmeal, flour, baking powder and soda, cinnamon, nutmeg and flaxseed. In another small bowl, combine sweet potato, brown sugar, oil, egg, milk and vanilla, whisking to blend well. Pour over dry ingredients and stir to combine. Mix until just moistened. Scoop into muffin tins and back for 15-20 minutes. Check at the 15 minute mark- these bake up quickly.
KATE'S NOTES:
This recipe doubles really easily. I doubled it using both AP and whole wheat flour and the result was nice and firm. You can substitute pumpkin for the sweet potato, or use garnet yams. Be sure that the vegetable is cooked and mashed well. I used soy milk in mine and it works just fine. For one batch of these, I added 1/2 c. of flaked coconut, and I think chopped and toasted pecans would be wonderful in these.
For an extra level of flavor, you can top these with a crumb topping made from 1/4 c. oats, 1/4 c. flour, 1/4 c. brown sugar, 1-2 T. softened butter and 1 t. vanilla extract. Combine these well and sprinkle over the muffins before baking. I have not used it, but imagine it would be excellent.