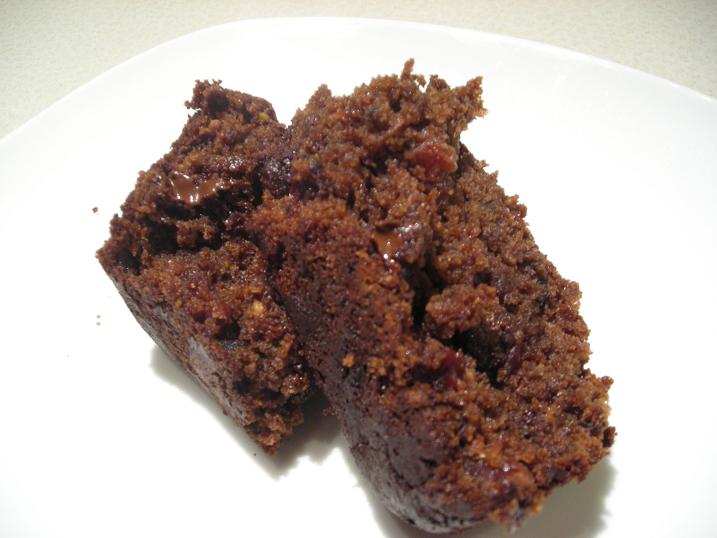 Chocolate-Cherry Bread (original recipe from David Lebovitz)
Makes 2 loaf
1 1/2 cups (210g) dried cherries, well-chopped
1 1/4 cup (170g) all-purpose flour
1/2 cup (50g) unsweetened cocoa powder (Dutch-process or natural)
1/2 teaspoon salt
1/2 teaspoon baking soda
1/2 teaspoon baking powder
10 tablespoons (140g) butter (salted or unsalted), at room temperature
2 cups (400g) sugar
2 large eggs, at room temperature
1 egg yolk
1 teaspoon vanilla extract
2/3 cup (180g) buttermilk or plain yogurt (regular or low-fat)
1 cup (135g) walnuts, pecans, or almonds, toasted and finely-chopped
3/4 cup (120g) chocolate chips
To bake the cakes, grease two 9-inch (23 cm) loaf pans and line the bottoms with parchment paper or dust with cocoa powder. Preheat the oven to 350F (180C)
Sift together the flour, cocoa, salt, baking soda, and baking powder. Set aside.
In the bowl of a standing electric mixer, or by hand, beat the butter and sugar until very light and fluffy. Stir together the eggs and yolk with the vanilla, then dribble them in while beating.
Mix in one-third of the flour/cocoa mixture, then half of the yogurt or buttermilk. Then mix in another third of the dry ingredients, then the rest of the yogurt. Finally add the remaining dry ingredients, and gently stir in the nuts, chocolate chips and cherries.
Divide and smooth the batter into the two prepared loaf pans and bake for 45 minutes, or until a toothpick inserted into the center comes out clean. Let stand on the countertop for about 15 minutes.
Recipe Notes: I did not have yogurt or buttermilk so I used sour cream and it turned out fine, albeit very moist. I think vanilla yogurt would add a great flavor to this bread. I did not follow David's original recipe of macerating the dried cherries in liquor; he used rum I believe, about a half cup, maybe and left the fruit overnight, stating that what liquid was not absorbed could be added to the batter after draining off the fruit in a mesh strainer. Chopping dried fruit of any kind is very messy and sticky; I dusted the cherries with a little cocoa powder to see if it would help. It did, and didn't. I did not use parchment on the pans, just cocoa. One loaf went in the freezer.