I went a bit crazy over cherries recently. After discovering them at a local market for $2.98 a pound one week, I splurged and bought nearly 18 pounds worth of them. Then barely two weeks after that, the same market had them for $1.97 a pound and I bought about 8 more pounds.
I know. Whoa, girl. And it begs the question….. just what did I DO with all those cherries??? Besides gleefully stuff them in my mouth. Which I did a lot of, mind you. They are so crisp and perfect and juicy. I could hardly help myself and I'm pretty sure my veins ran thick with deep, dark cherry juice for a few days. I know our kitchen looked like a battle zone following some of our marathon pitting sessions. Griffin was really helpful in that regard, gleefully pitting fruit shirtless so he could comment on how he looked like a mass murderer. Ha. Kids.
For the past several years, we've managed to just about eat our weight in cherries when they come in season; it's one of our all-time favorite fruits and each year as we slurp through a sack of them, our fingers turning purple in our consumption, we've always talked about trying to dry them for future use. We have a huge Harvest Maid dehydrator, and dried cherries are one of Mike's favorite items to put in his daily yogurt, but at almost $10 a pound for them, we don't keep them on hand much at all. So faced with this year's bounty, the first goal was to dehydrate as much as possible. Thankfully, a trio of helpful hands made the job of pitting and slicing them a bit easier, and our first batch came through successfully. So successful that I turned around and dried a whole dehydrator full of them again. We were left with about 3 quarts of dried fruit, and Mike's eyes shone with anticipation.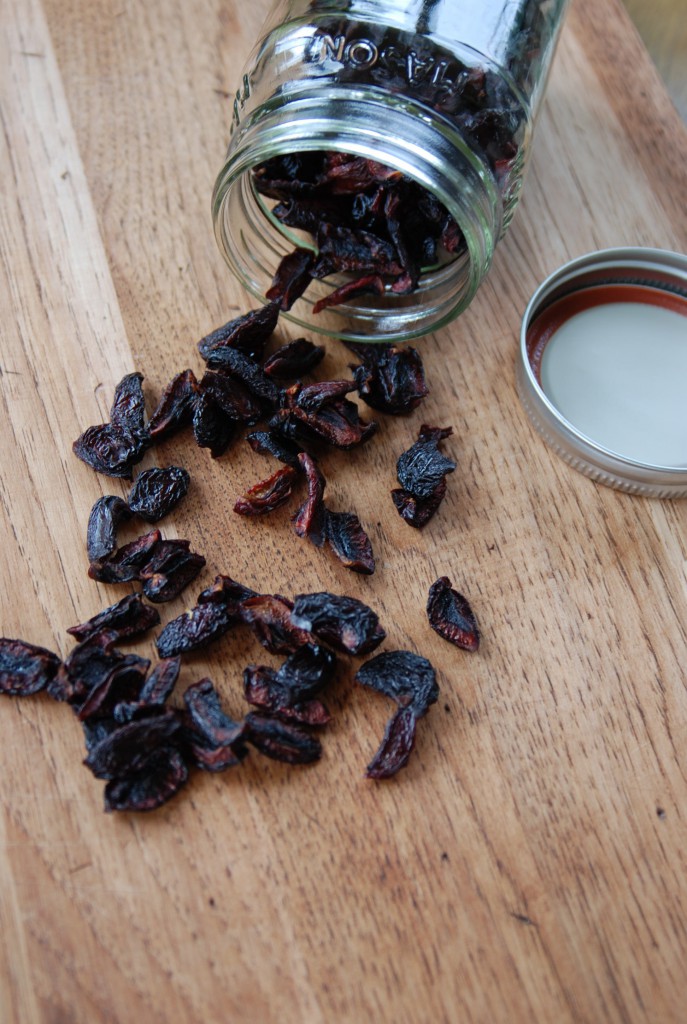 The process to dry them takes up to 12 hours; we pitted the fruit and sliced them in half, then started the dehydrator at 145° for two hours right around dinnertime. At that point, we turned it down to 125°, placed it in our mudroom (that thing is loud, y'all) and forgot about it until the next morning.
For more inspiration, I scoured the internets, implored friends and sought out anything cherry related for several days. My eyes popped in excitement upon finding a Chocolate Cherries recipe, soaking ripe cherries in chocolate simple syrup and a few quarts of those went in the fridge.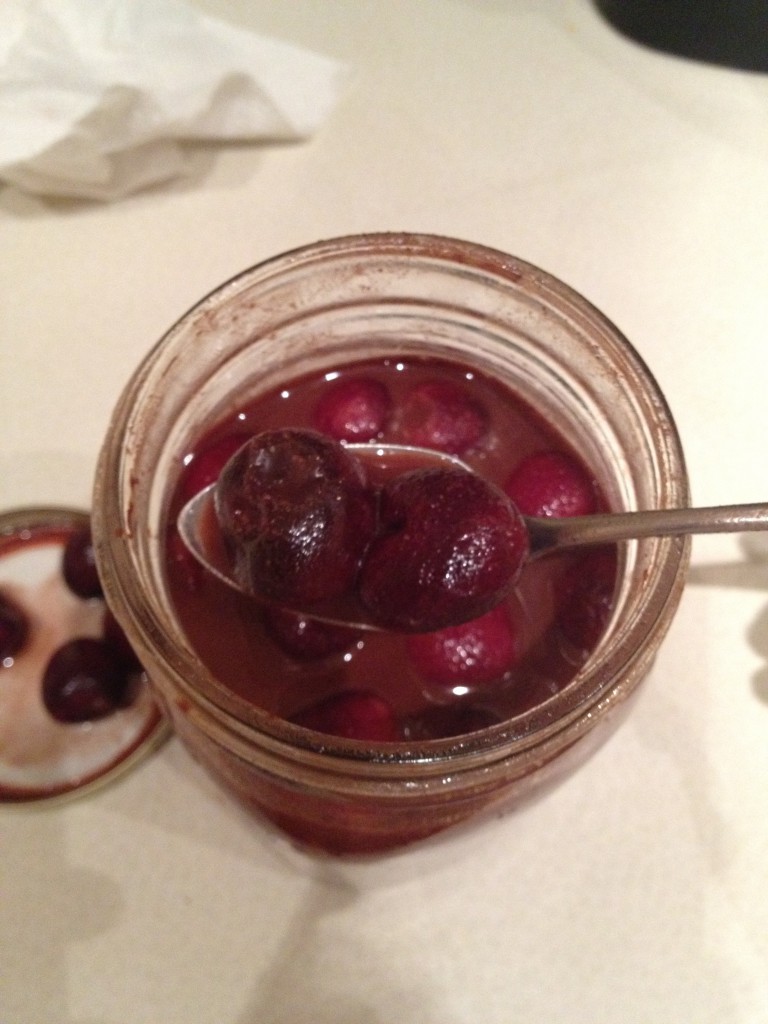 Here's the link to that procedure; it ridiculously simple: Dark Chocolate Cherries. The worst part of doing these was to keep them in the fridge for two weeks. I'm sure I could have consumed them earlier, but part of me loved the idea of anticipating such a treat. And what a treat they were; lush and plump with a rich taste of chocolate amidst the sweet fruit. Dropping them over a bowl of vanilla bean ice cream, drizzled with the chocolate-y liquid was a sensory adventure of taste and delight.
I roasted a batch of fruit too, sprinkled with dark brown muscavado sugar and drizzled with a little balsamic vinegar. Sprinkled with chopped mint, they were mind-blowing; warm and soft, sweet and slightly tangy all at once. They will make a wonderful addition to yogurt, or on top of ice cream, or better yet, turned in to my favorite brownies for a sweet treat. Another wonderful treat for these roasted beauties was to spread some ricotta cheese on good sourdough bread and top it with the fruit. Make it even better by gently broiling the ricotta first.
Here's my method for roasting the fruit:
Roasted Cherries
Pit and de-stem one sack of fresh cherries, removing any that are bruised or moldy. Heat oven to 450°. Place cherries on a rimmed baking sheet and sprinkle with sugar of choice- it can be brown sugar, cane sugar or any type of specialty sugar. Use about 2-3 tablespoons and just dust the tops of the cherries. Place in the oven for about 10 minutes, until the cherries swell and release some of their juices. Mix about a tablespoon of balsamic vinegar in with a cup of water. Drizzle over cherries, shake to distribute and place back in oven for a few more minutes, allowing the juices to bubble and thicken slightly. Remove pan from oven and allow to cool. Sprinkle with finely chopped mint and place in a jar with a few mint sprigs overnight. Remove mint the following day.
For another batch of fruit I made a Cherry Ginger Butter from my friend Amanda. It comprised my very first water-bath canning experiment and went off without a hitch. I was impatient though, and didn't allow the fruit to completely cook down so the end result was more of a fruit sauce but it's still an incredible flavor. And it gave me the canning bug so hopefully I can do some more with that as the bountiful summer season winds down.
And you know what?? Another local market is having a Cherry Blow-Out starting on Thursday!! Cherries at $2.99/lb AGAIN. Yikes!! Good thing there are other inspirational ideas that I found:
Martha Washington's Preserved Cherries