By the time Christmas rolled around this year, I'd done so much baking that I was really fed up with it, and I kinda thought that I wouldn't want to see any more butter or flour or sugar for a very long time. I was tired of the futziness, the precision, the exact timing to prevent burnt cookies- eww!- and especially the clean up.
Ok, so I lasted maybe a week. Maybe.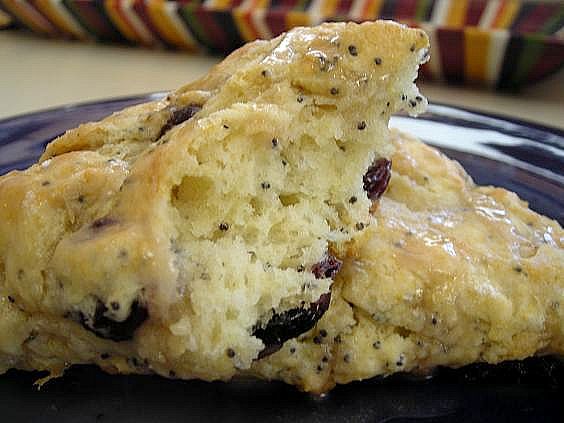 But then I had a craving for a scone. And not for a 'scone' like a standard hockey puck offering from a coffee shop type of scone- a blob as dry and flavorless as sawdust and so bad that you might as well call it a STONE- no, I wanted a scone, people. I wanted light and airy, tender on the inside and slightly crusted on the outside. I wanted…..well, I wanted what's in that photo, and wow, did it deliver.
The desire for such a breakfast delight actually came to me as I was falling asleep one night; I decided that I wanted to make fresh scones and the next morning it came back to the brain like a train hurtling at me top speed. I popped up off the couch, the morning sun blazing in on me, the cats and my steaming cup of coffee and strode purposefully into the kitchen, scones on the mind, digging out the perfect cookbook and turning, almost instinctively, to the recipe I needed. Sorry- it's from that anonymous chef that I'm embarrassed to like- no love- and the cookbooks of his that I have. With some twists of my own, I had my scones, and they were perfect.
Dried Cherry Poppyseed Scones
anonymous Food Network chef
2 c. AP flour
1 T. baking powder
1/2 t. salt
2 T. sugar
3 T. poppyseeds
5 T. butter, cold
1 c. milk or cream
1 c. dried cherries
Heat oven to 400 degrees. Place parchment on a cookie sheet.  Place cherries in a heat proof bowl. Boil water to vigorous bubbles and pour just enough in the bowl to cover the cherries. Stir to combine and allow to sit, stirring occasionally until the water is tepid and the fruit soft. Drain the fruit, reserving the juice.
Sift together flour, baking powder, salt, sugar and poppyseeds. Using a pastry blender, cut in the butter until the mixture looks like coarse crumbs. You want to leave larger pieces of butter. Make a well in the center and add the milk, stir to just combine everything, making sure you scrape across the bottom of the bowl. Toss the drained fruit with just enough flour to coat them lightly, then add to the dough, stirring carefully until just incorporated.
Lightly flour your countertop and turn the dough out. With your hands, shape into a square, roughly about 10″x12″ or so. With a sharp knife, bench scraper or spatula, cut the square into four equal portions, then cut each portion in half, corner to corner, to form triangles. Carefully lift the triangles with a spatula onto your prepared sheet. Alternately, you can scoop the dough straight from the bowl to the cookie sheet. Bake for 15-18 minutes until lightly browned and fragrant. Allow to cool.
For a glaze, combine reserved juice with about 1 1/3 cups powdered sugar and a little melted butter. Drizzle over scones before serving.
KATE'S NOTES:
Even with my dairy intolerance, I prefer to use butter in my baked goods, and it doesn't cause me as much misery as milk or cheese so I roll with it. I subbed vanilla soymilk for the cream with perfect results. The original recipe called for fresh blueberries but it's January in Minnesota and that ain't happening. Currants would also be delicious, or maybe chopped apricots, figs or even dates. The glaze I made was very thin, and it's also totally optional. These taste slightly sweet, with that good baking powder biscuit-y kind of texture; light, fluffy and tender and utterly delicious.