It's the weekend before Thanksgiving. I've done my shopping and planning and am ready to cook, and eat and enjoy. I love Thanksgiving, especially the turkey and stuffing. I always buy a huge bird to insure plenty of leftovers, and there's always a soup in the days after, or a few morning of making crunchy little cakes from leftover stuffing, or a frittata maybe, with some cranberries and bits of turkey mixed in.
Looking for a nice treat to start your holiday off right? How about a Dried Cherry Poppyseed Scone?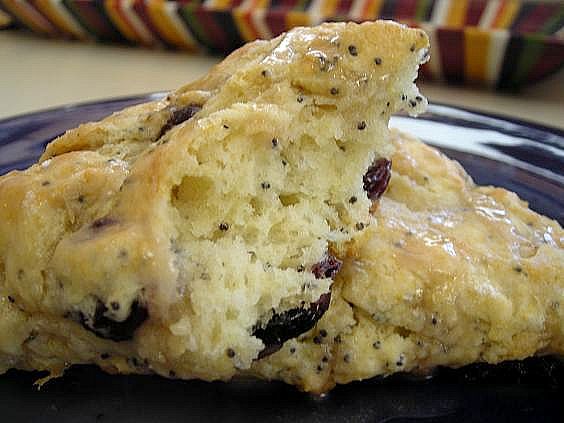 If you've got house guests coming, these delicious dried cherry scones are a perfect offering for a simple, but elegant start to your day. Heck, even without house guests, you should find a reason to put these on your weekend menu. They're light and fluffy, with chewy cherries and the crunch and snap of poppy seeds. No cherries? Use cranberries, or even raisins. A wintery morning, chilly and bright can be made much nicer with the humming oven and the warmth of a fresh scone. Next to a fragrant cup of coffee or tea, I can't think of a nicer way to wake up.
Dried Cherry Poppyseed Scones
from Tyler Florence, Real Kitchen
2 c. AP flour
1 T. baking powder
1/2 t. salt
2 T. sugar
3 T. poppyseeds
5 T. butter, cold
1 c. milk or cream
1 c. dried cherries
Heat oven to 400 degrees. Place parchment on a cookie sheet.  Place cherries in a heat proof bowl. Boil water to vigorous bubbles and pour just enough in the bowl to cover the cherries. Stir to combine and allow to sit, stirring occasionally until the water is tepid and the fruit soft. Drain the fruit, reserving the juice.
Sift together flour, baking powder, salt, sugar and poppyseeds. Using a pastry blender, cut in the butter until the mixture looks like coarse crumbs. You want to leave larger pieces of butter. Make a well in the center and add the milk, stir to just combine everything, making sure you scrape across the bottom of the bowl. Toss the drained fruit with just enough flour to coat them lightly, then add to the dough, stirring carefully until just incorporated.
Lightly flour your countertop and turn the dough out. With your hands, shape into a square, roughly about 10″x12″ or so. With a sharp knife, bench scraper or spatula, cut the square into four equal portions, then cut each portion in half, corner to corner, to form triangles. Carefully lift the triangles with a spatula onto your prepared sheet. Alternately, you can scoop the dough straight from the bowl to the cookie sheet. Bake for 15-18 minutes until lightly browned and fragrant. Allow to cool.
For a glaze, combine reserved juice with about 1 1/3 cups powdered sugar and a little melted butter. Drizzle over scones before serving.