Cranberry and orange is a classic combination, and even the thought of it brings me swiftly back to Christmas as a child when my Mom would pull out her superbly old hand-cranked food grinder and clamp it to the counter edge to make a fresh cranberry-orange relish that filled our kitchen with the lively tang of oranges and the tart haze of cranberry. My sisters and I loved standing at the counter turning the crank of that grinder while Mom fed whole cranberries and oranges into the hopper, the pop and crunch of the fruit filling our ears while the mouth dripped it's ruby mass into the bowl underneath. It was the scent of the holiday for us, more than a fresh ham baking in the oven, better than her scratch mincemeat or a simmering apple pie. I can zest an orange in the burning July sunshine, wearing shorts and a tank-top, and I will immediately be transported back to wintertime, as a kid again in Mom's kitchen, fighting my sisters for a turn at the grinder. Back then, the tart cranberries were not to my liking, but I absolutely adored that smell.
The mix of cranberry and orange seems to be everywhere right now, and for good reason as fresh cranberries are in season. For some delicious winter baking, I grabbed it with both hands and enjoyed the promise of greatness found in this match.
There were scones first…..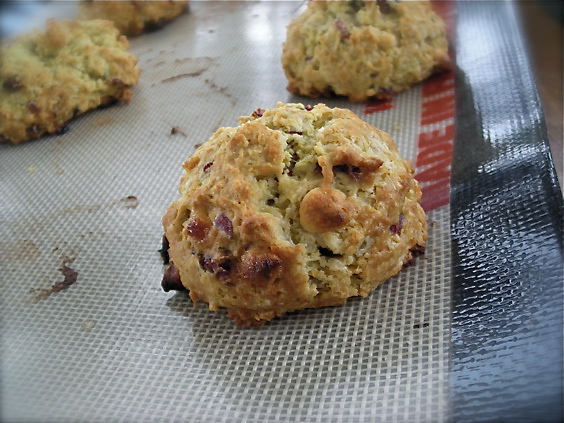 I had to backtrack to find out exactly where this recipe came from, but thankfully came across it on LoveFeast Table so I can be sure to give proper credit. I've linked the recipe for you because I seriously suggest you make yourself a pan of these before too long. The flavors speak of winter, they require you to pour a steaming coffee to sip alongside, and will make you smile happily with delight. We all need that in the chilly months ahead.  This past year has been a big one for me in terms of muffins and scones. I like being able to put together a batch if the moment seems right, and you really can't lose with anything that has some semblance of chocolate in it. Even when the chocolate is white. And these scones are tender, moist and airy. You'll never purchase a coffee shop hockey puck again.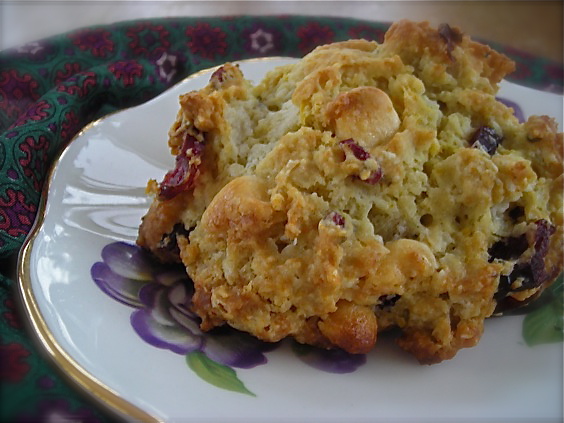 Then, even while there were still a few scones left over, I forged into a Cranberry Date and Orange quick bread to bring to one of our Christmas gatherings. It was so hard for me to wrap these loaves and slip them in the freezer to await our celebration, because when I knocked them out of the pans to cool, the smell that rose from them reached into my nose and tickled it immensely. I had to walk out of the kitchen in order not to rip a chunk off one to sample. Thankfully, we ended up with plenty of leftovers.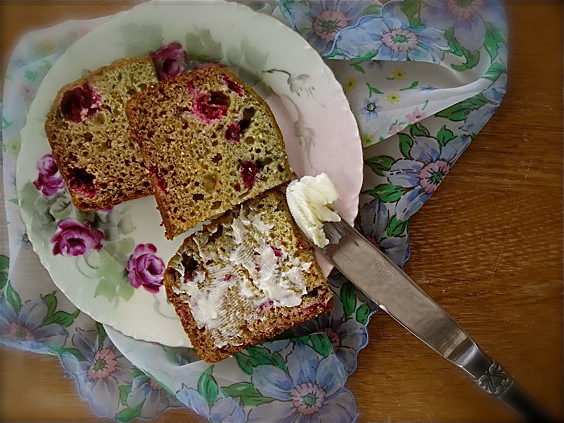 CRANBERRY DATE ORANGE BREAD
2 c. all-purpose flour (I used half whole wheat)
3/4 c. sugar
1 1/2 t. baking powder
1 t. baking soda
1/2 t. salt (I started using sea salt in baking and I love the results!)
1 egg
1/2 c. orange juice
Grated peel of 1 orange
2 T melted butter or margarine
2 T. hot water
1 c. fresh or frozen cranberries
1 c. chopped dates
1 c. coarsely chopped walnuts (or pecans- but either is optional)
Heat oven to 325°. Spray a standard 9×5 loaf pan with cooking spray and set aside.
In a medium saucepan, combine cranberries, dates, water and butter. Heat to a low simmer, stirring occasionally and cook for about 5 minutes. Some of the berries should start popping but you want them to retain their shape as much as possible. Turn off the heat and stir in the orange juice and zest. Allow to cool until barely room temperature.
In a large mixing bowl, combine dry ingredients. Beat egg separately. Add egg and cranberry mixture to dry ingredients, stirring just until moistened. Fold in nuts, if using. Spoon into prepared loaf pan. Bake for 60 minutes or until toothpick inserted near the center comes out clean. Cool for 10 minutes before removing to a wire rack.