There isn't much now, that signifies Christmas was only two days ago, other than the abundance of chocolate in the house, the presence still of a tree with glittering ornaments and other holiday decor. The gift bags are empty and some treasured new items have been absorbed in to our days. Everyone seemed to have a good time this year. The stocking hunt was successful…..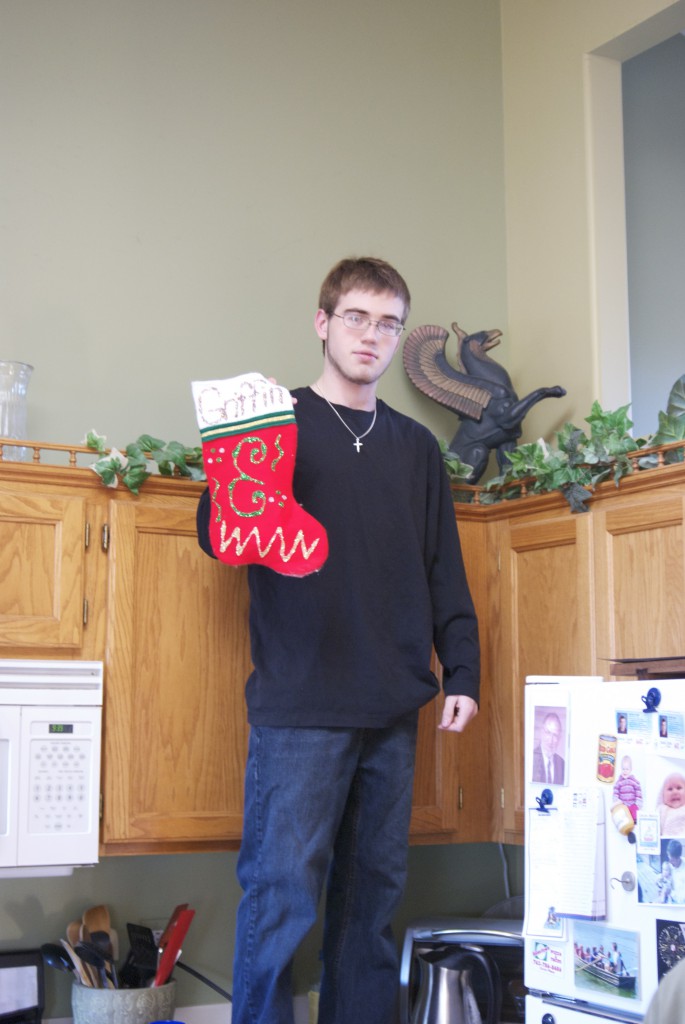 The cats received fun new toys that they enjoyed…..
And there was plenty of gatherings, with laughter, delicious food and wine, more cookies than one could shake a leg at, and little children with bright happy faces. But just like that, the planning and preparing and decorating and plotting and going and coming and caroling and waiting waiting waiting was over…… *poof*…… just like that. You wake up on the 26th and it's back to normal, back to reality, back to work (for some) and another Christmas is done. It seems like so much anticipation, and then in a blink it's gone.
Some aspects remain, memories made and smiles shared and a new gift to use or enjoy. Or maybe, what remains most prominently is a smidgen of the amazing Cranberry Pound Cake that, on a whim, I whipped together and pushed in to the oven, before dashing upstairs to shower an hour before guests were due to arrive. It was still baking, rich and fragrant and eliciting all sorts of 'What IS that in the oven?' queries when my family arrived, and before coats were even shed.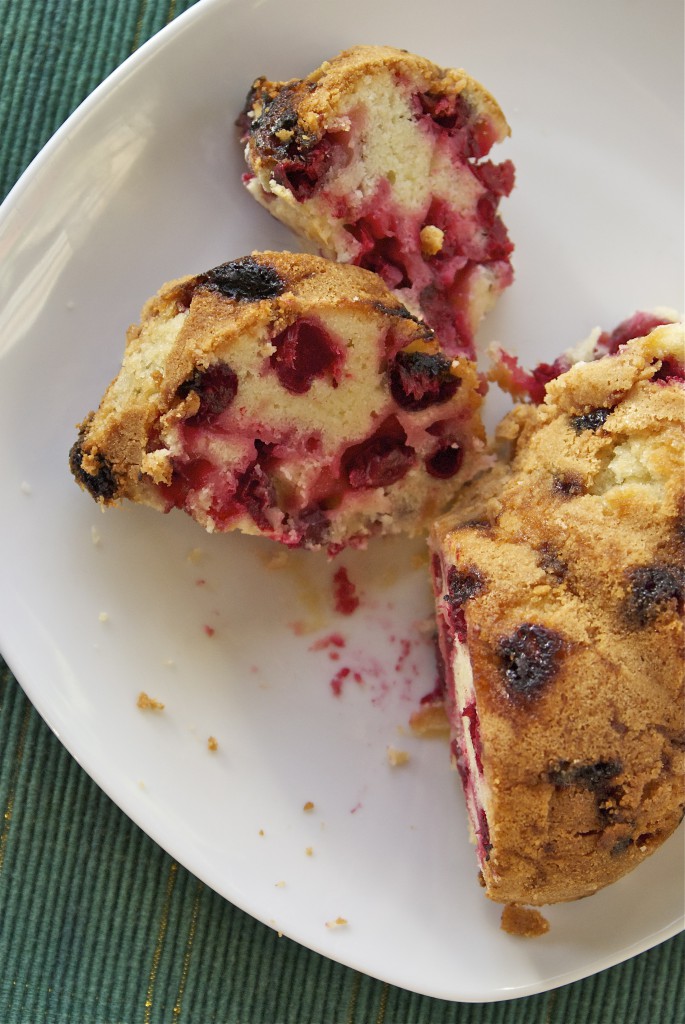 And me, nonchalantly trying to avoid panicking, since the cake seemed off when I shoved the pan in the oven and raced off with a prayer, I just shrugged and said 'Cranberry cake' as if I'd just, you know, trimmed a nail or something because I really had little confidence it was going to be worthy of Christmas dessert. It was a blind preparation, something I'd never made before and I had everything I needed and took a chance. It seemed simple enough.
And thankfully, the alchemy of eggs, sugar, butter, flour and a hot oven created a masterpiece that I can't wait to make again.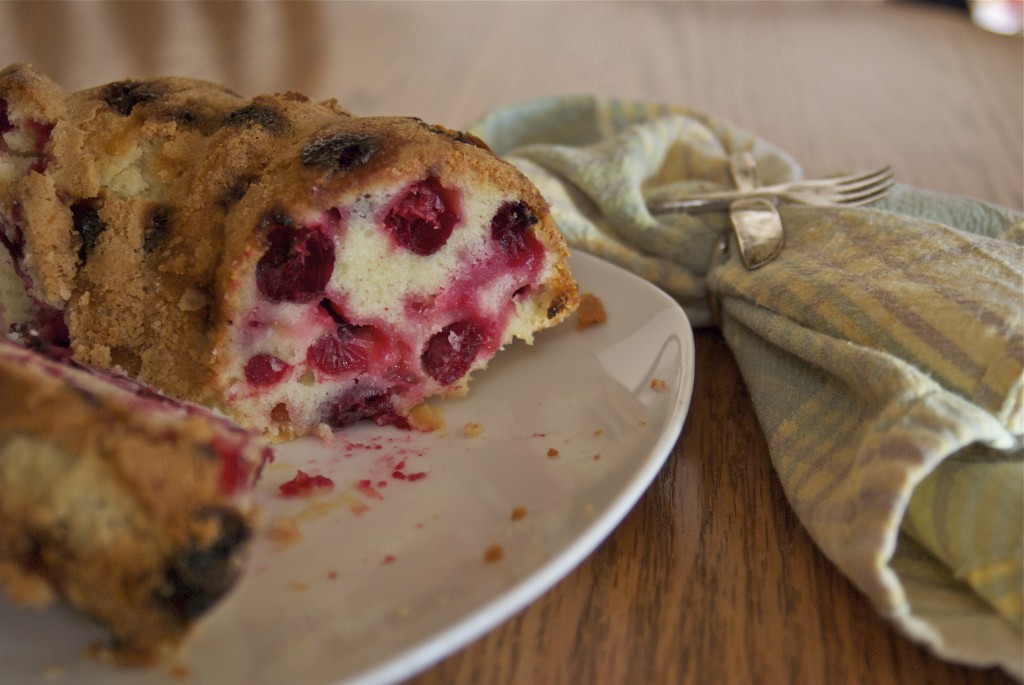 I get a bit overly excited each year when faced with orbs of fresh deep red cranberries in the store, and often stockpile as many bags as I dare in the freezer to use over the winter months. I spotted this recipe at Apartment Therapy (as usual….) and tucked it away to try, then of course, got caught up in the crazy whirlwind of pre-Christmas and neglected to make a dessert for our family gathering. But…. like I said, it worked despite a few reservations. In fact, it worked so well that I already am thinking about another go of it. I mean, by golly the initial cake isn't even gone from it's plate and I want another one. That HAS to be a good cake, right? It's got an amazingly rich, yet light taste and a dense sponge to the cake, sweet but not cloying. Pops of deep cranberry flavor are laced with pure almond taste, and the crumbly sugary crust is simply divine. You could make this for an amazing dessert to impress, or you could just make it for yourself as a phenomenal treat.
Cranberry Cake

3 eggs
2 cups sugar
3/4 cup unsalted butter, slightly softened and cut into chunks
1 teaspoon vanilla
1 teaspoon almond extract (optional)
1 tablespoon kirsch (optional)
2 cups flour
2 1/2 cups cranberries (1 bag)
Preheat oven to 350°F. Lightly grease a 9×13 pan or a 10″ springform pan. You can also use a standard Bundt pan, or 10″ tube pan with removable bottom.

Beat eggs and sugar together for 8-10 minutes —no, this is not a misprint! …. the egg and sugar mixture should double in volume and turn pale yellow, leaving thick and shiny ribbons of batter when you lift the beaters. This is the only leavening in the cake so make it good and fluffy.

Add the butter and flavorings and beat for 2 more minutes. Stir in flour and fold in cranberries. Pour into greased pan.

Bake 45-50 minutes for a 9×13, or a little over an hour for the springform, bundt or tube pan. You made need to tent the cake with foil in the last 15 minutes or so to keep the top from browning too much.

Cool completely before serving.

Optional pecan topping: 
1/4 cup butter
1/4 cup brown sugar
1 cup pecans, toasted

Heat the butter in a pan over medium-high heat. Add the sugar and stir. Add the toasted pecans and cook for several minutes, stirring, until the butter and sugar mixture is shiny and smooth and the nuts smell toasted. Spread over the cake batter and bake as above.
Original recipe, from Faith Durand at Apartment Therapy, The Kitchn.
~~~Next time I make this cake, I think the addition of fresh orange juice and freshly grated orange zest would be wonderful. Also, a scant 1/2 teaspoon of fresh grated nutmeg would also be marvelous. So many possibilities!!!