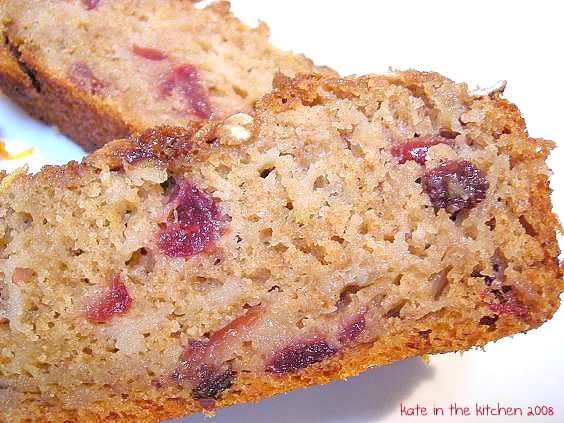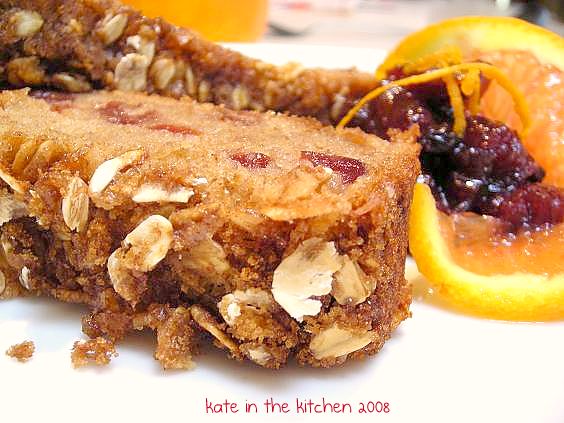 Harvest Tea Bread
1 c water
1/2 c. dried cranberries
2 T. dried currants
1 T. orange juice concentrate
1 t. balsamic vinegar
Bring water to a boil. Add fruit, concentrate and vinegar and allow to simmer to a thick paste- approximately 10 minutes. Remove from heat and spread on plate to cool to room temperature.
Zest and squeeze juice from one medium orange and reserve
In a large bowl, stir together:
1 c. sugar
1 c. chunky applesauce
1/3 c. oil
2 eggs
3 T. milk
2 medium sized tart apples, shredded
1 T. fresh orange juice
1 T. orange zest
Combine:
2 c. flour
1 t. baking soda
1/2 t. baking powder
1/2 t. cinnamon
1/4 t. nutmeg
Gently stir dried ingredients into wet until just combined. Fold in cooked fruit until loosely swirled.
Topping:
1/4 c. rolled oats
1/4 c. brown sugar
1/2 t. cinnamon
1/4 t. nutmeg

Preheat oven to 350ºF. Grease & flour two 9″ x 5″ loaf pans.
Pour batter into loaf pans. Sprinkle with topping and drizzle 1 T. orange juice on each pan
Bake for 50 – 55 mins.or until toothpick comes out clean. Allow to cool in pan for 20-30 minutes then turn onto cooling rack. Can be wrapped well and frozen.