Apples are on everyone's mind right about now.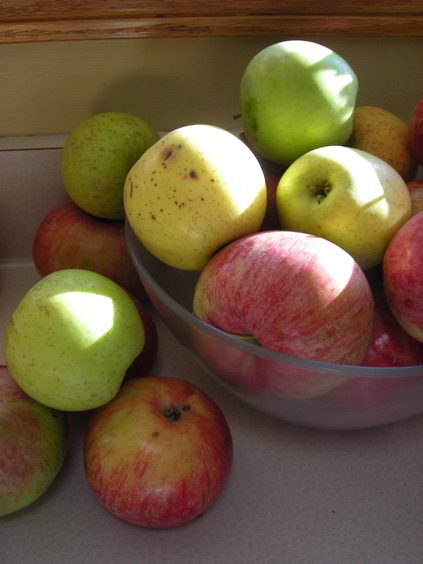 In the oven, on the stove, in the crisper drawer, in hand and crunching away….. it's mid-October and it's Apple time and it's a beautiful thing.
There's a gorgeous apple orchard near our lake home- Baker Orchard in Centuria, WI–  that we visit several times a year, the owners being good friends of ours. It's a simple place, has a century-old barn that was renovated a few years back and a lovely art gallery on the property. The orchard hosts community events each year; an art festival, a cyclocross race and the occasional wedding inside the lovely old barn. There's hiking trails through gorgeous woods, and a huge gentle team of horses that will languidly pull you through the laden trees, branches close enough for you to reach out and snatch a ripe apple for snacking. They make their own fresh-pressed apple cider, an incredible treat. John is exceptionally friendly and knowledgeable about apples, even taking the time to assess a mystery apple brought in by a visitor to determine what exactly it was.
He's always ready to do his apple-juggling act, complete with biting the apples as he tosses them through the air.
He encourages treks through the orchard and doesn't mind a sampling here and there of the fruit. It's a simple, family-owned business. Last year, Mike and I re-designed their website into a blog format, and the reward for our work was complimentary apples. Payment in food for a job well-done is my kind of reward. So if I'm talking about apples here, it's fairly certain they came from Baker Orchard.
The orchard sustained hail damage this past summer, and the last time we visited, John gave me a sack of hail-damaged Haralson apples to take home, making me promise I wouldn't photograph them. I agreed, and unfortunately, once broken and damaged by hail, the apples don't last that long. I barely managed to salvage enough of them (my fault, really- I left them too long once they came home) to make a few delectable options with them, namely an Apple Cheddar and Almond muffin, and a pan of Apple Streusel Bars. Try as I might, I simply could not photograph those muffins and make them look even close to having the exceptional flavor they did. But those bars?
Oh dear.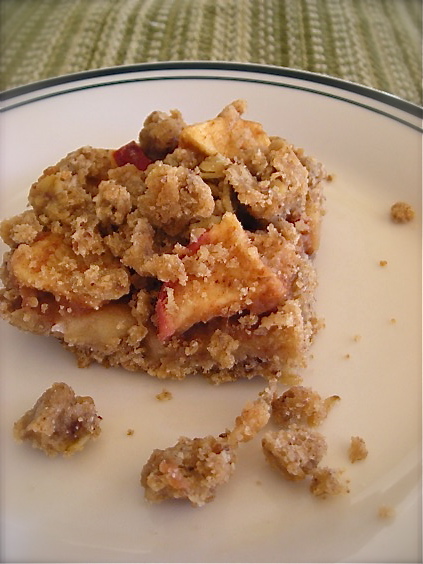 These bars are something else. It's like a pie that you can eat with your hands. It's like Apple Crisp in your fingertips. It's heaven in apple and butter and crumbs. It's simple and sweet and easy to make and tastes like Autumn. You don't need a thing out of the ordinary pantry supplies and as good as they are simply out of the pan, they are another bit of heaven altogether when you warm them slightly and crumble them over a bowl of yogurt, or even ice cream. And did I mention that they were simple?
Apple Streusel Bars
Pastry:
2 c. flour
1/2 c. sugar
1/2 tsp. baking powder
1/2 tsp. salt
1 c. real butter, softened
1 egg, beaten
Apple Filling:
1/2 c. white sugar
1/4 c. flour
1 tsp. cinnamon
4 c. (about 3 medium) sliced, peeled baking apples
To prepare crust, mix flour, sugar, salt, and baking powder in a medium bowl. Cut in butter with a pastry blender or two knives until you have pea-sized crumbles. Gently mix in beaten egg.
Spray a 9×13 baking dish with non-stick cooking spray. Gently pat about 2/3 of the crumb mixture onto the bottom of the dish. Preheat oven to 350° and set aside.
To prepare apple filling, combine sugar, flour, and cinnamon and toss with apples.
Spread apples out on prepared crust. Sprinkle reserved crust mixture over apples evenly and bake in preheated oven for 40 minutes. Allow to cool completely before slicing.
And for good measure, even though there is no photo- here is the Apple Cheddar and Almond Muffin recipe. Because it's just THAT good.
Apple Cheddar Muffins with Almonds
from Real Food magazine, Lunds/Byerlys
1/2 (1 stick) c. unsalted butter (room temperature)
1/2 c. sugar
2 large eggs
1/2 c. whole milk
2-1/2 c. flour
2-1/2 t. baking powder
1 t. sea salt
2 large apples, cored, peeled and diced small
1/2 c. grated sharp cheddar cheese
1/2 c. chopped almonds (can sub in any nut, really; pecans or walnuts would also be wonderful)
Heat oven to 350°. Prepare muffins tins with cooking spray or paper liners (I got 18 muffins from this recipe). Combine milk and eggs in large measuring cup and whisk lightly to blend. Combine flour, baking powder and salt in a second bowl. Cream butter and sugar together until light and fluffy, then whisk in milk/egg mixture. Add flour, apples, cheese and nuts and gently fold together until just combined. Scoop into muffin tins and bake 20-30 minutes or until lightly browned. Allow to cool 10-15 minutes, then remove from pans.