I can safely say that gingerbread, or anything molasses-flavored, is going to go over well in my house. Some people have their chocolate, their Proustian moment that renders them poetic. Apparently ours is gingerbread. And it turns us into stealthy nibblers.
I made a small pan of Martha Stewarts's Chocolate Gingerbread, primarily as an olfactory impetus in ridding the house of the scent of bacon that I had cooked that morning. I don't think the pan had even fully cooled before I slipped a knife through it and created a set of imperfect squares for us to sample. It was amazing; rich and moist with the tiniest hint of chocolate among the deep taste of molasses. Griffin and I nodded in agreement over this newfound treat. I pulled plastic wrap over the top and set it on the counter.
And then, a day later, there were considerable gaps in the pan. The next day, even more was gone. Something was amiss, because I'd only had one piece.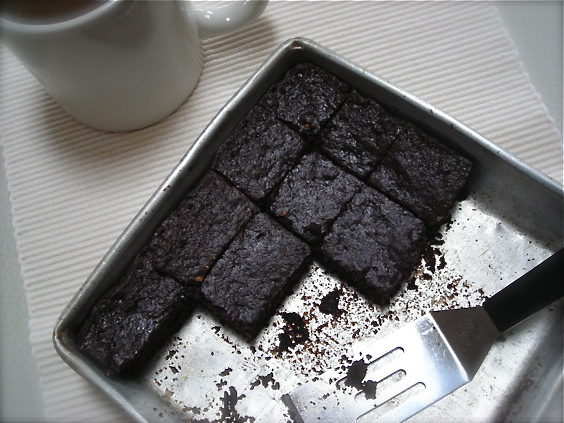 I can't say I fault anyone for freely indulging in this treat. What I love about gingerbread is the lack of cloying sweetness that comes with most desserts. Gingerbread has enough going for it to give it dessert-like status, but it's also like a teabread, and can be treated like a snack, or even a bit of your breakfast too. It partners equally with a scoop of good vanilla ice cream, a mound of yogurt or even topped with fresh whipped cream.
Or even just eaten out of hand, with a napkin to catch the crumbs.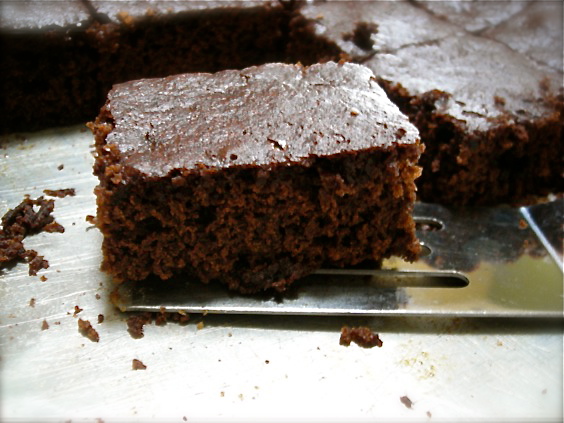 This recipe, from Everyday Food, yields a moist and superbly tender cake, owing to the use of sour cream in the base. It's a simple quick bread style recipe that takes minimal effort, but can taste fancy enough for a party, that is, if you can keep it around long enough.
Martha Stewart's Chocolate Gingerbread Cake
from Everyday Food
4 tablespoons (1/2 stick) unsalted butter, melted, plus more for pan
1/4 cup unsweetened cocoa powder, plus more for pan
3/4 cup all-purpose flour (spooned and leveled)
1 teaspoon ground ginger
1 teaspoon pumpkin-pie spice
1/2 teaspoon baking soda
1/2 cup packed dark-brown sugar
1/4 cup unsulfured molasses
1 large egg
1/4 cup sour cream
1/2 cup semisweet chocolate chips
confectioners' sugar, for dusting (optional)
Preheat oven to 350 degrees. Butter an 8-inch square baking pan. Line bottom with a strip of parchment paper, leaving an overhang on two sides; butter paper. Dust paper and sides of pan with cocoa; set aside. In a medium bowl, whisk together cocoa, flour, ginger, pumpkin-pie spice, and baking soda; set aside.
In a large bowl, whisk together butter, brown sugar, molasses, egg, and sour cream until smooth. Add flour mixture; stir just until moistened (do not overmix). Stir in chocolate chips. Transfer batter to prepared pan; smooth top.
Bake until a toothpick inserted in center comes out clean, 30 to 35 minutes. Transfer to a wire rack; let cool completely. Using paper overhang, lift gingerbread from pan. Transfer to a cutting board, and cut into 16 squares. Before serving, dust bars with confectioners sugar, if desired. (To store, keep in an airtight container at room temperature, up to 3 days.)
KATE'S NOTES:
I skipped the parchment step, instead just using cooking spray on my 8×8 pan. I did not add the chocolate chips, and probably would keep them out of future uses of this recipe. I just don't think they're necessary. The molasses taste was rich, the chocolate not so noticeable. I think that the addition of some extra cocoa would make it more balanced- and in future use I may reduce the molasses to 3 T. and increase the cocoa to 1/3 c. to see if it makes a difference. I also thought about the addition of 1 oz. melted bittersweet chocolate to increase that aspect a bit, and may try that. I don't keep pumpkin pie spice on hand. I used a teaspoon of cinnamon, and 1/4 teaspoon each of nutmeg and allspice.
If you're interested in other gingerbread recipes, you can find more gingerbread love with just a click.